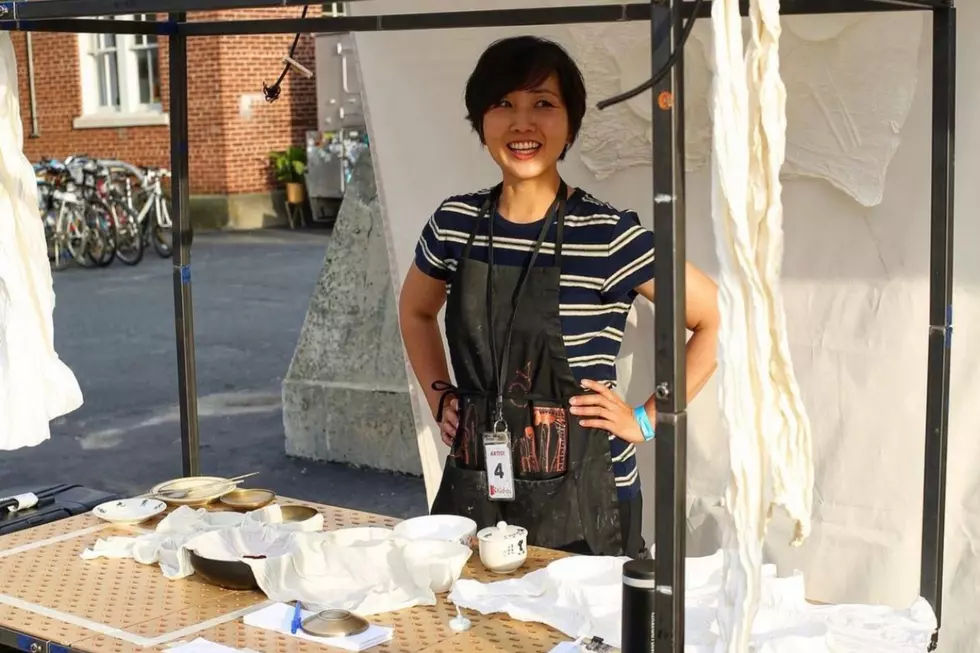 Unique Art Pop-Up in New Bedford, Fall River Invites You to Set the Table
Photo by Brian Orozco
New Bedford has never seen an art pop-up like this Korean-themed installation that comes to town this week.
Strap in because this project that's in New Bedford for two days will take you on a visual journey.
You'll be invited to arrange imaginary meals for loved ones, living and deceased, using Korean dinnerware.
"When participants conceive a specific dish from their culture and cannot find a suitable serving vessel, they experience feelings common amongst newly settled immigrants, such as inadequacy to fit into the mainstream culture or inability to represent their customs properly," a news release states.
South Korea native and Denver resident Sammy Lee has been traveling the world sharing her story of how she came up with the idea.
"Very Proper Table Setting is inspired by my own experience of searching seven years for a bowl in which to serve my family's noodle soup recipe," Lee said in a statement. "My goal is to create a safe and empathic place to explore how cultural adaption can take root in curiosity rather than careless appropriation."
Many of our grandparents and great-grandparents from Portugal, can relate to having to adjust as immigrants to our country --  the SouthCoast, more specifically -- and not quite fitting in, at least right away.
Lee wants this event to help people by creating a safe place to explore how our culture and adapting to it can be more about curiosity than feeling uncomfortable.
So, where and when is this all happening?
Tuesday, July 19, 3 to 5 p.m., Serenity Gardens, Bedford Street, New Bedford (outside, open to all, no need to RSVP, and part of Coastal Foodshed's Mobile Farm Stand)
Tuesday, July 19, 6 to 8 p.m., Interwoven, 634 Pleasant St., New Bedford (inside, open to all, RSVP at Rhonda M. Fazio's Interwoven gallery and maker space)
Wednesday, July 20, 10 a.m. to noon, Portugalia Marketplace, Bedford Street, Fall River (inside, open to all, no need to RSVP)
These pop-ups are completely free to attend thanks to a partnership with the Fall River Arts & Culture Coalition and New Bedford Creative.
Check Out Some of New Bedford's Best Street Art
There have been many artists that have graced New Bedford with their creativity. Let's check out some of their work!
More From WFHN-FM/FUN 107