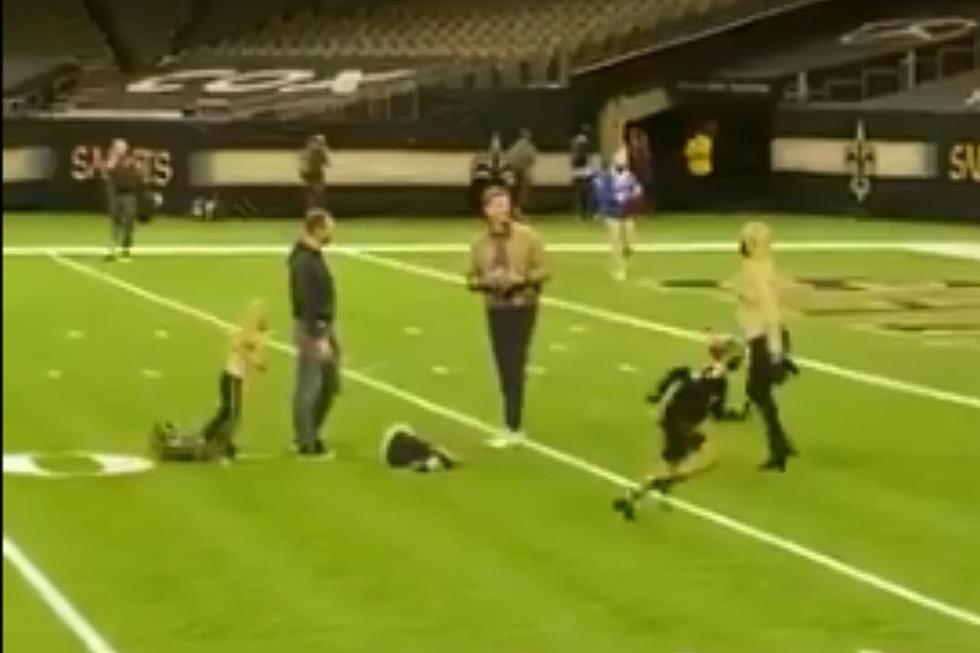 A Touching Moment Between Tom Brady and Drew Brees' Kids
@jamespalmerTV Twitter
It's no secret that if there's one thing that this NFL season has taught me it's that I am not only a New England Patriots fan, I am a Tom Brady fan.
While the Patriots were painful to watch, the football season has been salvaged by watching Brady and Rob Gronkowski continue to have fun in Foxboro South (a.k.a. Tampa Bay).
In true Brady fashion, last night's NFC Divisional Playoff game against Drew Brees and the New Orleans Saints was a back-and-forth battle until late in the fourth quarter.
It was nearly 11 p.m., after the post-game celebrations and the press and fans had cleared the stadium, when Brady made time to have a nice conversation with Brees and his family.
While he hasn't addressed it yet, it is widely speculated that last night was the last game of Brees' 20-year career.
Brady hugged Brees and his wife and even threw a touchdown pass to one of Drew's sons, who caught the pass in the corner of the end zone.
"Be nice to your sister," Brady told the boys as the Greatest of All Time walked out of the back end of the end zone and into the tunnel.
Always a leader. Always.
KEEP READING: Here are 50 of the most famous sports goofs
Enter your number to get our free mobile app
More From WFHN-FM/FUN 107