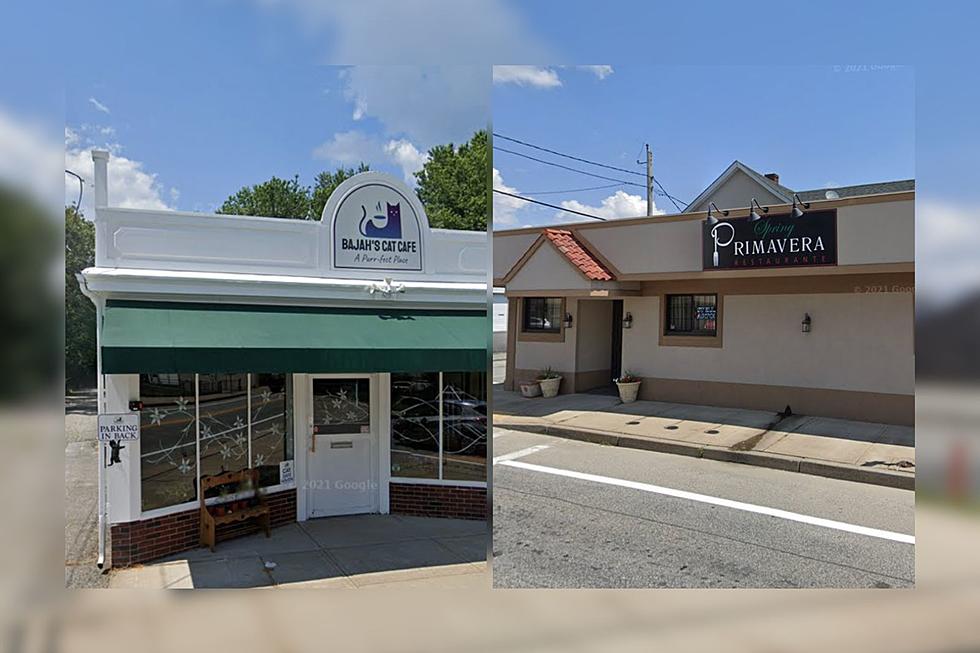 Two Tiverton Businesses Clash on Michael & Maddie Over Parking Lot Mess
Google Maps
A heated debate was on full display on Michael and Maddie Thursday morning as two Tiverton businesses voiced their concerns with each other over a parking lot that has caused confusion and chaos.
Bajah's Cat Cafê and Spring Primavera on Main Road have found themselves in a turf war, but who's right and who's wrong? It turns out, it's not that simple.
The Disagreement Between Bajah's and Spring Primavera
Spring Primavera owns a parking lot that is across the street from its establishment. That parking lot borders Bajah's Cat Café. A first-time visitor to Bajah's may assume this particular parking lot belongs to the café, but the Primavera sign in the parking lot explains otherwise.
Since Bajah's opened on Main Road two years ago, Spring Primavera has grown frustrated over Bajah's customers who park in their lot, and since then, bad blood has boiled between the two owners.
Spring Primavera is fed up with Bajah's customers using their lot, and Bajah's disagrees with how the restaurant chooses to handle it.
Bajah's Cat Café Voices Concern
I caught wind of the disagreement on Wednesday when I noticed that Bajah's was live on Facebook.
The owner of the café, Amanda Souza-Viera, was recording a situation involving a gentleman that had parked in the parking lot, a tow truck company, and two Tiverton police officers.
From the live stream (which has since been deleted), it appeared the owner of Spring Primavera had called the cops on the gentleman that parked in their lot and locked the gentleman in with a chain. Souza-Viera was fed up.
"I get it, it's their parking lot, I completely understand that, but if he would just give people the benefit of the doubt ... we should all be getting along as small business owners together, and not calling the police on each other," Souza-Viera said.
Souza-Viera explained that several screaming matches have ensued between the owner of Spring Primavera and customers attempting to park, and the cat café owner is appalled by the altercations that continue to arise.
Spring Primavera Responds to Bajah's Claims
Karina Sousa, the granddaughter of the owner of Spring Primavera, sent in an audio message on the Fun 107 app to share the family's side of the situation.
"As the granddaughter of the owner of Spring Primavera restaurant, the woman across the street is a liar," she said. "She has berated our business online countless amounts of times. ... My father had told the man to leave, and he cursed off my father, and that is why the tow truck was called."
Sousa said Tiverton Police advised the restaurant to block in vehicles when situations arose. She said when the gentleman decided not to move his vehicle, the restaurant took the department's advice.
So, What Now?
This is a tough one. While Spring Primavera is fed up with people using their parking lot, Bajah's is fed up with how the restaurant chooses to deal with it.
Long story short, if you are visiting either of these businesses on Main Road, be mindful of where you park your car.
Your Complete Guide to Outdoor Dining on the SouthCoast
We compiled a list of all of the restaurants on the SouthCoast that offer outdoor dining. That's right. We did all the legwork for you. Now all you have to do is pick one and call to make that reservation so you can dine al fresco tonight.
15 SouthCoast Menu Items We Wish We Had the Recipe For
From Portuguese food to sweet treats, these local dishes are a crowd favorite we wished we had the recipe for.
More From WFHN-FM/FUN 107