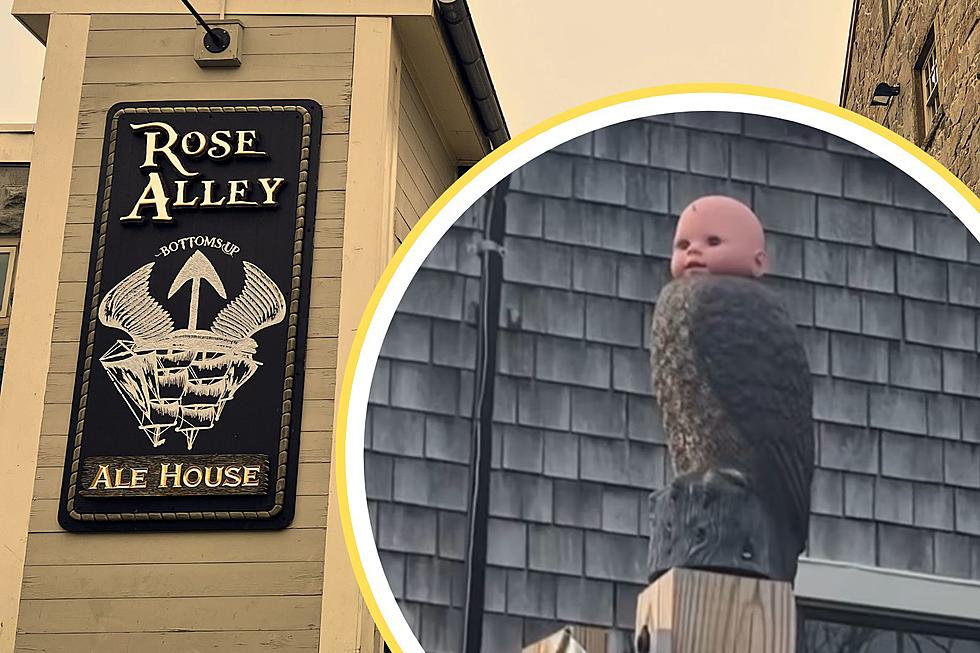 New Bedford's Creepy Baby Doll Owl Turns Heads and Raises Questions Downtown
Photo Credit: Juliette Locke
I just came back from my Jamaican honeymoon and there's already something weird going on in New Bedford.
The downtown is well known for its art but this piece stands out from the rest. It's downright creepy. Someone attached a baby doll head to a decapitated plastic owl and no one seems to know where it came from or why it's there.
I'm sorry, but I need some answers pronto, please and thank you.
The half-baby, half-owl creature spawned behind Rose Alley Alehouse atop a wooden post surrounding a dumpster used by Cork Wine and Tapas. Sitting a good eight feet off the ground, it's not easy to miss.
"It's the most terrifying thing I've ever seen," a manager at Rose Alley told me.
She's not wrong.
Look, I'm not bashing the baby doll owl, I'm just looking for the backstory here, the reason behind it. Nobody wakes up and says, "You know what? Today, I'm going to screw on the head of a baby doll onto the body of an owl and leave it in a high-traffic walking area for laughs and giggles."
Or maybe that's exactly what someone said.
Rose Alley said it doesn't have anything to do with this, though it is apparently home to the OG owl head.
If anyone knows the person or people behind this freaky-looking thing, please let me know. I have so many unanswered questions. Email me at Gazelle@Fun107.com or shoot me a message on the Fun 107 app.
25 New Bedford Bars That Are No Longer Here, But That We'll Never Forget
From 908 to the Regal Beagle on Acushnet Ave, these are the bars that are no longer with us but never forgotten.
Gallery Credit: Gazelle
Downtown New Bedford Then and Now
The development of Downtown New Bedford has happened slowly and steadily. It's not something that happened overnight, but New Bedford has changed quite a bit over the past 10 or so years. Here's a look at then and now.
Gallery Credit: Michael Rock
Thanksgiving Pizza on the SouthCoast and Beyond
Looking for your entire Thanksgiving dinner to be hand held? These Massachusetts and Rhode Island pizza shops can help you out with that. See how many Thanksgiving favorites you can fit in one slice.
Gallery Credit: Nancy Hall
More From WFHN-FM/FUN 107