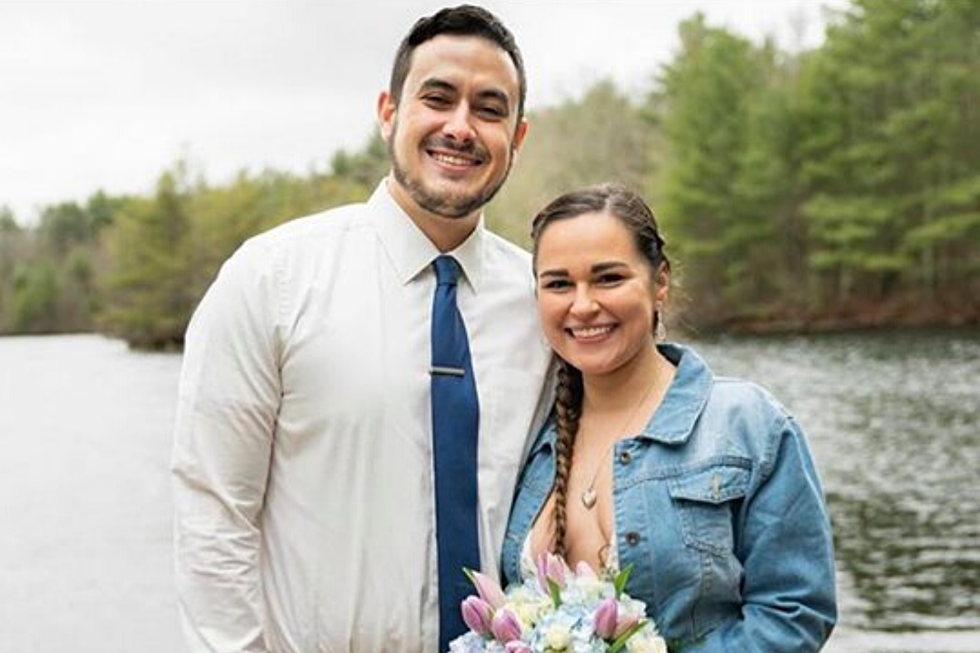 The Story of a Fall River Wedding That Defied the Coronavirus
Photo courtesy of Bethany Fernandes
These days, almost everything is being canceled due to the COVID-19 pandemic, especially weddings.
Most couples have resorted to rescheduling, tying the knot virtually, or just simply canceling it altogether.
Although it's been gloomy these days, it didn't stop Kaitlynn and Justin Nadeau from getting married.
The two currently live in Fall River, but this story is a tale of a Dartmouth High sweetheart and a New Bedford High jock.
Throughout Justin's high school hockey days, Kaitlynn would go and watch him play. They were inseparable and their love grew stronger as the years passed by, right up until the day Justin dropped to one knee and asked the most important question he'll ever have to ask Kaitlynn.
"We've been dating since high school (2007) and got engaged in Punta Cana in 2017," Kaitlynne said. "We had planned to be married on April 18, 2020 at the same resort and beach we got engaged, but of course, due to the COVID-19, we were forced to postpone."
Left and right, their plans were crumbling before them as their wedding attire was locked behind the doors of a closed business and the venue had closed down just days before the big day.
"We were three weeks out when we were told that the Hard Rock was closing until April 19," Kaitlynn said, "My dress was still at the seamstress and his suit still waiting to be tailored. I was heartbroken."
Immediately, the couple started planning a postponement for October, rearranging the flights for the family and friends to Punta Cana and getting everything else ready for the new date.
However, something was bothering the bride to be. Home is where the heart is and that's exactly where her heart was kept with Justin.
"We still wanted to keep April, so we went on a few walks and hikes around the area to see what spots we would like that we could still have a small ceremony at," Kaitlynn said. "My cousin Marcie was supposed to marry us in Punta Cana so we asked her if she could still do it for us here. She applied for a one-day designation and all that was left to find was where. After a few locations we had in mind, we finally realized it should be somewhere meaningful."
Both Justin and Kaitlynn reminisced on the early days of their relationship, eventually figuring out that what they really wanted was to keep the wedding local here on the SouthCoast, at a spot that truly meant the world to them.
"When we first started dating we would go down to Copicut and fish for hours just to get away from our parents," Kaitlynn said. "Any time we had a fight, we'd take a drive and just talk along the way. That was our go-to spot for years. It's where we fell in love and where we would talk about all the possibilities of the future. So that was it!"
Planning for the "new" wedding immediately began and the couple was off to the races to get the plans organized as quickly as possible.
"We told a few friends and our parents about it and said they could come to line the street if they wanted to toast after," Kaitlynn said. "We had two huge bottles of champagne, my cousin Bethany Fernandes (a local photographer) taking photos for us. Our friends brought wine, a box of tacos (an inside joke from work) and it was wonderful! Everyone beeped when we were done."
So, you've heard of drive-by birthday parties, but have you ever heard of a drive-by wedding?
"It was freezing!" Kaitlynn exclaimed. "What a great day, a cop even showed up and gave his congratulations and let us be, thank goodness. It was perfect."
Although it was a last-minute eventful project, the Fall River couple still managed to get everything in time, even down to the flowers.
"The flowers by NR made a beautiful bouquet exactly how I pictured and I only gave them three days notice," Kaitlynn said.
Love has no boundaries. It is an invisible and powerful force, yet it's wonder always seems to prevail and overcome even the biggest obstacles, such as a pandemic. A hearty and warm congrats to both Kaitlynn and Justin on getting the job done. May your love for each other live on through the years and bring you both health, wealth, and prosperity.
Celebrity Couples Who Secretly Got Married
Enter your number to get our free mobile app
More From WFHN-FM/FUN 107