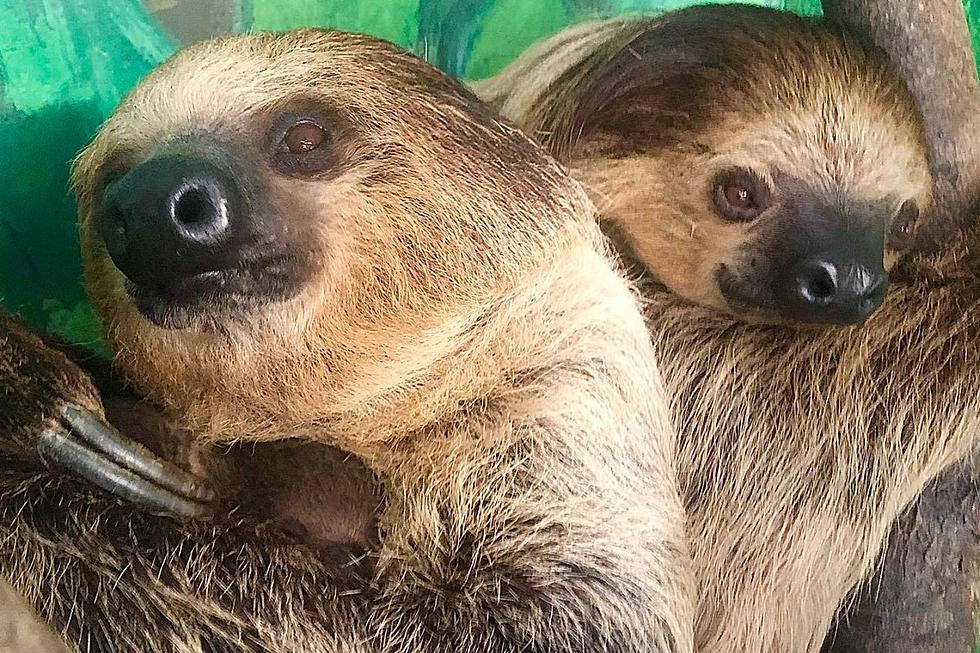 Stone Zoo Holding Auction to Name New Baby Sloth
Stone Zoo via Facebook
Stone Zoo in Stoneham welcomed a new member to the Zoo New England family this summer. A baby Linne's two-toed sloth was born on Saturday, July 31 to seasoned parents Lunesta and Nero. This little one, whose sex is not yet known, joins them in Stone Zoo's Windows to the Wild exhibit. Animal care staff report the baby appears strong and healthy and has been observed nursing and holding on nice and tight to mom.
https://www.facebook.com/watch/?v=286397056624862
Stone Zoo is holding an auction to name the new baby sloth in September.
"We hope you will celebrate the arrival of this adorable bundle of joy with us by bidding for a chance to give him/her a name or by making a donation in honor of the sloth family today," the press release states. "All auction proceeds will go to the All for Our Animals Fund to support critical animal care at Franklin Park Zoo and Stone Zoo, including healthy diets and high-quality veterinary care."
Zoo New England participates in the Linne's Two-Toed Sloth Species Survival Plan (SSP), which is a cooperative, inter-zoo program coordinated nationally through the Association of Zoos and Aquariums. SSPs help to ensure the survival of selected species in zoos and aquariums, most of which are threatened or endangered and enhance the conservation of these species in the wild. The birth is a result of a recommended breeding between Nero and Lunesta, and this is the fifth offspring for the pair.
Meet the Animals at Pine Meadow Alpacas in Mattapoisett
At any given time, Pine Meadow is home to right around 100 animals, from alpacas and goats to yaks and sheep. The animals have personalities that range anywhere from spunky to shy, but we can assure you they're all just as cute as the next. Take a trip to Pine Meadow and meet just a few of their fuzzy friends through the following photos.
More From WFHN-FM/FUN 107