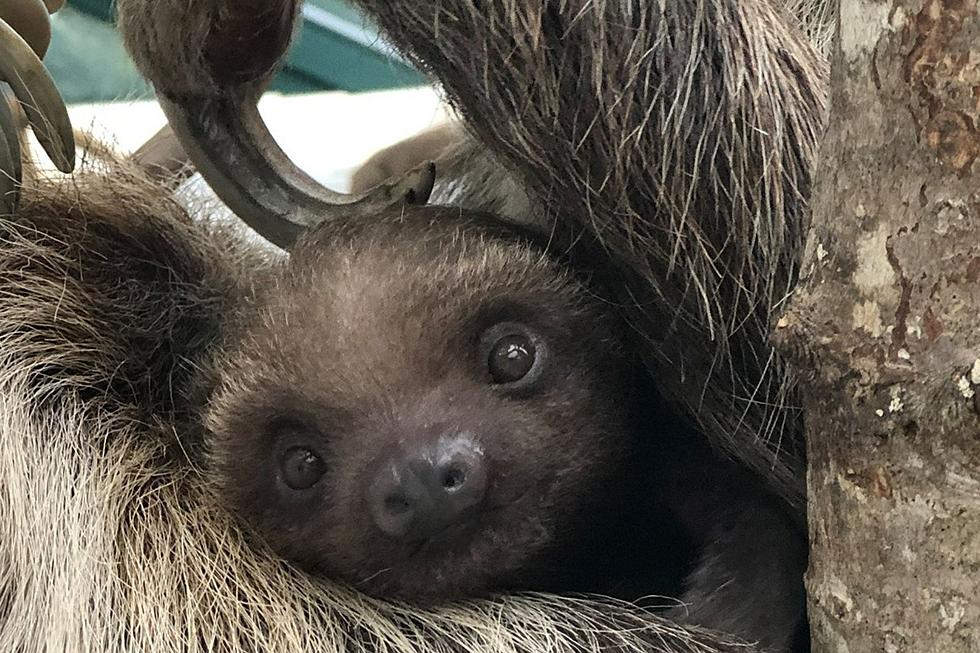 New Bedford Sloth Gender Reveal and Naming Contest Announced
Buttonwood Park Zoo via Facebook
It was over the summer when we first told you about the very first baby sloth born in the City of New Bedford. Incredibly, never in the 127-year history of the Buttonwood Park Zoo has there ever been a baby sloth born here.
Since the birth of the baby back in June, we've also learned that confirming the sex of a baby sloth is not as easy as holding one up for a closer look. It can be quite the challenge, especially considering the New Bedford baby sloth was only about three-fourths of a pound. I'm pretty sure I ordered more American cheese at Market Basket this weekend.
Four months later, the Buttonwood Park Zoo has finally determined the sex of the baby sloth. They plan on unveiling it tomorrow morning on their social media during Michael and Maddie.
They will also announce the kickoff of a contest to name the baby sloth, in what will double as a fundraiser for the zoo. A committee is being formed to come up with several potential names for the sloth. I am honored to have been asked to be one of the judges. The SouthCoast will have the opportunity to vote on the final name.
You may want to start thinking of some names now. I'm trying to think of things that are quintessential New Bedford. Maybe the trick will be thinking of something slow that has ties to New Bedford? Any ideas?
Massachusetts Wildlife You Can Legally Take Home as Pets
Massachusetts has such diverse wildlife, but also strict limitations on what you can bring home and cuddle. In fact, there are only certain reptiles and amphibians you can keep as pets (so no raccoons, squirrels, bunnies, etc.) and you are only allowed two of each. The state also
says
"you cannot sell, barter, or exchange them." Also, keep in mind, these are wildlife, so it's probably best to just leave them be and maybe visit a reptile shop instead to get your next pet.
LOOK: 30 fascinating facts about sleep in the animal kingdom
More From WFHN-FM/FUN 107