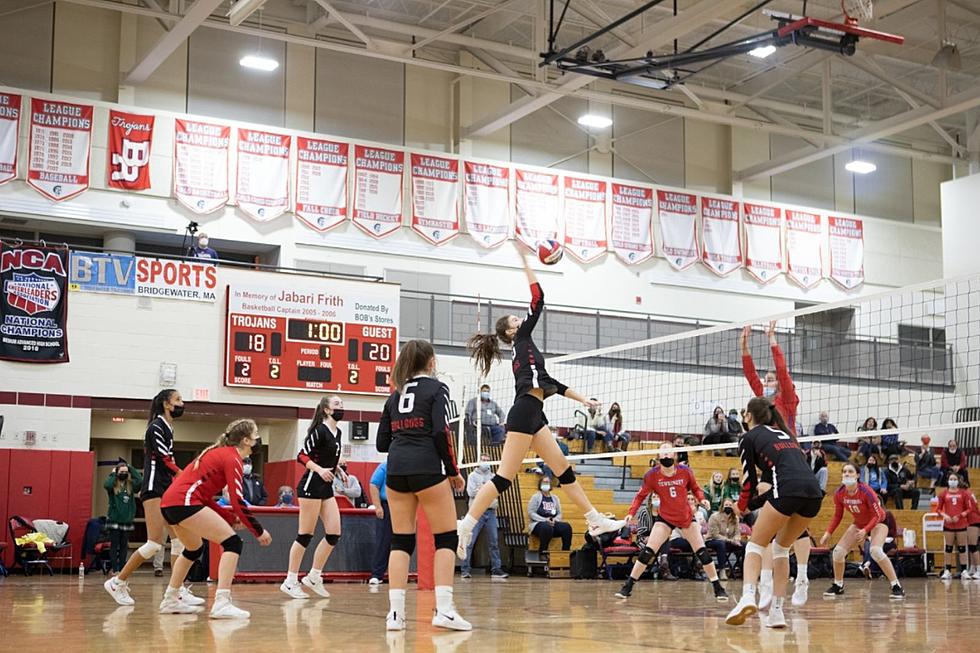 Old Rochester Volleyball Knocks Off Top-Seeded Tewksbury in Semi-Final Thriller
Courtesy of Joe Pires
The 2021 Old Rochester Bulldogs varsity volleyball team has accomplished something that has never happened before in the history of the school. Old Rochester will compete in the state finals this weekend after knocking off top seeded Tewksbury in a semi-final thriller.
Old Rochester came out strong, dominating the opening set against the Redmen, but Tewksbury's junior libero Carrina Barron wasn't going to give up that easy. Barron furiously led her team to a win in the second set, and then made quick work of the Bulldogs in the third set.
Tewksbury was one winning set away from a trip to the state championship.
That's when Old Rochester coach Jimmy Oliveira rallied his talented team. "You're here for a reason," Oliveira told his bench. "Everything that you've done has worked all season. Keep believing in yourself."
They did.
Along with fellow captains Kenna Soucey and Sally Butler, Maggie Brogioli worked to keep everybody calm while the Bulldogs had their backs against the wall, down two sets to one in the best of five.
"Everybody always gets nervous after one bad pass and we always say to shake it off," she said. "Just worry about the next one because there's nothing you can do about the last point. We try to just keep our heads up no matter what."
What happened next was simply incredible. The Bulldogs managed to end up on the winning side of the fourth set that could be compared to a heavyweight fight. That single set of volleyball was enough to age the Bulldogs' parents in the stands by five years. The score was tied 8-8. And again at 10-10. And again at 15-15. And 21-21. Old Rochester somehow remained unfazed, winning the set and forcing the 5th and final set. The first team to get to 15 points would earn a spot in the finals.
The fifth and final set was tied at 2-2, 3-3, 5-5, 8-8, and 9-9. These two teams could not have been more evenly matched, but Old Rochester managed to string a few points together at the end to breathlessly win the set 15-11.
"We came here to compete, and they (Tewksbury) brought the competition," Oliveira said. "We just answered back. I'm very proud of these kids, very proud of them."
The Division 3 State Finals will be held either Friday or Saturday at a location yet to be determined. Old Rochester will face Dennis-Yarmouth or Bedford. The Bulldogs lost one to D-Y earlier in the season, but won their home matchup with the Dolphins late in the season.
A send-off celebration is being planned to send the team bus off to the state championship.
Friday Night Lights High School Football Action
Each week, we'll upload new photos from our Friday Night Lights featured game of the week.
More From WFHN-FM/FUN 107