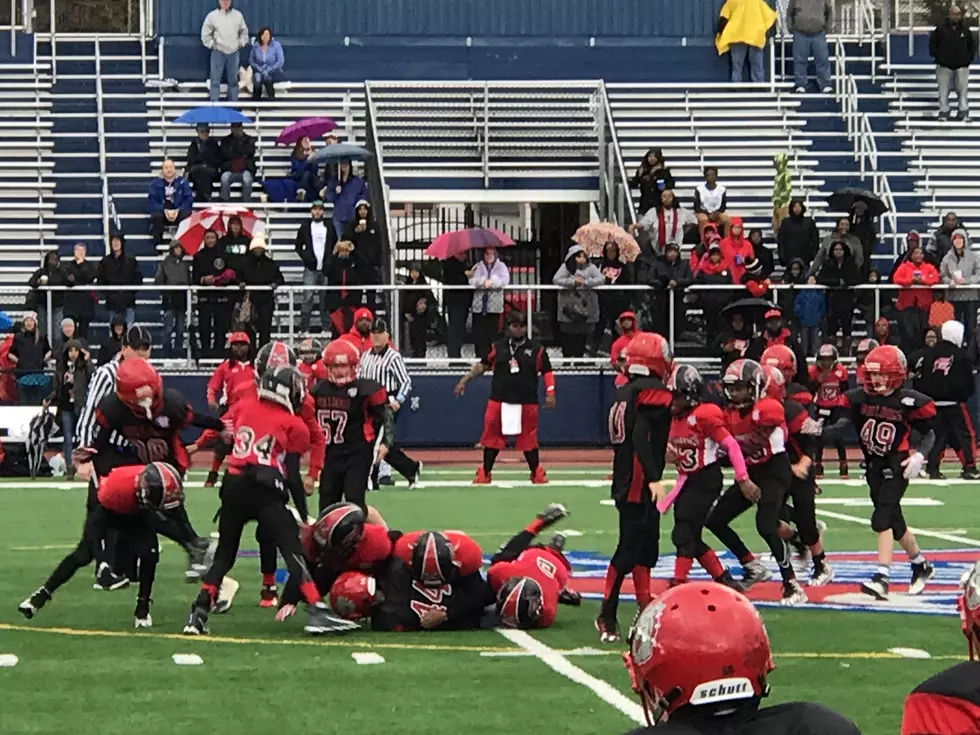 Old Rochester Junior Pee Wee Bulldogs Lose In New England Semi Finals
TSM
The wind swept rain poured down on Della Russo Stadium about a mile north of the world famous Kelly's Roast Beef on Revere Beach.  The Patriot emblazoned on the fifty yard line of Revere's nifty, new field turf nodded with pride to the little Bulldogs and Buccaneers.   The two teams, made up of 4th-6th graders, were facing off for the privilege of playing in the Pop Warner New England Super Bowl on Friday, and a potential crack at the National Championship in Disney World in December.
The Mission Hill Buccaneers scored first towards the end of the first quarter, but the Bulldogs speedy running back, Jack Hamilton, quickly answered with a 58 yard touchdown run of his own tying the game at 6.  Mission Hill scored another two touchdowns in the second half, striking with just seconds left in the first half to take a daunting 18-6 lead into halftime.
The Bulldogs made some defensive adjustments in the second half, and proceeded to shut down the fast paced Mission Hill offense.  Jack Hamilton, #15, returned to the end zone with under two minutes left in the game, and the Bulldogs kicked a two point conversion to tighten up the score to 18-14.  The Bulldogs defense stopped the Bucs again, and turned the ball back to quarterback Gavin Martin and his offense with :40 seconds left in the game.  Unfortunately for the talented, young Southcoast team, the clock ran out the Bulldogs and their magical season.
After the game, coaches and parents alike marveled at the laid back, fun filled spirit that the team had for the entire playoff run.  "The kids would be fooling around, playing tag 10 minutes before game.  Then, when the whistle blew, they'd somehow find focus and would do what they needed to do to keep winning these playoff games," said parent Kim Thomas.  As time was winding down on the Bulldogs, a random, red balloon symbolically found its way to the field.  Corner back Drew Thomas pointed with glee at the balloon...and chased it across the field with the innocence only an 11-year-old boy is lucky enough to possess.  Would the Bulldogs be advancing to the Pop Warner New England Super Bowl?  No.  It was not going to be their year this time.  But, no matter.  There's still tag to be played, and red balloons to chase.  After all, you're only 11 once in your life, and there's always next season for these little Bulldogs.  Nothing a roast beef from Kelly's won't fix.
More From WFHN-FM/FUN 107