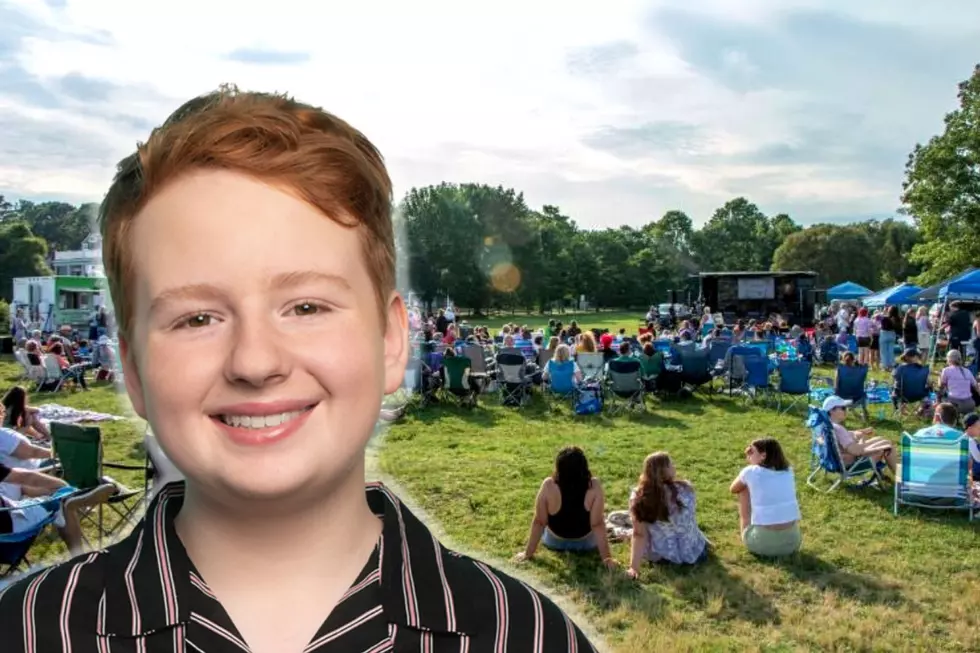 Marion Family to Host Annual 'NolanFest' to Keep Son's Legacy Alive
Courtesy of Laura Carillo
For the second year in a row, a Marion family looks to keep the legacy of their late son alive by hosting an epic festival filled with music and entertainment. NolanFest returns to Silvershell Beach in Marion on Saturday, July 23, 5 to 9 p.m., and it's shaping up to be even bigger than last year.
The Sudden Loss of Nolan Gibbons
In 2020, heartbreak hit the Gibbons family. Just after his 15th birthday, Nolan Gibbons went to sleep and did not wake up.
"He left us in the middle of the night," said his father, Warren Gibbons. "His soul left his body." There was nothing clinically wrong with Nolan, and after undergoing genetic testing, the family still came up with zero explanation.
Nolan was young and already living an awe-inspiring life. He began singing locally at 9, and in 2017, he won New England's Got Talent. In 2018, Nolan was cast as the leading vocal percussionist of Acapop! KIDS, a national all-kids a cappella group formed by the founders and members of the Grammy Award-winning group Pentatonix.
Catch Acapop! KIDS Tuesday night on "America's Got Talent," where they will sing one of Nolan's original songs.
Creating NolanFest
Nolan was living a beautiful life, and his family wanted to celebrate him in a big way.
"Due to COVID, we couldn't have a normal celebration," said his father. "Last year was our first NolanFest and it was our memorial for him. It was bonkers beautiful."
"It was an opportunity to remember Nolan in a joyful and powerful way by doing something he would have loved," said Laura Carillo, a family friend and board member of the new Nolan Gibbons Memorial Fund. "Singers and performers from around the country shared their gift that day and it was a really cool experience. We're excited to evolve it this year."
NolanFest 2022
Gibbons and Carillo said they look forward to making NolanFest an annual event, and this year's event aims to be even more exciting than last year.
"Last year, there were over 400 attendees," said Carillo. "This year we are excited to welcome Rhode Island Comedy Hall of Famer Frank O'Donnell, who will emcee the live show."
Live music, performers from around the country, delicious food trucks and more will take over Silvershell Beach to keep Nolan's beautiful spirit alive.
"Our intention is to make an impact the way in which Nolan would have," Warren said.
The Nolan Gibbons Memorial Fund
All proceeds will be donated to the Nolan Gibbons Memorial Fund, which seeks to empower and support performing artists through grants and scholarships in support of their creative pursuits and passions.
"Our focus will be on three different scholarships," Warren said. "One will be for artist development, one will be for necessary equipment, and one will be a college scholarship."
Important Information
Check It Out: Tommy's Place Is Getting a Second Location in Cape Cod
Tommy's Place, created by Tim O'Connell, is a completely renovated historic inn in Falmouth that is lovingly known as "New England's own version of Disney World without the rides." It houses kids battling cancer and their families, completely free of charge, to allow them to just be kids for a week. O'Connell just landed a massive donation and is ready to renovate his second location at this historical inn on the Cape.
21 Famous People You Didn't Know Were From the SouthCoast
Move over Hollywood, you're not the only town that breeds stars. We've compiled a list of some famous people that either are native to the SouthCoast, or eventually called it home.
More From WFHN-FM/FUN 107