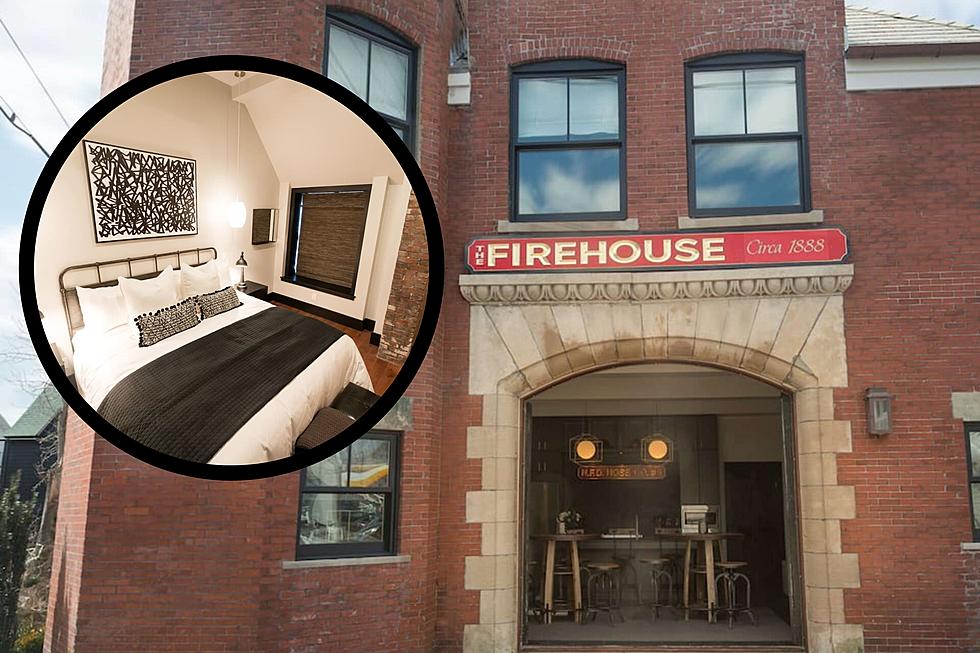 Newport's 19th Century Firehouse Makes a Stunning Airbnb
Chris via Airbnb
If you're looking to take a mini vacation in the upcoming months, but don't want to travel too far from the SouthCoast, boy are you in for a treat. Gather up your core crew, pack a few bottles of wine, and get ready to experience a piece of historic Newport in this Airbnb in the same building as one of the city's former fire stations from the late 19th century.
The building that is now The Firehouse Inn is located on Thames Street in the heart of historic Newport, and was built by M.A. McCormick around 1888. About four years later, it would become Newport Fire Department Hose Co. 6, which serviced the south end of the city.
Over the years, the firehouse has seen a number of renovations and uses. The building lost one of its unique features, a castle-like lookout tower, after it took extensive damage during a hurricane in 1938. Most recently, the firehouse was home to Firehouse Pizzeria, and after it was purchased in 2016 with the intent to turn it into a rental property, and after it underwent extensive renovations and restorations, The Firehouse Inn opened its doors to guests in 2017.
I'll just tell you up front: This place looks incredible. It boasts six modern bedrooms, six luxurious bathrooms, and a refined kitchen, and has enough space to accommodate up to 12 guests. Unfortunately, it doesn't seem to have a fire pole (bummer, I know), but the incredible state of The Firehouse Inn is more than enough to make up for it.
Stay the Night in a Renovated 19th Century Newport Firehouse
After going through a year of extensive renovations and restorations, this 19th century firehouse is now available to rent, and it's safe to say we're obsessed. Check out the Firehouse Inn's six-bed, six-bath space that boasts a neat and modern kitchen and plenty of charm only a historic firehouse could bring.
Who's ready for a weekend away at Newport's Firehouse Inn?! The inn is currently listed on Airbnb as typically having a two-night minimum, and has a nightly rate that fluctuates just above $2,000. While that may look kind of expensive, it's important to remember that the inn holds up to 12 guests, and after splitting the cost with everyone in your party, it'll seem a lot more affordable than at first glance.
Back in 2019, a different former firehouse was on the selling market on Newport. Not unlike how the Thames Street firehouse was transformed into a spot to host guests via Airbnb, the owners of this other historic firehouse on Prospect Hill Street turned the building into a home, and let's just say... It. Is. Incredible. The Prospect Hill Street firehouse was originally on the market for $4.7 million, and according to Cottages & Gardens, dropped to $3.495 million last year.
Tiverton, RI Quonset Hut Airbnb Is Your Dome Away from Home
Part of the fun of staying in an Airbnb is getting to experience a type of living you never could otherwise. This Quonset hut in Tiverton, Rhode Island will certainly give you a more well-rounded (get it?) look at what it's like to live in one of these unique structures.
Take a Look Inside This Pristine Fall River Mansion from 1901
The Robert Marshall House is a mansion in Fall River that will transport you back to the early 1900s with its embellished and elegant interior design, and it's currently on the market.
Go Inside Fall River's Lizzie Borden Bed & Breakfast
This infamous Fall River home has been sold to a ghost tour company. If you've never been inside before, here are all the rooms you can stay in and the haunted happenings that have taken place in them.
More From WFHN-FM/FUN 107