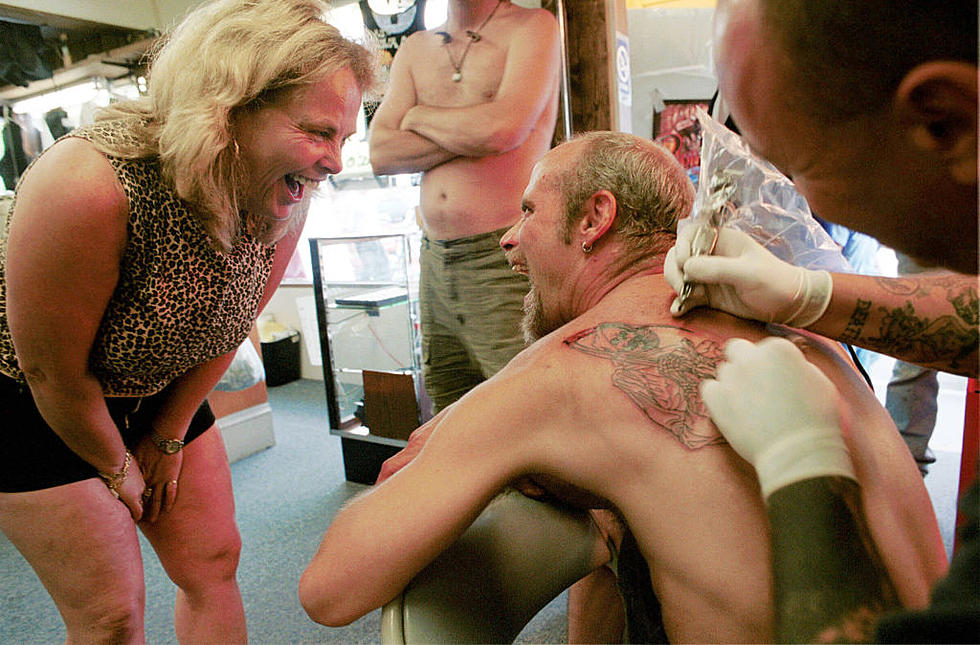 Why Massachusetts Banned Tattoos for 38 Years
Getty Images
As recently as 2000, tattooing was illegal in Massachusetts.
The artistry of creating tattoos was an underground business. Massachusetts residents desiring a tattoo would drive to Rhode Island or New Hampshire – or have it done illegally here at home.
But why were tattoos taboo in Massachusetts?
The Harvard Crimson says, "The ban started in 1962, fueled by fears of hepatitis outbreaks in the 1960s."
It seems to have begun in New York City, where giving someone a tattoo became illegal in 1961.
In a 2017 interview, Cristian Petru Panaite, assistant curator of exhibitions at the New York Historical Society Museum and Library, told Smithsonian Magazine, "From the research I've done and the tattoo artists I've met from that era, there are various reasons [behind] why the ban took place."
According to Panaite, "[The city claimed that there was] an outbreak of hepatitis B, while others suspected it was because the city wanted to clean up before the [1964] World's Fair."
In a 2000 report, the Cape Cod Times said, "A New York hepatitis outbreak was linked to a Coney Island tattooist."
According to the Harvard Crimson, the American Civil Liberties Union successfully sued the Commonwealth of Massachusetts in 1999. After 38 years, the courts ruled the law that prohibited tattooing in Massachusetts was unconstitutional.
The courts sided with the ACLU that tattooing is an art form protected by the free expression clause of the First Amendment to the U.S. Constitution.
The ban on tattooing in Massachusetts was lifted in 2000.
All 50 states have laws governing tattooing, so here's a state-by-state guide to the laws in each one.
I received my only tattoo in 2008 while celebrating my 50th birthday in Lake George, New York. It's a bright green shamrock just above my left ankle.
25 Celebrities Who Had Tattoo Regret
Celebrities all have different ways of dealing with their regrettable tattoos — from expensive removal procedures to covering up with more ink... or even just living with their mistake(s) and dealing with the consequences.
Discover 25 tattoo regrets, cover-ups and removals, below.
Gallery Credit: Jacklyn Krol
The Worst Tattoos on Professional Athletes
Some tattoos are more regrettable than others.
Gallery Credit: Scott Prather
More From WFHN-FM/FUN 107