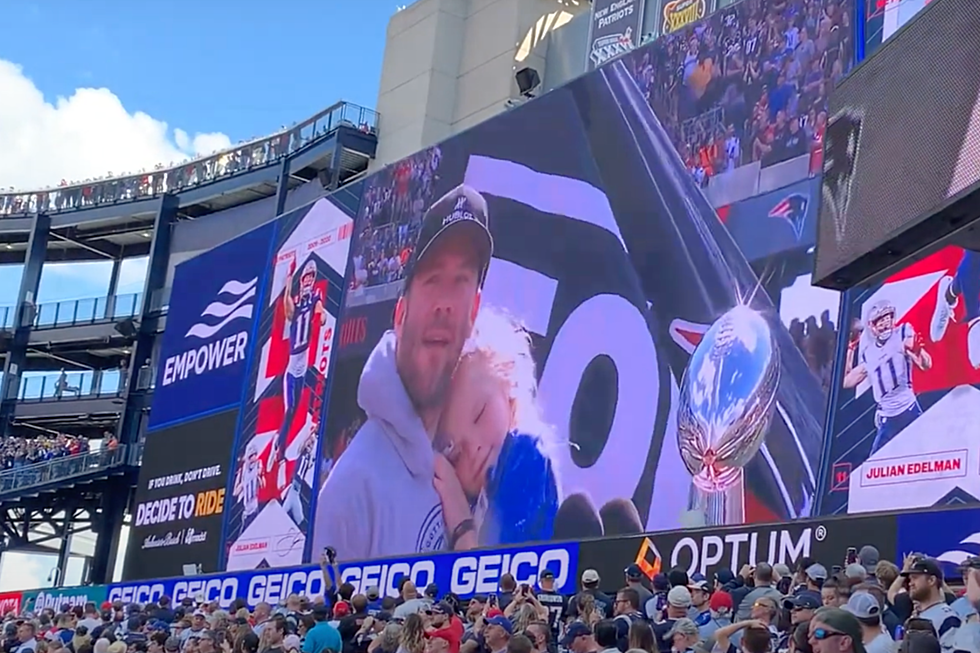 Retired Patriot Julian Edelman Gets Halftime Honor in Front of Foxboro Fans
Michael Rock/Townsquare Media
Despite the 28-13 loss to the New Orleans Saints, Sunday was a special day for New England Patriots fans, as recently retired wide receiver Julian Edelman was honored at halftime at Gillette Stadium.
Edelman came bursting out of the Patriots tunnel, making one final run down the sideline as fans cheered on wildly. The ceremony consisted of speeches from Patriots Chairman and CEO, Robert Kraft and Edelman himself.
Kraft pointed out that only one NFL receiver, Jerry Rice, has earned more playoff receiving yards than No. 11. Kraft lamented the fact that Edelman's final game against the 49ers took place at an empty Gillette Stadium because of COVID-19 restrictions. His retirement announcement also took place at an empty stadium.
"There's no way for a Patriots legend to end his career like that," Kraft said.
With his four-year-old daughter in his arms during his speech, Edelman thanked head coach Bill Belichick and his former teammates. He also noted his appreciation for the New Englanders who have embraced him and his family over the last decade.
Edelman announced his retirement in an elaborate Instagram post in April. In a video that he filmed on the field of Gillette Stadium, Edelman re-lived the highlights of his career and announced that he had to make the hard decision to retire because his body could no longer perform at it once had.
Since his retirement, Edelman has begun working as an analyst for Inside the NFL on Paramount+.
The Patriots drafted Edelman in the seventh round of the 2009 Draft, and he went on to become a Patriots fan favorite. He was crucial in the three Patriots Super Bowl victories during his career. Edelman was rather unknown to national NFL fans prior to his contributions in the Patriots playoff run to victory in Super Bowl 49. His circus-like catch against the Atlanta Falcons during Super Bowl 51 is arguably the biggest play of his career. He then went on to be MVP during the Patriots' Super Bowl 53 victory.
Edelman is considered a no-brainer for the Patriots Hall of Fame, however it is unclear if he'll ever join the honored ranks of the NFL Hall of Fame.
Regardless, Edelman will always have a special place in the hearts of New Englanders.
Additional Reporting by Sierra Fiore
20 Celebrities Who Love the New England Patriots As Much As You
Patriots Nation is strong with or without Tom Brady and these celebrities count themselves among the those who love New England's football team.
More From WFHN-FM/FUN 107