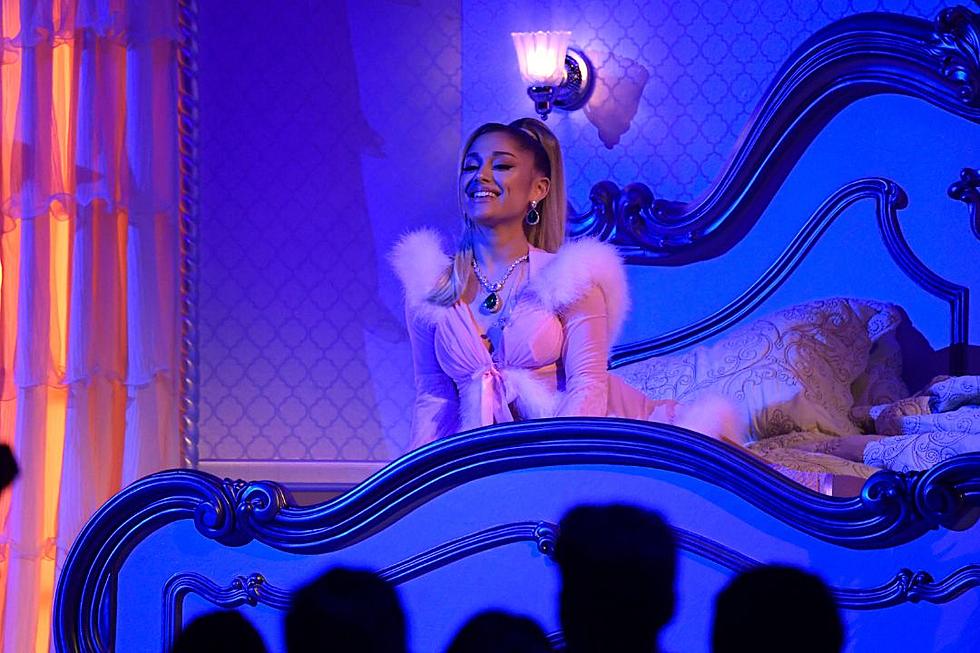 Ariana Grande's Songs About Being Unfaithful and Cheating Hit Different Amid Ethan Slater Rumors
Kevork Djansezian, Getty Images
Ariana Grande fans are looking back at some of the pop star's songs about being unfaithful in the wake of her new, controversial rumored romance.
In July, rumors began to circulate that Grande is in a relationship with her Wicked co-star Ethan Slater, who was still legally married at the time the pair allegedly began to link up.
On July 26, Slater officially filed for divorce from his wife, with whom he was high-school sweethearts. The pair, who recently celebrated their 10-year dating anniversary, got married in 2018 and share one child, who was born just last year.
READ MORE: Are Ariana Grande and Dalton Gomez Getting a Divorce?
On July 27, Slater's estranged wife slammed Grande publicly, calling her "not a girl's girl" and saying her "family is just collateral damage" in the wake of Grande and Slater's suspiciously timed romance.
Amid the drama, many on social media are revisiting some of Grande's songs about cheating and infidelity, as well as old rumors that she once had an affair with an ex while he was with someone else.
Ariana Grande Sang About Being Unfaithful on 'One Last Time'
In "One Last Time," Ariana Grande portrays a woman who has ruined her own relationship by lying to her now-ex. The song implies she cheated on a former lover: "I was a liar / I gave in to the fire / I know I should've fought it / At least I'm being honest..."
The rest of the track sees Grande trying to win him back even though he has moved on, tempting him to be unfaithful to his new partner, as Grande sings:
So one last time / I need to be the one who takes you home / One more time / I promise after that, I'll let you go / Baby, I don't care if you got her in your heart / All I really care is you wake up in my arms / One last time / I need to be the one who takes you home...
Upon its release in 2015, the single was rumored to be about Grande reflecting on her reported relationships with Australian entertainer Jai Brooks and English musician Nathan Sykes. At the time, it was rumored that Grande cheated on Brooks with Sykes.
She Sang About Stealing Boyfriend on 'Break Up With Your Girlfriend, I'm Bored'
Five years after the release of "One Last Time," Ariana Grande drew backlash when she released her song "Break Up With Your Girlfriend, I'm Bored" off her album Thank U, Next.
The song, which was co-written by Grande, finds the pop star attempting to tempt a man to break up with his partner and be with her instead because she's, well, bored:
Break up with your girlfriend (Girlfriend) / Yeah, yeah, 'cause I'm bored / You could hit it in the mornin' (In the mornin') / Yeah, yeah, like it's yours / I know it ain't right / But I don't care...
At the time of its release in 2019, many slammed the song for its anti-feminist message and for normalizing infidelity.
Naya Rivera Once Implied Big Sean Cheated on Her With Ariana Grande
In her 2016 book Sorry Not Sorry: Dreams, Mistakes, and Growing Up, late Glee star Naya Rivera implies that her ex Big Sean cheated on her with the "7 Rings" singer.
"We'd been fighting for five straight days while he was traveling, and then on the one day that he was back in L.A., he said he didn't want to see me," an excerpt from the memoir reads, according to XXL.
"'Well, a--hole, I've got a key to your house' ... I walk in, go downstairs, and guess what little girl is sitting cross-legged on the couch listening to music? … It rhymes with 'Smariana Schmande,'" the passage continues.
Big Sean and Rivera started dating in April 2013. They announced their engagement in October that same year, before breaking things off in April 2014.
The rapper started dating Grande, who he had worked with on the 2013 song "Right There," in October 2014. The couple called it quits in April 2015.
Controversial Pop Songs That Faced Backlash
More From WFHN-FM/FUN 107