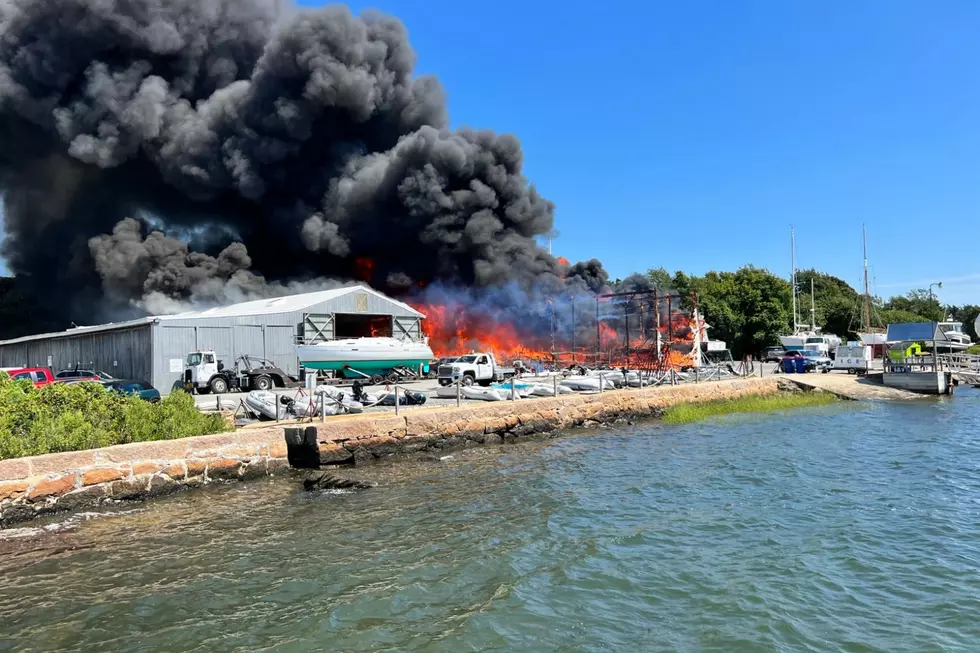 Mattapoisett Family to Host Special Fundraising Event for Beloved Boatyard
Courtesy of Dave Horne
After the devastating fire at Mattapoisett Boat Yard on Aug. 19, fundraising efforts continue in hopes of restoring the boat yard to its original glory. On Oct. 20, friends and family are encouraged to attend a special event at the Mattapoisett Bay Club from 5 to 8 p.m. to raise money for the Kaiser family and their rebuilding project.
Dave Horne's First-Hand Experience of the Boatyard Fire
It started as a typical morning for Mattapoisett resident Dave Horne.
"I was on my boat working when I heard a loud boom," he said. "It wasn't long after that I started to see black smoke coming out of the barn."
Horne quickly called 911 and his good friend, Ned Kaiser, owner of the boatyard.
"My car was close to the barn, so I locked up my boat, got to my car, and it was only after a minute the smoke started, my car was hot to the touch."
Horne decided to film everything he saw on that fateful day, admitting that it was quite a traumatic experience.
"For me, as soon as I saw black smoke, I knew it was the end of the boatyard," he said.
Dave and Susan Horne Look to Give Back
Horne and his wife took a trip to the boatyard at dawn the next day, and as grief started to replace the feeling of shock, the Horne family decided to start a fundraising page to help the Kaiser family rebuild.
"My wife (also) wanted to do a fundraising event, and she was thinking about a golf tournament in the spring, but knowing these guys, it will be rebuilt by then," said Horne. "So I said, 'Let's do this now."
They contacted the Mattapoisett Bay Club, and on Thursday, Oct. 20, a special event will bring the community together for all those in support of the Mattapoisett Boatyard restoration project.
How To Help
Donate silent auction items such as services, sporting event tickets restaurant gift cards, marine merchandise or anything that can help raise money for the mission. If you would like to donate an item, email Dave Horne at davidjameshorne@gmai.com.
All donors and their donations will be posted to mybuzzardsbays.com, and the auction is currently live.
Attend the event on Sept. 20 and enjoy passed hors d'oeuvres with a cash bar and live music by Rebecca Correia. The event is $150 a person. If you would like to attend, email Susan Horne at hornesusan@aol.com.
If you cannot attend, the Horne family set up an online fundraiser on behalf of the Kaiser family to assist with any and all expenses for the restoration project.
Mattapoisett needs our help, and the community continues to show up for the Kaiser family and the beloved boatyard.
Identify These SouthCoast Locations From 1500 Feet
Take a look at these SouthCoast landmarks and see if you can figure them out from above.
More From WFHN-FM/FUN 107