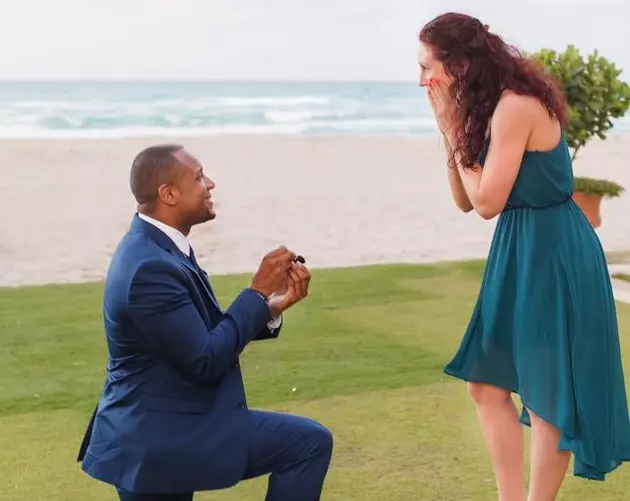 FUN 107's Junior Got Engaged! (VIDEO)
Picture Courtesy: Array Media
I took a little trip to Miami last week with my girlfriend, little did she know there was a whole secret proposal planned!
After a surprise dance class and a surprise appearance from her friends, I surprised my girlfriend Sarah when I dropped to a knee with a very important question. Check out the video some pictures and the story of how everything happened below!
Last Wednesday April 19, 2017 was exactly three years from when we met. As we ate breakfast in Miami, I told Sarah we would be taking an outdoor ballroom dance class and photo shoot that night. She's a dancer and was so excited to hear about the surprise class coming that evening.
She was concerned she didn't pack anything to wear for a ballroom class and photo shoot. As she got ready I revealed to her that I had packed a dress that has meaning to her from early on in our relationship. Now we were set!
We arrived at the Aqualina Resort and Spa for a class on their grand lawn by the beach around 7:00pm (Sunset). At this point she has no idea, but EVERYONE at the hotel knows what's about to go down.
Suddenly during the class our instructor decided to change the music up. She changed it to our song. "The Way You Look Tonight" by Frank Sinatra.
The Surprise Appearance By Her Friends
Before we arrived in Miami her close friend Ariel, who lives in Florida, said we wouldn't be able to meet up. As our song played Ariel and her boyfriend Justin emerged carrying light boxes with lyric from our song. "There is nothing for me, but to love you."
Then it was go time! After a few words I popped the question! Luckily she responded with... "DUH!!"
More From WFHN-FM/FUN 107