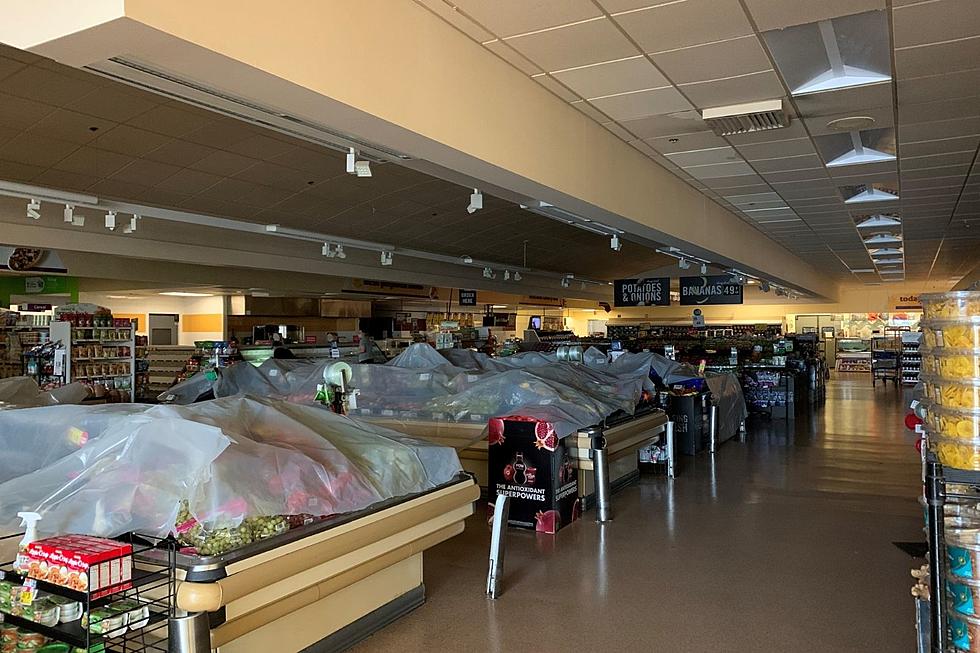 Creepy Photos of the Fairhaven Stop & Shop
Michael Rock/Townsquare Media
After we got off the air yesterday, I decided to take a run through Stop & Shop to pick up a few things. It's something that I often do during storms. Instead of going to the grocery store before a storm with the rest of the world, I'll go during the storm. I have to go to work no matter what the weather is like, so instead of fighting the crowds, I'll have the store all to myself.
My wife texted me a list of things we needed during this week's Nor'easter and I headed inside.
I'm pretty sure I've been in Stop & Shop before while the store was on a generator, but I never remember seeing the weird things I saw yesterday.
The first odd thing was the produce section. The fruits and vegetables were shrouded with opaque sheets of plastic. I'm really not sure why.
I walked to the back of the store where the meats usually are. The shelves were stripped bare.
The yogurt, the butter, the cream cheese and cottage cheese were all unavailable, with more white plastic sheets covering all of the dairy.
Obviously, the perishable foods that need refrigeration were taken from the shelves, but it got me wondering: where the heck is all of the food? I knew it wasn't on display, but where was it?
One of the employees let me know. They had a refrigerated truck from their distribution center in Freetown parked behind the store. All of the food that would be in danger of going bad was being temporarily stored in the truck to make sure it doesn't spoil.
I couldn't leave without taking some photos.
Creepiest Photos of Fairhaven Stop & Shop
Think Those Stop & Shop Pics Were Creepy? Check These Photos of an Abandoned Cape Cod Military Camp
After closing in 1994, the North Truro Air Force Base has been left untouched. Decay, destruction and graffiti have taken over many of the buildings, but some family belongings can still be spotted. The area is now in the possession of the National Parks Service, and according to an update on
Atlas Obscura
from June 2021, the base had been fenced off and locked tight to visitors hoping to get a glimpse inside the historical Cape Cod site. Luckily,
YouTuber @Exploring With Josh
took viewers inside the base back in 2015, so we can still take a peek inside the long-abandoned property.
Abandoned Fairytale Gingerbread Castle Isn't So Magical Anymore
12 Abandoned Film Sets You Can Visit In Real Life
More From WFHN-FM/FUN 107