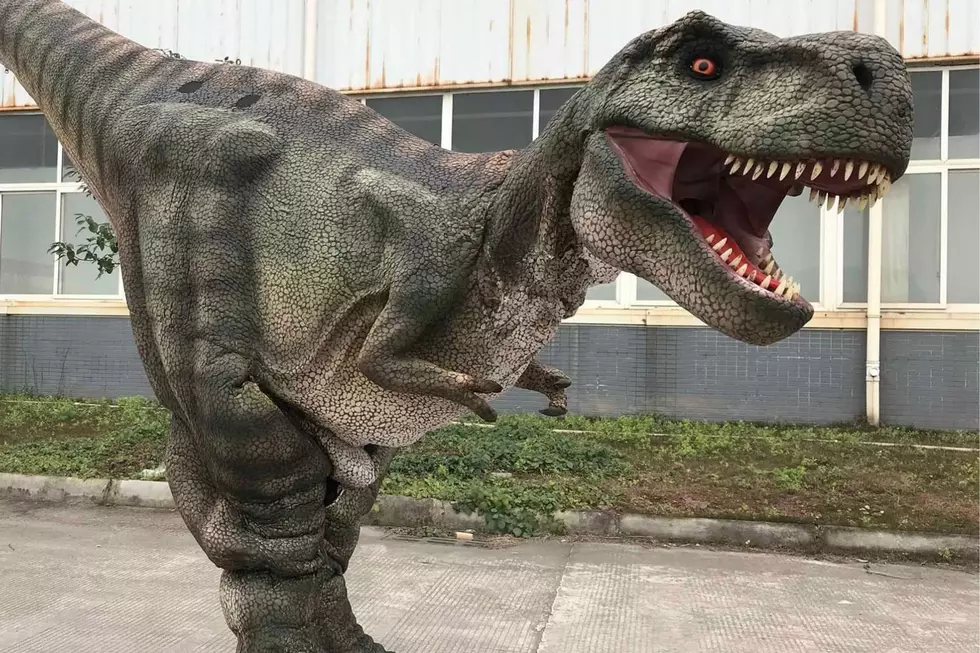 You Can Now Party With Dinosaurs Thanks to New Company in Plymouth
Dinosaur At Your Door/Facebook
It's one thing to watch Jurassic Park or go to a museum to get your prehistoric thrills, but one Plymouth man has taken it up a notch and has brought dinosaurs back to life with the help of animatronic costumes.
Jim Hoagland recently launched Dinosaurs At Your Door, and it's a roaring good time for kids and adults.
How Dinosaurs At Your Door Came to Be
He works for Comcast by day, but in his spare time, Jim Hoagland decided to pursue a passion that came to him after watching a silly video online.
"I came across a video where a guy out in the Midwest had a dinosaur costume and was playing practical jokes on people," Hoagland said.
After doing a little research, Hoagland discovered that these guys actually do live shows with the dinosaur costumes.
"I love dinosaurs, so I got in touch with a company that makes them," he said.
It took six months to design and receive the realistic costumes, and Hoagland is officially ready to start wowing families in Plymouth and the surrounding area.
How the Dinosaurs Work
The costumes are animatronic and extremely realistic.
"I go inside and I have control of the head, mouth, eyes and sound effects," Hoagland said. "You can't tell there's a person in there at all."
Visibility is tough, so there is a monitor inside the dinosaur head that allows Hoagland to see where he's going. He also has a "Dino Ranger" at all times. If a person is within four feet of the dinosaur, it's impossible to see them. Hoagland relies on his handler to navigate.
Hoagland has two, 14-feet long dinosaurs. One is a velociraptor, the other a Tyrannosaurus Rex.
Kids are able to touch and get up close and personal with a giant dinosaur. The dinos are even scaly to the touch. Hoagland stays in character while his handler hosts trivia and answers questions.
A Hit For All Ages
Hoagland expected this to be a hit with children, but it turns out adults love the dinosaurs, too.
"A woman and her husband have a running joke since seeing the first 'Jurassic Park' that she would buy him a velociraptor," Hoagland said. "So, she's having me show up for his birthday."
This unique experience is clearly catching the attention of dinosaur lovers and thrill-seekers.
It brings Hoagland so much joy to see the priceless reactions of people seeing his animals for the first time.
So, don't panic if you see a T-Rex knocking at your door. It's just Hoagland bringing some fun to your next event.
Tour the SouthCoast's Best Attractions, Food and More From A to Z
From decadent donuts to fields of u-pick flowers, there is so much to delight in here on the SouthCoast. Take a tour of some of the area's top spots, and don't forget to sample some signature foods along the way!
More From WFHN-FM/FUN 107