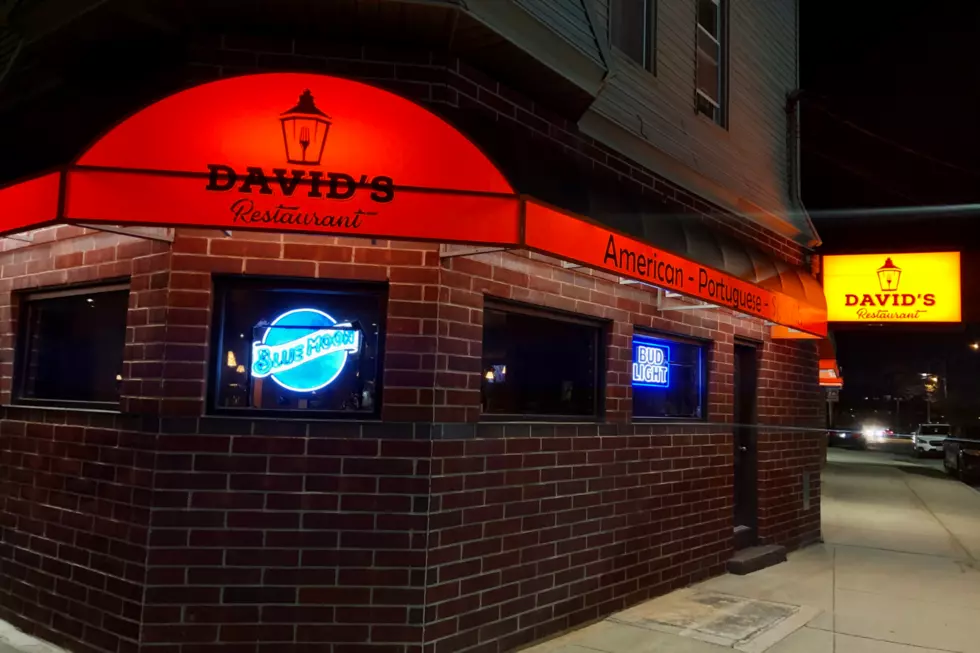 David's Restaurant Latest Eatery to Dominate the SouthCoast
Gazelle/Townsquare Media
I'll be completely honest, it's been a long time since I've been blown away from a good meal.
Located in the North End of New Bedford, David's Restaurant is changing the surrounding scenery at 70 Church Street. Right up the street from Ever Fitness (the former Gold's Gym) and where Café Funchal was located, this Portuguese/American/Spanish cultured bistro is easily the next best eatery on the SouthCoast.
The owner and creator, David Jimonis, was born in Guatemala and is living the American Dream. He's been a local to New Bedford for almost 20 years and has picked up the art of Portuguese cooking from the local area and incorporates Spanish-style from his homeland.
When it comes to his employees, he tends to put them first as a result of working within the restaurant industry throughout the local area. He's worked throughout the city of New Bedford and has gained new experiences along the way when it comes to his style of cooking and his level of culinary arts.
A few signature dishes you will find on his menu consist of David's Seafood Pasta (sautéed lobster, shrimp and scallops in a lobster cream sauce over choice of linguini, fettuccine or penne), shepherd's pie, meat pies, David's Roasted Chicken (half roasted chicken), Chicken Pistachio (pan-seared in butter and topped with caramelized Vidalia onion and chopped pistachio with a sweet champagne and pesto cream sauce), homemade clam chowder, linguica clam fritters, pastelitos (similar to a Spanish empanada, a Cuban pastry puff filled with meat) and much more.
As somewhat of a quest to finally give the restaurant a try, I was completely shocked to see how busy it already was, while simultaneously controlling the high demand with calmness and professionalism.
One thing I noticed right away was the well-rounded crew.
Every employee was well experienced in the restaurant industry and according to the Bar Manager Brian Ferreira, all of the employees had a combined total of 75-100 years of work in the local area.
This chef-owned family restaurant is small business-oriented that uses locally-sourced ingredients. Right away, this fact alone made me a fan.
"Our goal is to know everybody by name, to make you feel as though you're part of the family and always welcomed," Ferreira added. "We want to know what you like to eat and drink before you even order."
Right off the bat, the future outlook of this business are beyond satisfactory.
When it comes to the drink selection, David's is more than impressive.
"We have espressos, cappuccinos, beers, and wines, with eight lines on draft including Sagres Portuguese beer," Ferreira said. "If you enjoy a good glass of wine, we have reds and whites (glass or bottle), Madeira and Port wine and your choice of red or white Port Wine Sangria." 
As a first-time customer, I asked the waitstaff what was popular and perhaps what I should order to curb my cravings for deliciousness. This was their suggestion:
Start with a bowl of homemade Portuguese kale soup with a side of the linguica clam fritters. Next, order the Seafood Pasta or Pistachio Chicken and pair it with the Portuguese Sand Creek red blend.
"Lastly, top it off with an espresso and a 10-year Taylor Fladgate Port Wine," Ferreira recommended. "That choice alone will make you fall in love with what we have to order."
I wish I would have taken his advice before placing my order, but in all honesty, I was blown away by my gut intentions by ordering the following:
Chucitos de Pollo (mini-tamales with chicken): steamed corn tortilla dough with chicken.
Almond Crusted Salmon: pan-seared and topped with sweet almond cream sauce over handmade mashed potatoes.
Steak Sandwich: Grilled, topped with sauteed onion and pepper with David's steak sauce on a papo seco [with the option of how you would like your steak prepared. The steak depicted above is medium].
Chicken Alhinho: boneless chicken breast tossed with David's spicy garlic cream sauce and red-hot pepper with a side of hand-pressed sweet potato waffle fries.
Chocolate Tornado Cake: Layered chocolate fudge cake with whipped cream and chocolate drizzle.
It's safe to say that I'll be returning again to take on the extensive menu that David's has to offer. As far as this restaurant goes in my eyes, it's a fairly new hidden gem that nobody in the SouthCoast should sleep on.
When it comes to the best of the best, as new as this restaurant is to New Bedford, they most certainly take the cake for creativity, deliciousness and a well-rounded selection of mouth-watering entrees.
Until we meet again, David's. Until we meet again.
Enter your number to get our free mobile app
More From WFHN-FM/FUN 107