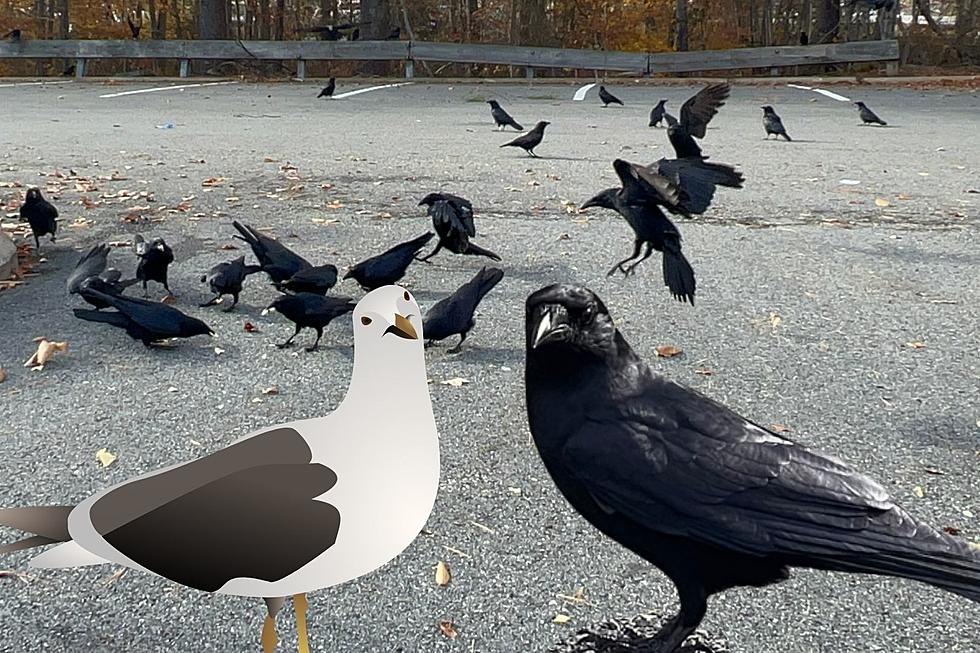 North Dartmouth's Unofficial Turf War Between Seagulls and Crows
Gazelle/Townsquare Media
There's a battle of the birds in North Dartmouth where leftover french fries and taco shells don't stand a chance.
How often do you see a flock of seagulls chilling in a parking lot, or more specifically, in a mall parking lot? Answer: almost every time. Now, how often would you find a large group of crows in that same parking lot, walking around on the tar? If you ask me, I can't recall a single time I've ever witnessed that.
Over at the Dartmouth Mall in the area of the Taco Bell parking lot, seagulls are king. Every bit of dropped litter and food is theirs on a first-come, first-served basis. Nothing that is dropped is safe.
As of late, there's been a change of winds surrounding the Dartmouth Mall and Dartmouth Towne Center. Suddenly, seagulls are disappearing as fast as a dropped french fry, and the skies are darkened by a mass of crows. They have settled within the seagull turf without any show of mercy. The crows are the captain now.
Just the other day as I was welcoming the arrival of the big guy, Santa Claus, to the mall, I ran into a bit of confrontation between a gull and a crow. They were fighting each other, never mind for the food, and it was a chaotic scene. Nevertheless, the crows came up victorious, and as I returned to the "fowl" scene, that's when I noticed that the seagulls were absent. There was nothing but trash and black crows, both scattered throughout the parking lot.
I do find it extremely strange that there seems to be a sudden uptick of crows here on the SouthCoast. They roost in trees in packs called "murders," patiently waiting for a crumb to hit the pavement before swooping in for a small victory. What was once a sea of gulls is now a dark cloud of crows by the Taco Bell. Change is coming and it's not looking too good for the seagulls.
Perhaps they finally met their match. Years of domination across the SouthCoast could very well be coming to an end as a new era begins. The age of the crows has settled within Dartmouth's parking lots and it's up to nature to take its course from here on out. God speed to the seagulls.
A Real SouthCoast Native Would Know the Answers to These Jeopardy Questions
It was always so interesting to hear about episodes where the gameshow participants on Jeopardy answered questions about our little corner of the world. The fact that New Bedford and Fall River have been collectively mentioned approximately 30 times since 1988 is astounding.
We chose a few of our favorite questions and listed them below for our audience to work through. Let's see how many of these questions you can answer correctly. Tell us how many you got without looking at the answer.
More From WFHN-FM/FUN 107