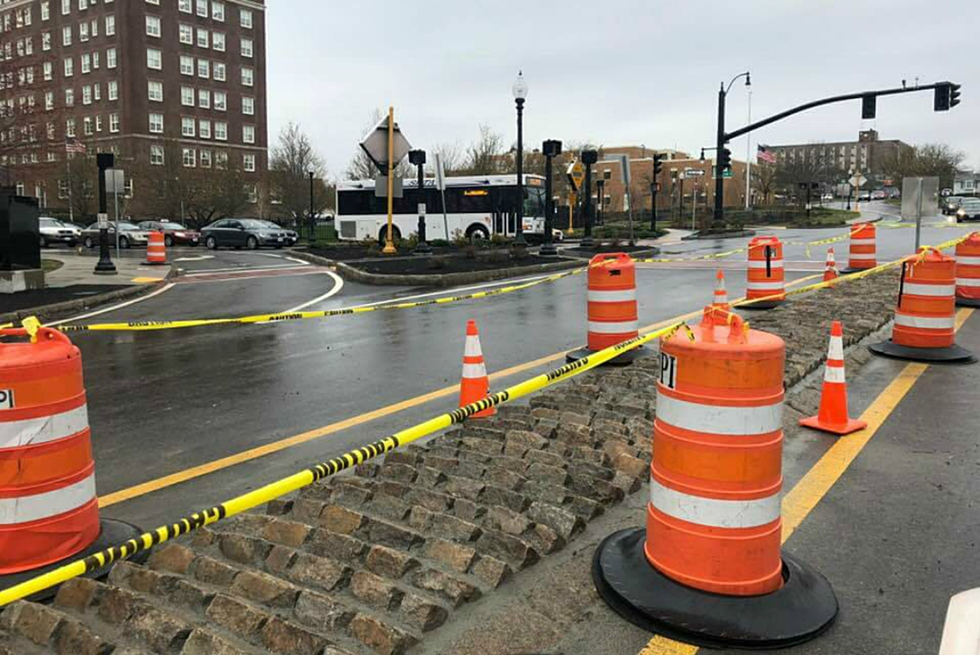 City Councillors Pen Letter to Mayor Over Panhandler-Busting Stones
Facebook
NEW BEDFORD — Three New Bedford City Councillors have sent a letter to Mayor Jon Mitchell, condeming the use of "spiked cobblestones" to deter panhandlers from standing in the medians of busy intersections in the city.
The letter, penned by Ward 3 Councillor Hugh Dunn and signed by Dunn, Ward 2 Councillor Maria Giesta and Councillor-at-Large Ian Abreu, refers to the structures as "inhumane architecture," and called their placement "dangerous and malicious."
The so-called spiked cobblestones appeared on the median of New Bedford's "octopus" intersection on Route 6 late last week. It is the latest attempt by the City to deter panhandlers from busy intersections. Last year, the City installed jersey barriers on the median at the entrance to the Riverside Landing shopping center off Coggeshall Street.
"Those medians are there for a reason, and I'm pretty sure the reason isn't to hurt people," Dunn told WBSM News.
Dunn said he noticed the cobblestones in the "octopus" median over the weekend.
"I had to a double-take to really appreciate the gravity of what this type of architecture in our city means," he said. "It took me a little while to realize that the way these cobblestones are spiked, it's meant to hurt people. It's meant to make it so you can't stand on this piece of public property, and if you do, it has the potential of injuring you."
"Where does it end? Why wouldn't we just put up barbed wire? It's cheaper, and it accomplishes the same goal," Dunn said. "I don't think, as a city, we should be in the business of spending infrastructure dollars on things that can hurt people."
The letter asks that instead of addressing the "symptoms" of panhandling, the City address "the societal issues driving this issue."
"I get that we want panhandlers off the streets," Dunn said. "I've been working with the Homeless Service Providers Network, as well as First Citizens Federal Credit Union, to establish signs around the city to give in a more responsible way, rather than giving hand-to-hand donations. The mayor has been supportive of that idea. But the placement of spiked cobblestones throughout the city is not something I can condone."
Dunn said nobody ever mentioned the idea of placing the spiked cobblestones to him, or else he "would have been on record" that he "doesn't support the imposition of inhumane architecture in the city of New Bedford." Although Councillors Abreu and Giesta were the only ones to sign the letter to the mayor, Dunn said he "does not have a temperature" on where the other councillors stand, but that he will bring it up to them at tonight's City Council meeting.
More From WFHN-FM/FUN 107