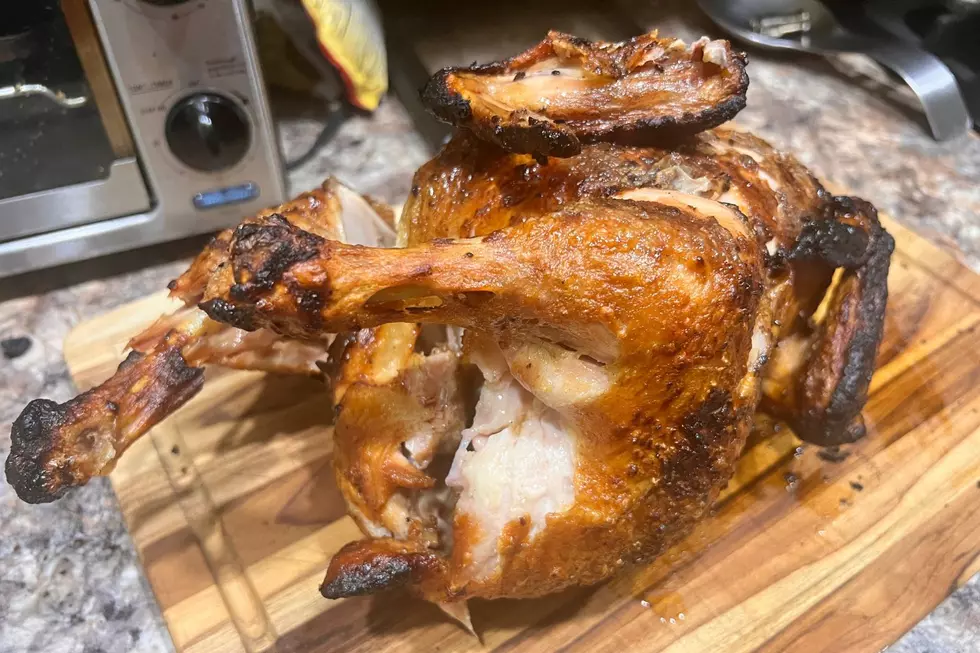 Get This Grill Attachment and You'll Never Buy a Cooked Rotisserie Chicken Again
Gazelle/Townsquare Media
This one goes out to all the grill masters out there.
How many times have you bought a rotisserie chicken from the supermarket just for it to be dry or overcooked? Not to mention the grease at the bottom of the bag that's a ticking time bomb for your vehicle interior. One rogue pothole and that chicken juice is seeping through the upholstery.
I'm speaking from experience and I'm here to say that nobody needs that added stress in their life.
For Christmas this past year, my fiancee and I received the best grill attachment I could ask for: a rotisserie kit that requires very little assembly. The hardest part is figuring out how to mount it into your grill. Thankfully, it's a universal fit.
While shopping at BJ's, I stumbled across a monster of a raw chicken that weighed around 8 pounds, double if not almost triple the weight of a store-bought rotisserie chicken. I mean, this thing had some meat on it, making it perfect for a nice roast on the grill.
The temperature was set low for a nice slow cook as the chicken rotated inside the grill.
The downfall of cooking a chicken this big is that you'll need to give yourself a good two hours before it's ready. You can eliminate this with the convenience of buying store-bought, but the quality, once finished, is unmatched if you do it yourself.
Once your chicken is fully cooked at a temperature of 165-175 degrees Fahrenheit, prepare for it to fall off the bone. The legs separate with ease for anyone who enjoys a juicy drumstick and the breast is ever so moist.
Chef up a savory Mozambique sauce or give it a splash with some barbecue sauce and you're good to go. The only additional prep work I added to the chicken before cooking it was good, old-fashioned salt and pepper. Nothing more, nothing less.
Bonus tip: Save the remains (the gizzard, bones, rib cage) and boil it all down for a hearty chicken stock.
7 Rules You Should Follow if You Plan On Grilling in Massachusetts
Firing up the grill is a welcome sign of warm weather. But if you live in Massachusetts, you should read these rules before you get cooking.
More From WFHN-FM/FUN 107