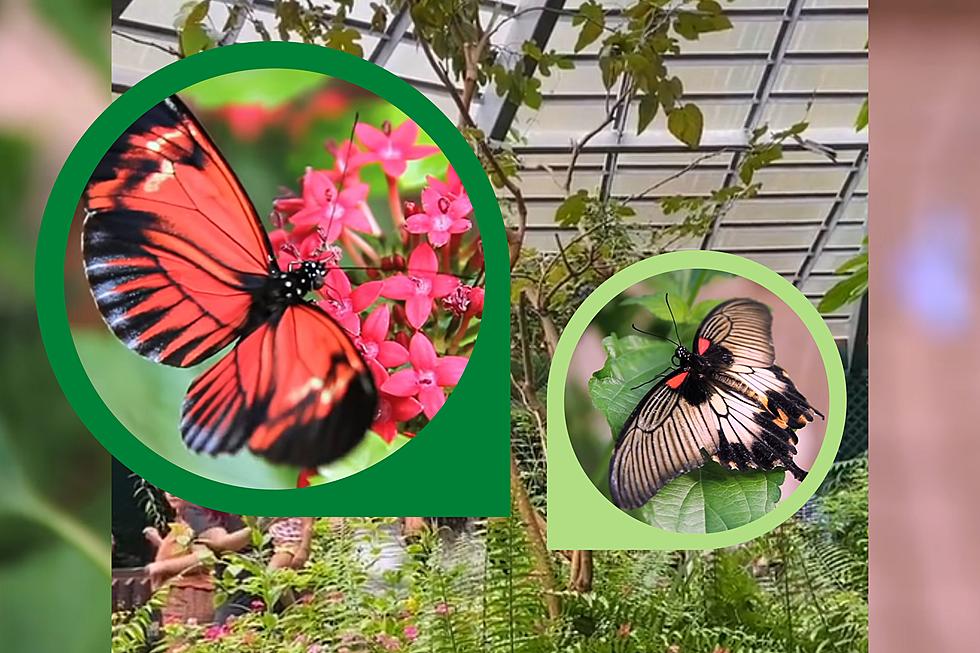 Walk Among Hundreds of Butterflies In This Tropical Mass. Paradise
@harpweaving via TikTok, @SylviaButterfly1 via YouTube
Whether you're searching for a romantic day-date or an educational family day trip, this butterfly garden in Westford is sure to be a perfect pick.
The Butterfly Place, located in Westford, Massachusetts, is nothing short a tropical paradise full of hundreds of free-flying butterflies. As you stroll through the garden's winding pathways during your visit, you'll see a variety of both tropical and native New England butterflies that seem to dance through the air in between trips to the garden's flowers. Other small creatures like koi fish and quail birds also live peacefully among the butterflies.
As if witnessing and interacting with these beautiful critters wasn't wonderful enough, The Butterfly Place also offers a chance to turn a simple trip into a full-on learning experience the whole family can enjoy. A video detailing the butterfly life cycle and fun facts plays on a continuous loop inside the garden, and there are special exhibits as well, where visitors can take a closer look at eggs, caterpillars, cocoons and chrysalides.
The gift shop even offers butterfly hatching kits, so you can experience the wonder of hatching and releasing your own butterfly or moth from your own backyard.
The Butterfly Place runs seasonally and is currently open for its 2021 season, which will run through Columbus Day in early October. The garden is open from 10 a.m. to 4 p.m. daily, and both ticket sales and admission ends each day at 3:30 p.m. Tickets cost $14 for adults, $12 for seniors 65 and older, and $10 for kids 3 and up. Kids 2 and under are free.
Hummingbirds Are Returning to the SouthCoast So Here's What You Need to Know
As hummingbirds make their highly-anticipated return to the SouthCoast, there are things you need to know to keep them happy and healthy. Mass Audubon released
the perfect guide
on how to care for and feed your visiting birds.
Bask in Your Own Tropical Paradise in the Middle of Massachusetts
Massachusetts residents truly are lucky in that we get to experience all four seasons throughout the year. But you know one thing we
are
missing? A little bit of tropical paradise.
Step inside this home for sale
smack dab in the middle of Massachusetts that actually offers exactly what the rest of the state is missing out on.... We promise this place is
epic
.
Fairhaven House Allows You to Live Out Your Hobbit Fantasy
This A-Frame home with 624 square feet sits on just over one acre of land and the views are something out of a dream. With a touch of Maine architecture to the house, it is very much meant for someone who enjoys the outdoors and the great wilderness.
More From WFHN-FM/FUN 107