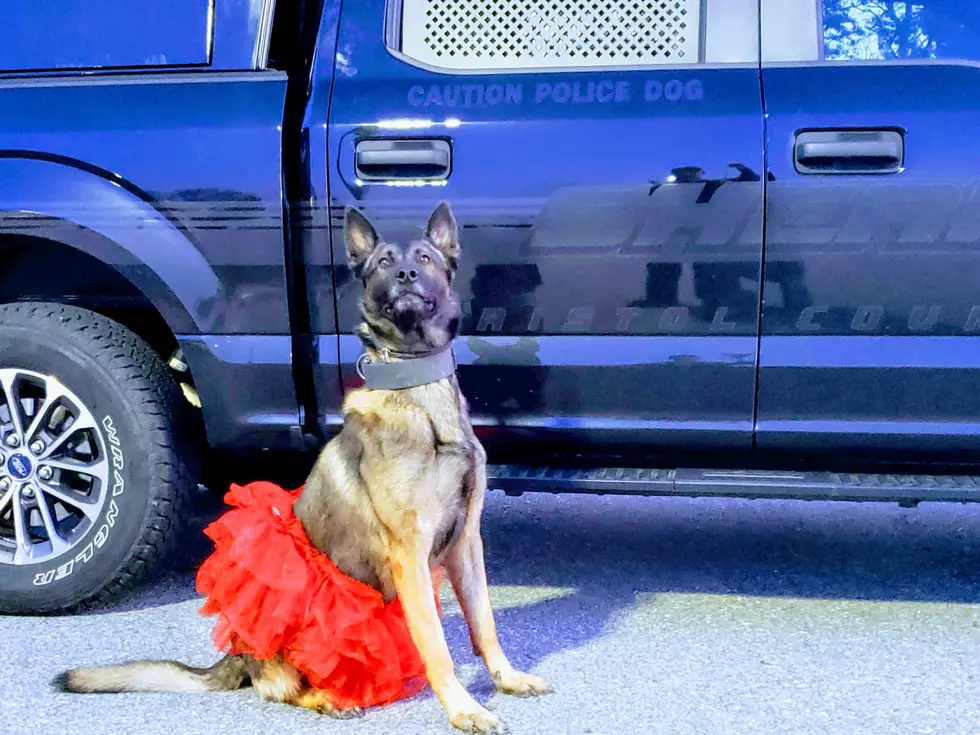 Bristol County Sheriff K-9 Accepts Red Tutu Challenge
Bristol County Sheriff's Office
Unless you've been living under a rock, your Facebook and Instagram feeds have been flooded with guys wearing red tutus for the past couple of weeks.
The trend is for guys to get a video or a photograph of them doing their thing while wearing the tutu, then post it on their social media. The red tutu challenge went viral, with each of the participants mailing in a check for $50 to The Friends of Jack Foundation. All of the money will be used to buy presents for underprivileged SouthCoast children for the holidays.
Until this week, everyone who has taken the red tutu challenge has been human. That changed when a fun-loving bulldog named Ozzy took the challenge. Ozzy challenged K-9 Will, a German Shepard partner for Kenny Almeida at the Bristol County Sheriff's Office.
One look at the photo of Will in the red tutu begs the question, how the heck do you get a tutu on a 70-pound police dog? Jonathan Darling, a spokesperson for the Sheriff's Office had the answer.
"Will was the perfect choice for the challenge. When he's at home with Officer Almeida's family, he's as gentle and playful as any dog out there. He had no trouble getting the tutu on and taking part in the challenge," Darling said.
Will made sure to pass it forward by challenging his good friend K-9 Lucky of the Fall River Police Department, a black lab who is Officer Zach Dupere's partner. Will and Lucky trained together earlier this year, completing more than 500 hours in explosive detection work over 12 weeks. The dogs can detect the chemicals inside components that are used to make explosives.
This is the latest cooperative effort between the Friends of Jack Foundation and the Bristol County Sheriff's Office. The groups partnered on a program earlier this year in which children who are visiting relatives at the House of Correction are given a stuffed animal as they leave. It can help ease the stress of coming to a jail to visit a loved one.
"The Friends of Jack Foundation is doing great work in the community," said Bristol County Sheriff Thomas M. Hodgson, who will be making a donation to the Friends of Jack as part of the tutu challenge. "From what I've seen on my Facebook feed, it's been pretty successful and hopefully will help them make the holidays brighter for children in need. That's a cause everyone, especially the Bristol County Sheriff's Office, can get behind."
More From WFHN-FM/FUN 107