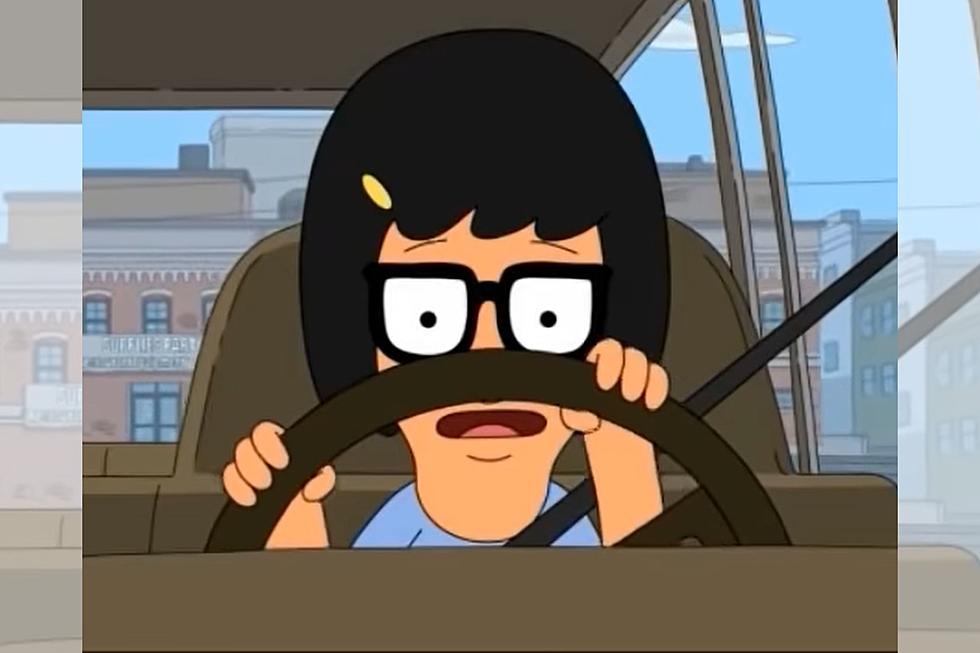 If Tina Belcher Had a Mass. License Plate, This Would Be It
S C via YouTube
Ah yes, Tina Belcher: Queen of writing erotic fan fiction and admiring butts. The socially-awkward teen portrayed in the iconic cartoon "Bob's Burgers," is beloved by many dedicated fans of the show, so it honestly wouldn't shock me in the slightest if this recently-spotted Massachusetts license plate was inspired by the eldest Belcher herself.
When she's not daydreaming about kissing Jimmy Pesto Jr. or adventuring with her siblings around Wonder Wharf, Tina often finds herself caught in uncomfortable situations, ones that typically warrant Tina's uncomfortable moan.
A Massachusetts driver, who we'd like to think is possibly Tina herself, channeled their inner Tina while customizing their license plate, ending up with the masterpiece that is "UHHH." The red, white and blue Mass. plate is slapped right on the front of a light blue Volkswagen Beetle, and Reddit user u/Eden-Echo couldn't help but snap a pic when they saw the car around town.
What town, you might be asking? Although we were really hoping this picture was taken in Belchertown, Massachusetts, u/Eden-Echo said they snapped the photo outside the Barnes & Noble in Warwick, Rhode Island.
We imagine Tina driving around town in that VW Beetle would look a little like it did when Bob tried to teach her the basics in an empty parking lot.
This wouldn't be the first time Massachusetts and "Bob's Burgers" have shown each other a little bit of love. A few years ago, fan theories swirled that New Bedford may have been the inspiration for the town in the show. Eugene Mirman, who voices Gene Belcher, even chimed into the conversation, noting that he "like[s] to think of it as somewhere in New England."
The Best Children's Shows in History
The Best Movies Released in the '90s
To celebrate the incredible cinematic achievements of the decade,
Stacker
compiled data on all 1990s movies to come up with a Stacker score—a weighted index split evenly between
IMDb
and
Metacritic
scores. To qualify, the film had to have a premiere date between 1990 and 1999, have a Metascore, and have at least 1,000 votes. Ties were broken by Metascore and further ties were broken by votes.
Keep reading to discover which film featured one of the most disturbing scenes in cinema and which big movie star made the list multiple times.
Then & Now: The Cast of 'Shrek'
See what the core voice cast of 2001's Shrek looked like when the film first premiered, and find out what they're up to today, below!
More From WFHN-FM/FUN 107