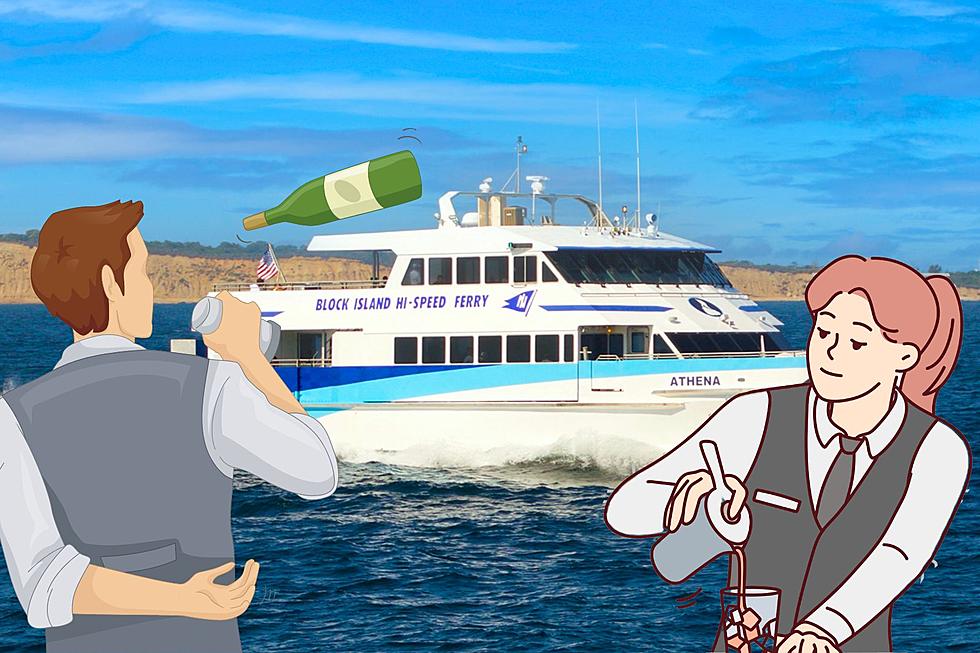 A Tribute to the Underdogs of the Block Island Hi-Speed Ferry Who Deserve Some Recognition
Block Island Hi-Speed Ferry via Facebook/Canva
The world is filled with underappreciated careers that could use a little more recognition.
I'm talking about those thankless jobs that often go unnoticed and deserve a little more gratitude. Take a bus driver for example: when's the last time you thanked them for taking your child to school safely? Or the UPS, Amazon, Fed-Ex, and Postal workers that deliver from dawn to dusk, braving the elements and unkind dogs?
I discovered a different line of work that caught my eye instantly- the bartenders aboard the Block Island Hi-Speed Ferry.
Last Summer, I had a DJ gig over on Block Island and little did I know while leaving the port of Point Judith that the seas ahead of me were going to be rough. When I tell you that the boat was bobbing up and down like a roller coaster straight out of Pennsylvania's Hershey Park, I was hanging on for dear life.
In the mean time, the bartenders are whipping up cocktails and bloody mary's with all the fixings so nonchalantly. Hanging onto the bar with one hand and pouring the liquor with the other, it was as if I was watching Cirque du Soleil, but with bartneders. They were smiling the entire time, while I was holding on for dear life, trying my hardest not to get sick.
Talk about a hidden talent!
Needless to say, I was highly impressed with their ability to hold their ground, serve customers, mix up some drinks, and not spill a drop of booze. That to me deserves some recognition.
Therefore, to the bartenders of the Block Island Hi-Speed Ferry, this one's for you. Your patience, persistence, and strong balance skills have paid off and have not gone unnoticed.
World's Largest Inflatable Attraction Takes Over Topsfield This Weekend
The Big Bounce America announced its 2023 North America tour and it will set up shop at Topsfield Fairgrounds for two weeks. This epic experience is fit for everyone, and wait until you see the setup.
When the New Bedford-Fairhaven Bridge Is Closed, Here's How to Pass the Time
The New Bedford-Fairhaven Bridge closes. A lot. Here's how to pass the time when you didn't check the schedule and find yourself stuck waiting for the bridge to open. These fun suggestions come from our Facebook friends and appear exactly as they submitted them.
More From WFHN-FM/FUN 107