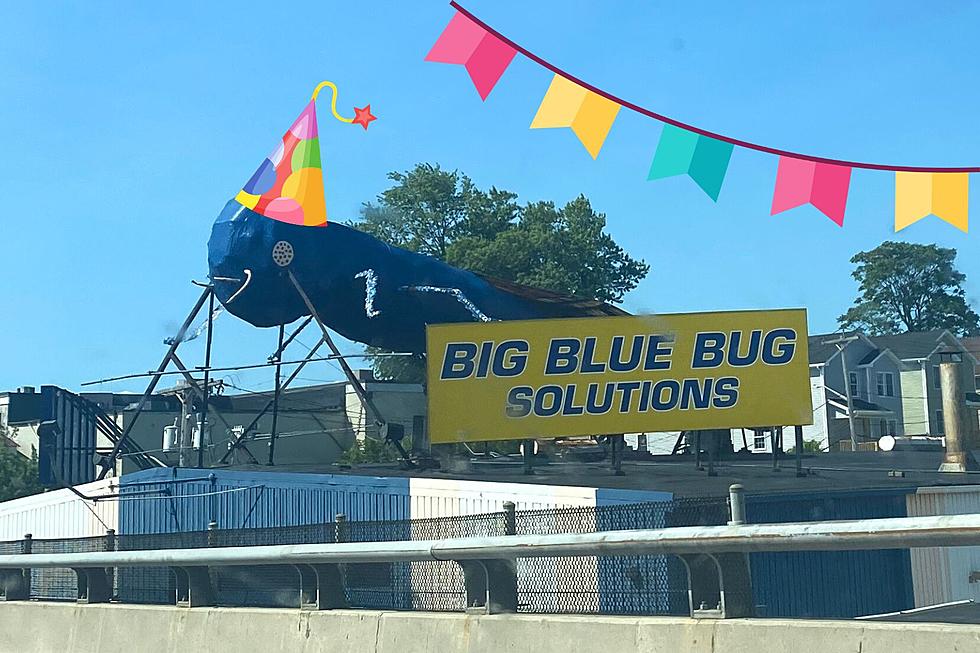 Big Blue Bug in Providence Celebrates 43 Years Overlooking I-95
Maddie Levine/Townsquare Media
On Monday, an iconic Rhode Island landmark celebrated an impressive landmark.
Nibbles Woodaway, better known as the Big Blue Bug, has been looking over I-95 for officially 43 years. The bug has been a sign to travelers that they have arrived in the Ocean State, it's been an indicator of the holiday season with its bright, red nose, and it has added to the Rhode Island skyline in such a unique way that it has caught national attention.
For its 43rd birthday, let's take a closer look at this 4,000-pound bug and find out why it's even there.
The History of Rhode Island's Big Blue Bug
In 1980, New England Pest Control moved to a new building along I-95 and the company wanted to grab the attention of travelers.
For $20,000, the team constructed a 58-foot long, 9-foot tall replica of an Eastern Subterranean Termite. It's 928 times the size of an actual termite, but it had to be to turn heads on the interstate.
I was fascinated to discover that the bug was originally purple to represent the color of a live termite swarmer when it's put under a microscope, but over time, the sunlight faded it to the blue color we know and love.
In 1990, a Tiverton resident won a contest to give the Big Blue Bug its official name, and Nibbles Woodaway was born. By 2012, New England Pest Control officially changed its name to Big Blue Bug Solutions to honor its beloved mascot.
Big Blue Bug Gets National Attention
Nibbles has been featured in television programs and movies such as Dumb and Dumber, The Today Show, The Oprah Winfrey Show, The Daily Show and Family Guy. It has appeared in books and comic strips such as Zippy the Pinhead and Roadside America by Mike Wilkins. It has its own mural at Denver International Airport. It is featured on the wall of a luxury hotel in Europe.
A few years ago, Rhode Islanders were stunned to watch Nibbles transform into the Hulk, but the bug has since gotten a brand new coat of blue paint and continues to watch over travelers on the highway, remaining a proud New England icon loved by local and national fans alike.
Happy birthday, Nibbles!
See the Stars Who Own Homes in Rhode Island
There are plenty of celebrities who once called Rhode Island home, but how many still do? Here's the list of stars who own homes across the Ocean State.
Look Inside the Largest Residence in Rhode Island
Seaview Terrace is a Golden Age gem in Newport, Rhode Island. It may be the fifth largest mansion in Newport, but it is certainly the largest single-family home, stretching 43,772 square feet. Let's take a look inside.
More From WFHN-FM/FUN 107