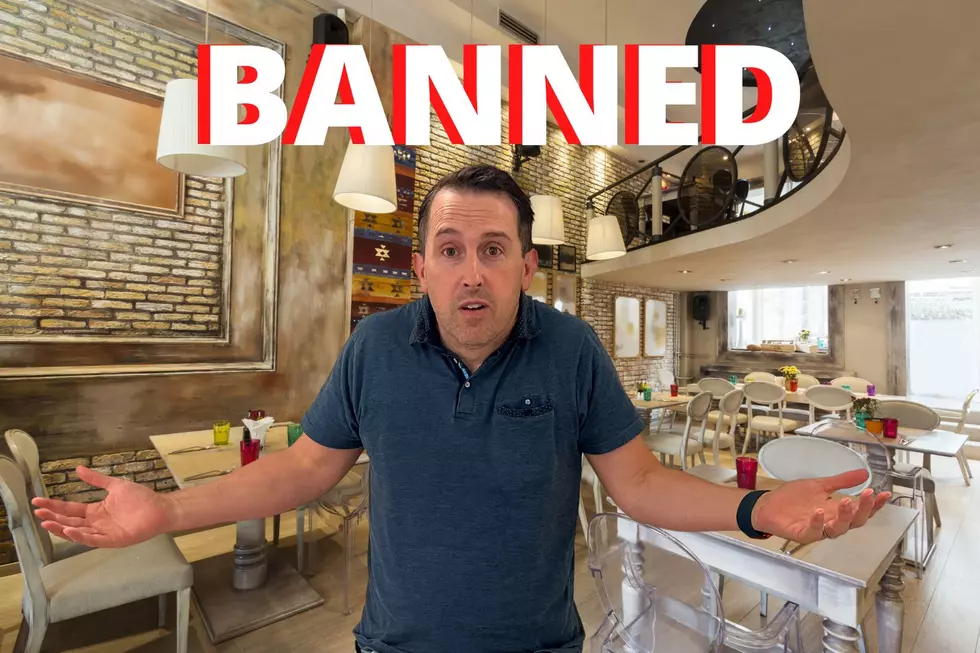 That Time Michael Rock Got Banned from a SouthCoast Restaurant
Michael Rock/Townsquare Media
As Gazelle wraps up his Facebook sentence for saying something with which the social media giant disagreed, the conversation on Michael and Maddie turned this morning to whether anyone has ever been banned by a business.
Maddie admitted she was thrown out of a bar when she was younger after getting mouthy with the staff.
Gazelle reminded me that I was once banned from a local restaurant, which, incredibly, is completely true. Here's how it happened.
One perk of being a part of the airstaff  here at Fun 107 is that each on-air personality gets one of the gift certificates when we feature a Seize The Deal. There are a lot of reasons we do this, but it gives the DJs the ability to better speak about each restaurant and the different dishes they've enjoyed.
When members of our airstaff use the gift cards and eat at Seize The Deal restaurants, it can help grow a relationship between the restaurant owners and Fun 107. It also helps strengthen the brand of the restaurant. If Gazelle, Maddie and the whole airstaff are seen at a local restaurant, it certainly helps build the credibility of the business.
However, several years ago, one restaurant owner had a hard time with this philosophy. He mistakenly thought I was unauthorized to give the gift cards away to the airstaff, and was pretty hot about it, banning me from his restaurant. It would have been maddening if it weren't so comical.
In fact, my boss, Gazelle and Maddie all tease me about it to this day.
We asked the audience if they've ever been banned from a business, and we got a bunch of entertaining responses. Here were a few of our favorites. We've edited out the businesses' names to protect the innocent.
Jaime - East Freetown
I got myself and even my unborn baby banned from my dentist for life about 20 years ago.  I went for a cleaning.  I was pregnant for my daughter and the hygienist started as usual, did a few things, and then said, 'You're all set.'  But as I was leaving I realized she didn't brush my teeth. I went back and let her know, but she said she did brush them. It escalated quickly.  I was like, 'I'd know it if you stuck a spinning brush in my mouth.'  F-BOMBS flew.  Long story short, I got myself, my unborn child and my ex-husband banned for life.  My daughter didn't know about this and tried to go there.  She was told she is never allowed in there.
Deb - Freetown
My dog Sheriff is banned from (a major, national pet store). He's an 80-pound American Bully. He jumped on a woman and knocked her down trying to say hello.
Adam - Dartmouth
About 10 years ago I got banned from (a major national fitness center) with my best friend and father. They told us we were laughing too much while we were there and kicked us out. I think it was because we were going too much and spending several hours a day every day there.  My dad requested a meeting with the manager and they refused.  They canceled his membership, but he went to work out anyway until he got a meeting.  Unfortunately they called the police and had him escorted out with the K9 unit. Then, he posted a comment on Facebook about the establishment.  Several days later he got a letter banning him from every single location in the country.

 
50 Most Popular Chain Restaurants in America
YouGov investigated the most popular dining brands in the country, and Stacker compiled the list to give readers context on the findings. Read on to look through America's vast and divergent variety of restaurants—maybe you'll even find a favorite or two.
More From WFHN-FM/FUN 107