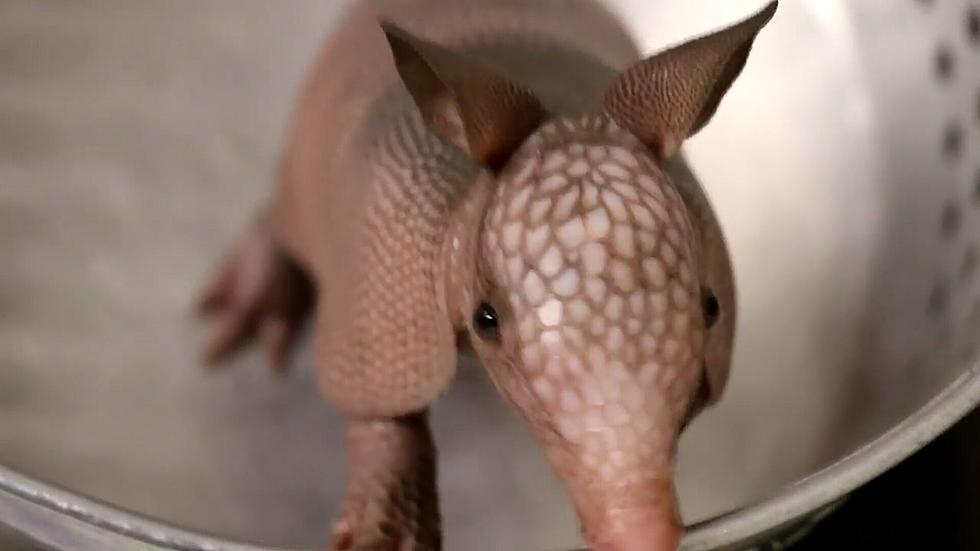 Get Up Close & Personal With the Baby Armadillos at Roger Williams Zoo [VIDEO]
Roger Williams Park Zoo & Carousel Village via Facebook
We got a little sneak peek of Providence's newest creatures earlier this month, but now it's time to see them up close and in action.
Named after the women of "The Golden Girls," Sophia, Rose Dorothy and Blanche are baby nine-banded armadillos and the newest members of the family at Roger Williams Park Zoo. The girls were born to mom, Patsy, and dad, Sheldon, on April 23, and shortly after, the zoo shared some photos of the pups, still fairly pink but slowly growing into their own personalities.
Adoring followers got a surprise update on the pups Tuesday afternoon, as the zoo shared a video of the pups participating in a routine weigh-in to keep tabs on their growth and development.
I can't say I've ever seen a baby armadillo before, let alone four, but these quadruplets are so cute that I can't look away! Watch as they patiently sit still during their weigh-ins, try to escape their little weigh-in bucket, and wander around curiously as they continue bonding with mom behind the scenes.
Sophia, Rose, Dorothy and Blanche are not on exhibit at Roger Williams quite yet, but we'll be patiently awaiting or that day and keep you updated as to when we'll be able to see the armadillo babies in person.
The armadillo pups aren't the only baby animals that have been born in Providence this year. Check out the Roger Williams Zoo's new baby otter pups, who are now on exhibit and just too otter-ly cute, here. 
Meet the Animals at Pine Meadow Alpacas in Mattapoisett
At any given time, Pine Meadow is home to right around 100 animals, from alpacas and goats to yaks and sheep. The animals have personalities that range anywhere from spunky to shy, but we can assure you they're all just as cute as the next. Take a trip to Pine Meadow and meet just a few of their fuzzy friends through the following photos.
Tiverton, RI Quonset Hut Airbnb Is Your Dome Away from Home
Part of the fun of staying in an Airbnb is getting to experience a type of living you never could otherwise. This Quonset hut in Tiverton, Rhode Island will certainly give you a more well-rounded (get it?) look at what it's like to live in one of these unique structures.
Harsh Realities About New England Beaches
Everyone loves a day at the beach and on the SouthCoast, the waterfront is everywhere. But the sand and sun people usually picture in their heads is not always the reality in New England.
More From WFHN-FM/FUN 107