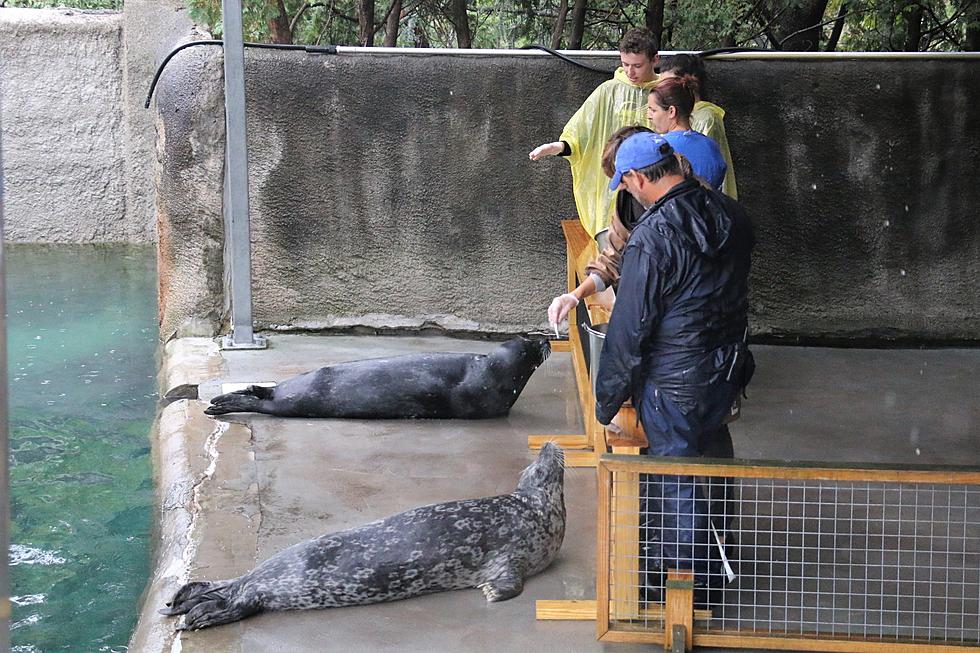 Animal Encounters At Roger Williams Park Zoo
Roger Williams Park Zoo & Carousel Facebook page
Want to get up close with the animals? Roger Williams Park Zoo's animal encounters are a way to do it.
So what animals can you encounter? Giraffes, seals and new this season...armadillos!
First, and my personal favorite, the Masai giraffe feedings.
I have done this one myself before and it is totally worth it! You'd be amazed at how strong these giraffes can be when they eat.
Basically for $5 you can actually feed some of the giraffes at the zoo. The zookeepers give you either buckets of food or long sticks with the leaves they love and you get right up close to feed them.
These feeding are first come, first serve (can't overfeed the giraffes of course) and happen daily at 11:30 a.m. After June 15th there will be two feedings a day, 11:30 a.m. and 2:30  p.m.
Another option is the seal encounters.
Here you'll get a behind-the-scenes look at the seal exhibit and get to feed the harbot seals, Action and Bubba, some food.
These are a little pricier at $25 per participant and happen Thursdays, Saturdays and Sundays.
And new this season (though an exact start date hasn't been revealed yet) are the armadillo encounters.
The RWPZoo website says this encounter will include getting up close with the nine-banded armadillos as they walk around you. You'll also be able to touch their armor and take plenty of pictures!
All animal encounters are weather dependent, so times can change. But when you arrive at the zoo to get your tickets make sure you ask about these extra special encounters too!
More From WFHN-FM/FUN 107