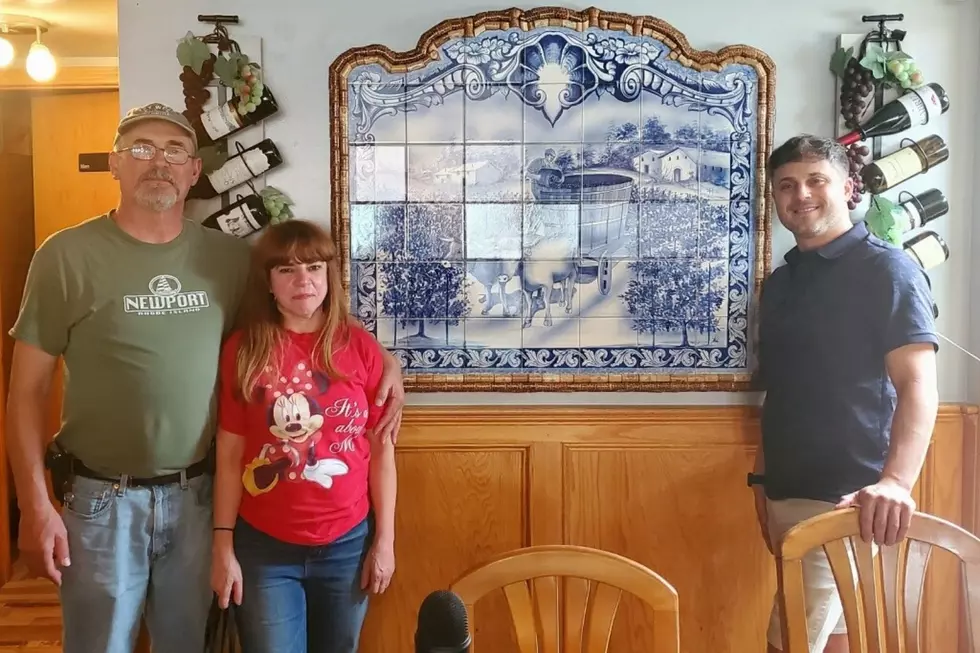 New Bedford Portuguese Restaurant Has a Mural With a Story
Jackson Scott
We walk into many New Bedford restaurants and see lots of pictures on the walls, but last weekend I got to hear the story behind a mural hanging in an area favorite.
You may have heard me broadcasting from Alianca Restaurant in New Bedford over the weekend. Yes, I stuffed my face and got to mingle with some of the locals. One local, in particular, had my eye as he made his love for the restaurant known.
Joe Pimentel has been coming to the Cove Street establishment for just under a year. He frequents the spot sometimes several times a week.
"The cooking is just like we make at home, so when we don't want to cook we come here," he said.
Pimentel wanted to show his gratitude for how welcome Susie Amaral and her staff make him feel every time he comes in.
He didn't want to do it with his wallet but with his hands and his time.
If you step into Alianca, you will see this mural.
It may look like just another mural that you would see in any Portuguese home, but this one has a story.
Yes, the tiled image of the ox helping harvest grapes for wine was something Pimentel had laying around his home but its frame is the interesting part.
Pimentel gathered wine corks from bottles opened at Alianca, fused them together by hand and then used them to frame this picture.
Pimentel, pictured above with his wife, Fatima, and me at Alianca, said the finished product "took a very long time to make" but he was so happy with how it came out.
He also isn't done decorating the wall and showing his thanks.
His talents will forever live on the wall at Alianca as a reminder of just how amazing our community is and that we sometimes take it for granted.
Thanks, Joe, for being such a kind soul and inspiring the rest of us.
Scenes From The 10th Annual International Portuguese Award Show
On April 23rd, the Providence Performing Arts Center hosted the 10th annual International Portuguese Music Awards.
More From WFHN-FM/FUN 107