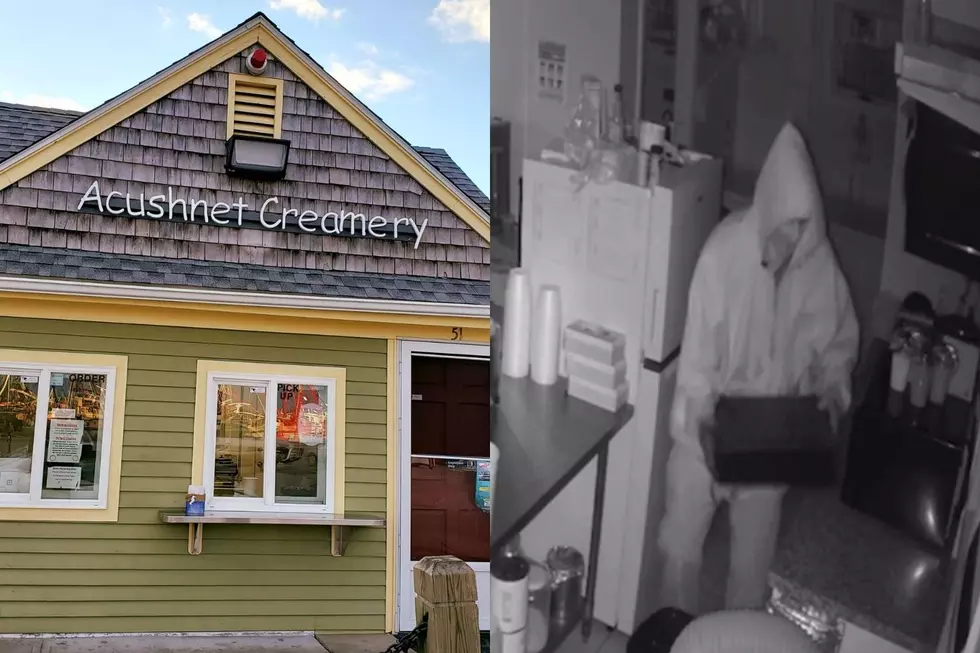 Acushnet Creamery New Bedford Thief Is Still on the Loose
Courtesy Acushnet Creamery
On Monday between 8 p.m. and midnight, Acushnet Creamery at Pier 3 in New Bedford was the location of a break-in.
Memorial Day 2022 was nothing less than a gorgeous sunny day of backyard cookouts, family gatherings and honoring our country's brave men and women who gave the ultimate sacrifice. Sadly, the day didn't quite end on the best note for the owners of Acushnet Creamery.
Donna and Doug Coray, who own the Acushnet location on Main Street as well as the Pier 3 location in New Bedford, took to Facebook to expose the thief in hopes of finding answers from the public.
It upsets me to be writing this, however, we are hoping that by sharing we may find the man that broke into our shop & stole our entire cash drawer last night! If you were on MacArthur Drive in New Bedford last night between 9:45 pm & 10:45 pm OR were at Black Whale & happen to see a man near our building, please reach out to me!! I'm also sharing these pictures, not the best but if you know him, please do the right thing & come forward!
Anyone who knows the Corays is well aware of their kindness and generosity within the community.
Situations like this are sad but avoidable.
"If someone needed help (financially), I would have been more than happy to lend a hand," Donna said. "It's truly sad."
The camera footage isn't the clearest, but if you look closely, the hooded suspect is potentially wearing a pair of Adidas sneakers.
Anyone with answers should reach out to New Bedford Police.
We All Scream for the 2022 SouthCoast Ice Cream Card
The
SouthCoast Ice Cream Card
is back. This is your pass to go on a sweet, frozen taste tour of the SouthCoast. Take a look at some of the frozen treats at each participating vendor. Be sure to get your Ice Cream Card before they're all gone.
More From WFHN-FM/FUN 107