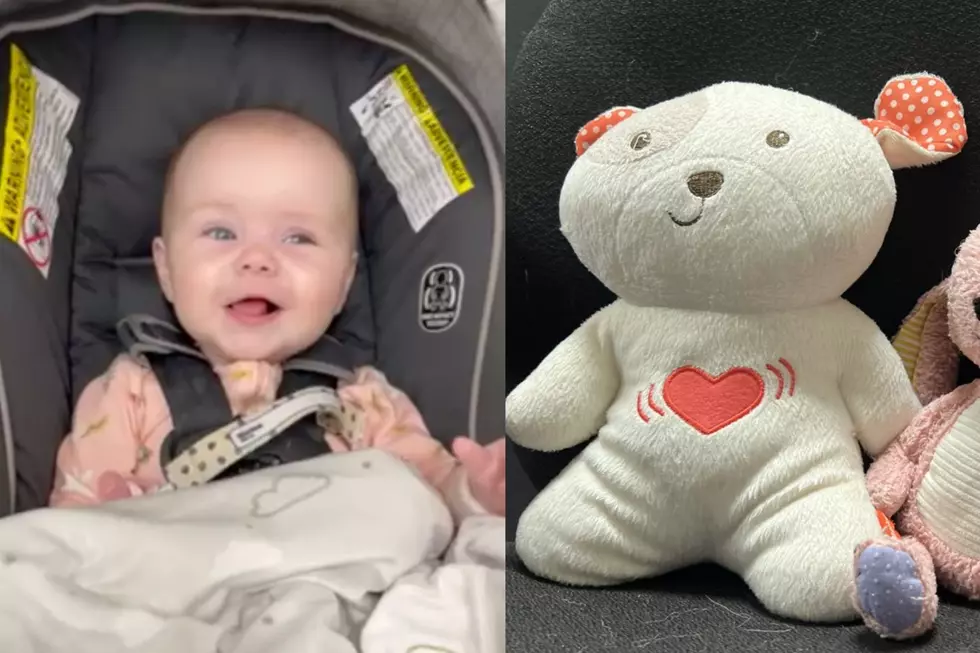 Devastated SouthCoast Infant Reunites With Beloved Lost Teddy Bear
Nicole Kenny/Gazelle
The power of radio and social media is incredible. Thanks to a community effort, an infant's beloved teddy bear is no longer a lost toy.
Shortly after Maddie and I spoke on the Fun 107 morning show about a teddy bear that was found in a Wareham Walmart parking lot in hopes of reconnecting it with its rightful owner, I received this email from Nicole Kenny:
"My mom sent me your post and I couldn't believe it!!! My daughter Charlotte hated riding in the car since she was a baby my mom bought her the vibrating bear which immediately helped! We lost it a few weeks ago & looked everywhere but didn't even think about the fact that we had gone to Walmart. She was so upset as the bear had been her car ride buddy for 7 months. I ended up buying her a new one as she clearly missed it but it's not the same & she can tell it's not her bear!
The funny thing is we were walking around our neighborhood about a month ago and a car drove up to us holding the bear, Charlotte had thrown it out of the carriage into the road & I didn't notice. So when my mom sent me your article saying 'I think this is Charlottes bear!!' I was so shocked! I'm surprised I don't have any pictures of her with the bear, but I attached a video of me playing with the bear with her.
I really can't believe it!" 
There's nothing I enjoy more than a happy ending. It just goes to show that sometimes the smallest things can make someone's day, and just knowing that little Charlotte will soon be reunited with her original bear makes mine just the same.
2022 Christmas TV and Movie Specials
Tis' the season to snuggle up and watch your favorite Christmas themed shows and movies. Lift up your holiday spirit and check out the top Christmas TV specials and enjoy some of your favorite holiday classics.
More From WFHN-FM/FUN 107