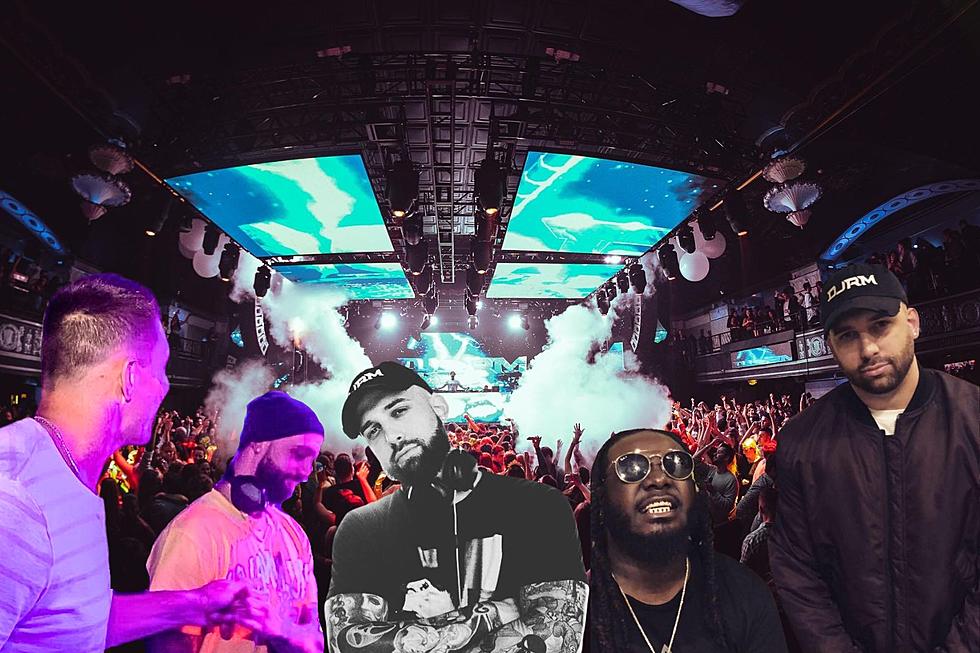 A Fairhaven DJ Started From the Bottom and Is Now Opening for the World's Biggest Celebrities
Photo Credit: @kelz.knisel/@shotbyek/ Ryan Machado
There's a local Fairhaven DJ who is the true epitome of the phrase "started from the bottom now he's here".
Ryan Machado, well-known as DJ RM, is living his best life these days after years of practice and hard work finally paying off for him. He began his career back in 2011 as a resident DJ at a small venue on Williams Street in New Bedford called Hibernia Irish Pub and is currently a resident DJ at Royale in Boston.
What started as a hobby has now come full circle as Machado has made a name for himself within the big leagues.
In any profession, you have to start somewhere and it all begins with a little inspiration. Machado's hustle ignited from a former downtown New Bedford bar.
"The first person who caught my eye was Benny T (Ben Trahan) at Slainte in New Bedford," Machado said, "His blends and transitions made me want to try it, and without that spark and admiration, I don't know where I'd be today. Shortly after Hibernia, I started DJing at Bar 908 on Fridays with Dj Dupont and working events with local prominent coordinators such as Amy Runway."
Machado's influences vary from different styles from the local Providence and Boston area.
"When I first started DJing in Providence, DJ Naughty was the best in the area," Machado said, "I admired his technical wordplay and skill and learned from him. A couple of years later when I first started playing in Boston, I looked up to DJ Case as the best in Boston. He was the Ying to DJ Naughty's Yang. Between the transitions to providing the energy to generate the vibe in a room, pairing their styles together was the perfect recipe.
DJ AM is my favorite style realistically, but without these local guys, I wouldn't have found my groove. DJ AM is calculus and these local guys were algebra leading up to him. It's all about understanding the layers and breaking it down. Once I can figure out how these guys work, it helped me figure out how to find my own flow."
It wasn't until just recently, last year, that Machado admits he started to enjoy DJing. He was so focused on elevating and moving forward, that sometimes he would lose the perception of living in the moment and enjoying it.
"I'm always looking to better myself, but I've learned to take a step back and look around," he said.
DJ RM's Career Highlights

:
Opened for Lil TJay @ Salem State University in April 20th, 2023
Opened for Maroon 5 at the Pavillion in Boston last September 7th, 2022
DJ'd Gronkowski's Retirement Party at Mohegan Sun's Avalon Night Cub this past September 11th, 2022.
Opened for Young M.A. and SAINt JHN at Amherst College on April 30th, 2022
DJ'd T-Pain's After Party at Royale in Boston in March 2019
Machado is currently part of a "larger than life" project that's conducted by Miami's DJ Konflikt. Combined, Konflikt has recruited five DJs nationwide who are considered the best in the field. Each DJ represents a designated region and Machado puts Boston on the map.
Amongst the group is DJ Mr. Shaw (Chicago), DJ EU (DJ of the Year in Atlanta), DJ Buza (DJ of the Year in Las Vegas), DJ Konflikt (Miami), and DJ RM (Boston). This project provides a service that allows coaching on how to get to each DJ's level and what you'll need to have to make it big in the industry and provides jobs for DJs looking for work.
Countless and exhausting hours of practice and work have landed Machado in the dream seat he's been working hard for, but it didn't just happen overnight. His persistence and perseverance with every performance brought him to exactly where he needed to be, but he's far from being finished.
"If djing is your dream, the only way you can fail is by giving up," he concluded.
It just goes to show that if you put your mind to it, you can climb any ladder and opportunity that presents itself to you.
Where to Find the Best Brunch on Mother's Day
Let this be the year you plan out Mother's Day with time to spare. Take the time to find the perfect Southcoast brunch spot and let her know how much you love her...through pancakes and mimosas.
More From WFHN-FM/FUN 107