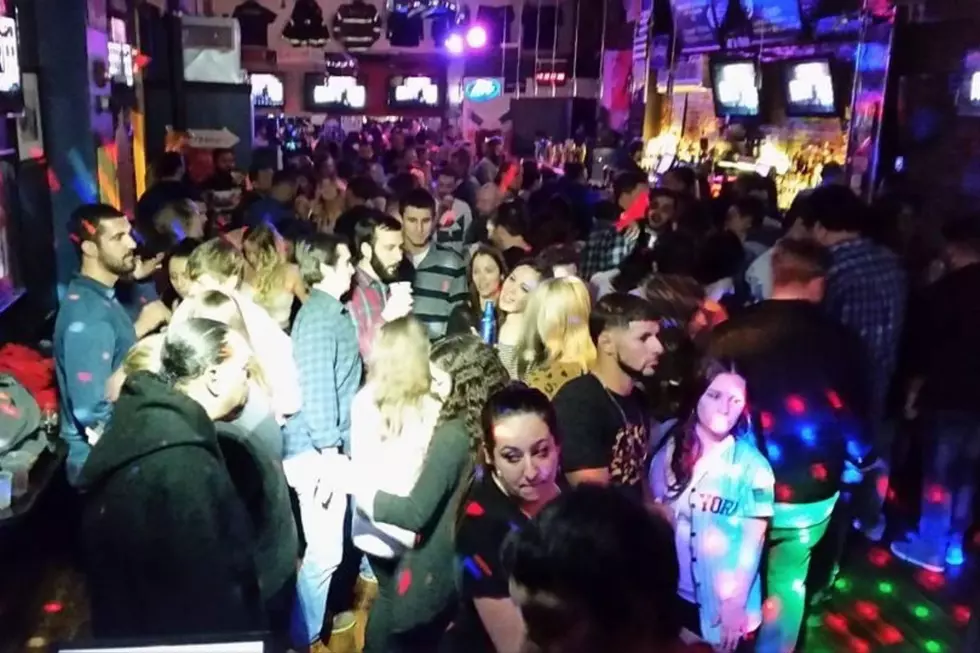 Cheers to Hibernia: New Bedford Bar Was the Ultimate Party Spot
Courtesy Jesse "DJ Bobblehead" Martin
It amazes me how fast my 20s came and went.
I spent most of that decade hanging out at bars in downtown New Bedford with friends and acquaintances, back when hangovers weren't so harsh.
Recovery time isn't the same these days.
For years, the reigning bars and nightclubs in New Bedford's downtown were Catwalk, The Garden and Bar 908. I frequented all three.
Then there was Hibernia. I feel like people always knew about the Irish bar on William Street, but it wasn't u until 908 closed in 2015 that the crowd seemed to get bigger around the corner.
By winter 2016, Hibernia had successfully earned its reputation as a hot spot, producing a line down the street of eager patrons.
It was worth the wait no matter how cold it got.
Here I was, a 27-year-old bachelor with an entourage of the best wingmen around: Jeff, Collin, Houbre, Peder, Josh "Lassy", Corey and Hugo. Together we were an unstoppable force of masculinity, dance moves and mediocre karaoke vocals.
Between DJ Bobblehead, GP, Marco Andrade, Pat Long (also known as Fuzzy Slippers) and karaoke with DJ Weezy, the entertainment on the weekends was supreme. Jackie, Heather, Dan, Erin, Sarah, Brooke, and Erika kept the drinks and shots flowing and Matt, Josh, Billy, and Jake kept the riff-raff out.
It was a place where everyone knew each other, a good time all-around. The alcohol kept the night vibrant, the $1 Nerds-flavored shots and Grateful Dead drinks being among the most popular orders. The Guinness on tap was always ice cold and the mixed drinks were mighty strong, especially if you tipped handsomely.
Like most clubs and bars, Hibernia had that late-night crowd. If you got there around 10 p.m., you could get in easily, but a minute after 11 and you were waiting in an impressively long line.
I ended my 28th birthday here after being dropped off in a party bus and it's safe to say that it was one the best birthdays thus far.
Some came to dance (and split their pants while gyrating to the song "Pony") and some came to socialize and sing karaoke on Thirsty Thursdays.
Hibernia was a different breed of a bar and worth remembering, no matter how blurry some of those memories are.
25 New Bedford Bars That Are No Longer Here, But That We'll Never Forget
From 908 to the Regal Beagle on Acushnet Ave, these are the bars that are no longer with us but never forgotten.
LOOK: Best Beers From Every State
To find the best beer in each state and Washington D.C., Stacker
analyzed January 2020 data from BeerAdvocate
, a website that gathers user scores for beer in real-time. BeerAdvocate makes its determinations by compiling consumer ratings for all 50 states and Washington D.C. and applying a weighted rank to each. The weighted rank pulls the beer toward the list's average based on the number of ratings it has and aims to allow lesser-known beers to increase in rank. Only beers with at least 10 rankings to be considered; we took it a step further to only include beers with at least 100 user rankings in our gallery. Keep reading to find out what the best beer is in each of the 50 states and Washington D.C.
More From WFHN-FM/FUN 107