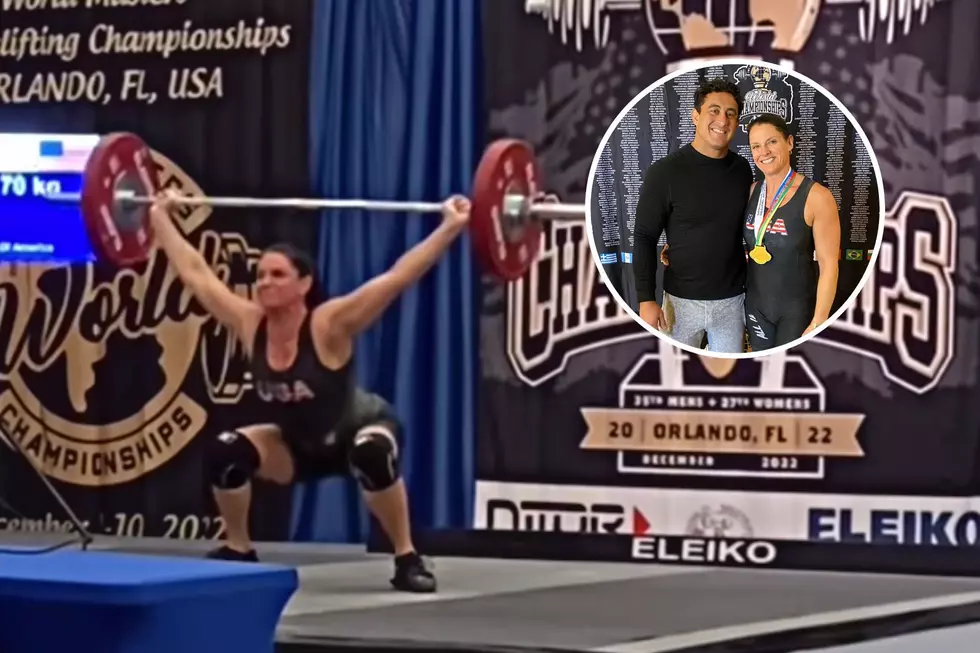 50-Year-Old Rhode Island Woman Breaks 3 World Weightlifting Records
Courtesy of Jennifer Jasper
At 50 years old, Jennifer Jasper of North Smithfield, Rhode Island is breaking records in the sport of weightlifting.
Recently, Jasper won the Masters World Champions in Orlando by setting the world record for snatch, clean and jerk, and the total combined record for the 50-54-year-old division.
Who is Jennifer Jasper?
Jasper's love of Crossfit began around 4 years ago when she joined Ocean State Crossfit in Cranston.
"I had no idea about the sport of weight lifting. I competed in cross fit and loved it, and a part of Crossfit is weight lifting," said Jasper. "I just naturally got good at weightlifting,"
Around 3 years ago, her coach turned business partner suggested she participate in Olympic weightlifting meets.
"I realize I could be pretty competitive," she said, and the rest is history.
Setting Goals and Crushing Them
As the owner of Ocean State Crossfit in Smithfield, Jasper decided to have her members participate in some self-reflection.
"I had members write down their goals for the year and created several posters around the gym so they could check off their goals when they reached them," she said.
When it comes to reaching a goal, putting pen to paper is important.
"Whenever you write down a goal, it becomes so much more real and you put yourself out there for other people to see, it's nerve-wracking," said Jasper. "I put my goals down (on paper) and it was my focus all year."
Making History at 50
Goal number one: Win at the national tournament in Salt Lake City.
"I won there and collected all the national records," she said.
Goal number two:  Win the World tournament in Orlando.
Jasper not only won but also broke three separate records, and it's a victory that she will not soon forget.
Isn't Weightlifting a "Young Guy" Thing?
For those that are stuck on the stereotype that the weight room is for men, Jasper has a message for you.
"Weightlifting is the single best thing you can do for your body, especially as you're aging," she said. "It increases muscle mass, increases bone density, and keeps you stronger for longer. I think we have proved time and again that women are more than capable of weight lifting."
And as far as age versus weightlifting, Jasper said, "Do you pick up your groceries? Do you sit and stand? Do you want to pick up your grandkids? All of that is easier and more sustainable if you're stronger."
Jasper Has Her Next Goal in Sight
Jasper will be competing in the International Crossfit competition "Wodapalooza" in Miami next month, where only the top ten from each age bracket are invited to compete. This is Jasper's fifth year in a row competing.
Cheers to the women who continue to break stereotypes and break records.
SouthCoast's Fittest Crossfit Athletes
Using the results from the 2022 Crossfit Open, here are the SouthCoast's Fittest Crossfit Athletes.
More From WFHN-FM/FUN 107