Your Baby Gift Package from Jenny B. Is a Giant Scam
Whitney Hillgarner via Facebook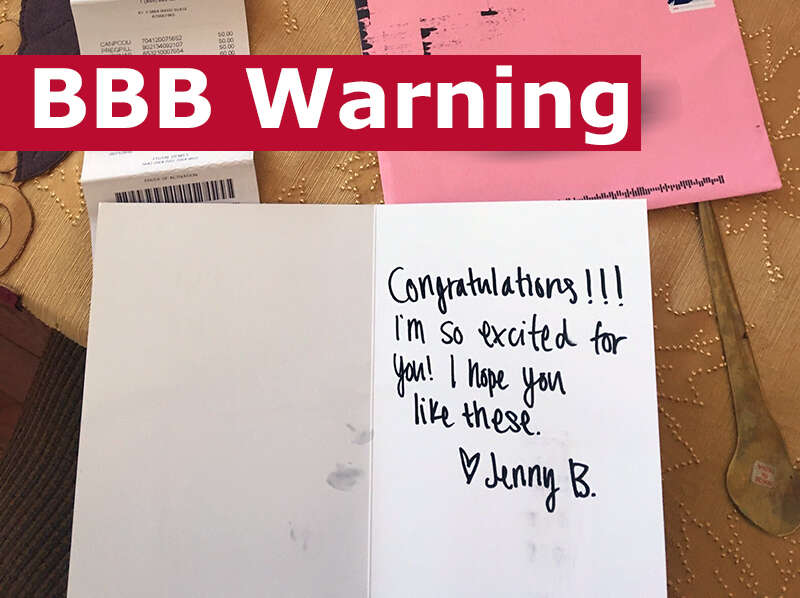 Parents, before you call your daughter and ask her if there is something she needs to tell you, put the phone down and take a deep breath. That package that got delivered to your house from Jenny B. congratulating her on her pregnancy is a big, fat scam.
Perhaps you really are pregnant or just recently had a baby. Maybe you are neither and still were on the receiving end of this very generous, yet mysterious, gift. The package contains hundreds of dollars' worth of gift cards and coupons for expecting parents to use for popular baby items. However, when you apply the gift card promo code to the order, the cost of shipping skyrockets, wiping out nearly the entire gift card's discount or value. Not exactly the kind of company you want to have your credit card information, right?
This also seems like an easy, double-whammy scam for people who like to buy discounted gift cards off of social marketplaces. Definitely share this information with your frugal friends before they end up with a real financial doozy on their hands.
The Better Business Bureau wants you to know that Jenny B.'s cute, handwritten congratulatory card is actually a marketing scheme by its Utah-based parent company, Mother's Lounge, LLC., a self-described site for "Mother, baby lifestyle products with a focus on design and style" founded by Jenny Bosco and Kaleb Pierce in 2005.
BBB has stated that they are unsure what mailing lists the business is using and not all women receiving them are pregnant.
The scam is currently hitting states throughout the country and Canada.
The BBB's advice for anyone opening their mail from Jenny B.? Read the fine print and only buy products from reputable companies that you trust.
More From WFHN-FM/FUN 107