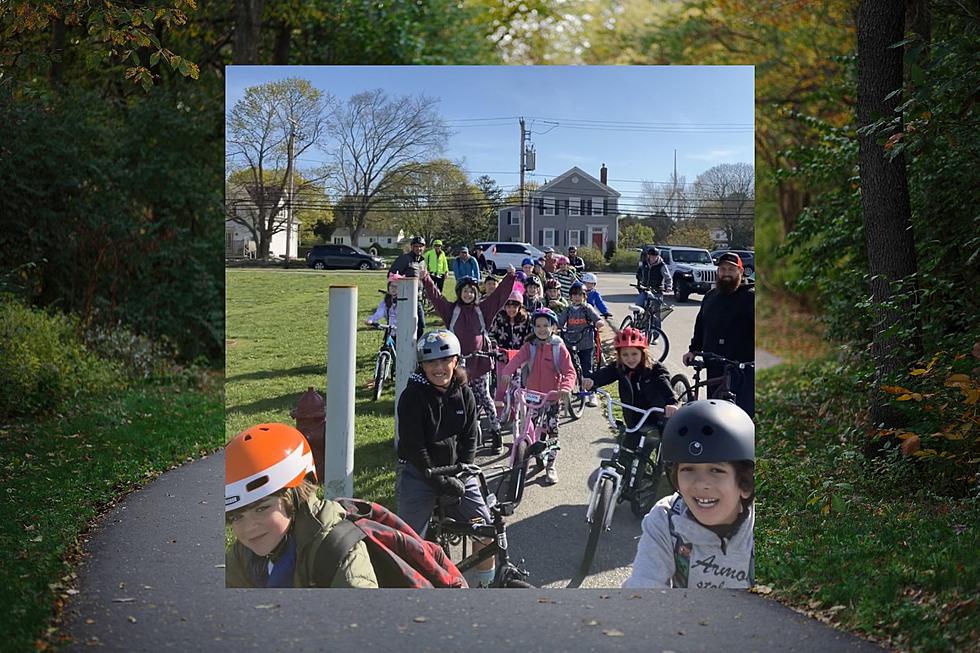 Wood School Bike Bus Returns to Fairhaven With Huge Turnout
Courtesy of Will Gardner
A popular tradition in Fairhaven made its return on Friday morning as the "Wood School Bike Bus" saw over twenty children ride their bikes to school, thanks to the efforts of the Bikeway Committee of Fairhaven and a Fairhaven father who believes that a safe bike ride is a perfect way to start and end the day.
What Is the Wood School Bike Bus?
The Wood School Bikes Bus started in 2013 thanks to Mat Coes, a Fairhaven resident, and father of a student at Leroy Wood Elementary School.
He was a bike advocate and headed the Fairhaven Bikeway Committee at that time, and under his leadership, the committee got it going.
Students would meet up in the morning and ride to school alongside chaperones, in an effort to get outside and utilize the beautiful bike path that takes riders straight to Wood School.
Thanks to the Bike Bus initiative, the state took notice. Coes and the committee was able to move forward with a grant to improve the safety of Sconticut Neck from the bike path to school, and that work will begin next spring.
After Coes moved away a few years ago and the pandemic halted all social interaction, the Wood School Bike Bus lost momentum, but thanks to another bike advocate in town, it has made its return in a big way.
The Wood School Bike Bus Returns to Fairhaven
Will Gardner is a father of two. One of those children is a 3rd grader at Wood School and Gardner is actively involved with the Bikeway Committee.
Gardner recently stepped down from a demanding job last year to make more time for his family, and thanks to his new schedule, he had enough time to map out the return of the Bike Bus.
"Part of my intention (of stepping down) was to spend more time with my kids, and I started biking to school with my 3rd grader, rain or shine, and we really enjoyed it," he said. "That got me really excited about getting more kids out there."
Not all towns are lucky enough to have a bike path that leads straight to school, and Gardner wants to take full advantage.
"We have such an asset in town with the bike path," he said. "It's such a great thing that we have that a lot of other towns don't have, and we want to be able to capitalize on that and just get out there on our bikes and have fun."
On Friday morning, around 25 kids, a group of parents, and Selectman Bob Espindola, pedaled their way down the path and over to Wood School as Gardner played music for the group. They even had a police escort courtesy of Officer Mary Haaland.
"There's something really special about riding bikes in a big group and we're all outside, we're all together, and it's just a great way to start the day and end the day," said Gardner.
How to Join Wood School Bikes Bus
Any and all students of Woods School are encouraged to join the Bikes Bus every Friday morning. Students meet in front of Atlas Tack at 8 am with chaperones and a police officer, and the group rides to and from school to end the week on a high note.
Students can register online to join in on the fun.
"It's only fairly recently our culture has gone all-in on driving in cars for everything," said Gardner. "I think we have something really special in Fairhaven where we still have the ability to get around on foot and by bike, and so I want to take advantage of that as much as I can."
Top 25 Elementary Schools on the SouthCoast
Niche.com
has crunched the numbers and come up with the best schools in every state from K-12. Here on the SouthCoast nearly 60 elementary schools were ranked based on academics, teachers and diversity.
Here's the best the area has to offer according to this site's results.
10 Life Skills SouthCoast Students Could Benefit From
From sewing to gardening, credit checks to cooking, here are 10 important life skills that should be taught in school systems before kids graduate, as submitted to Westport Middle-High School teacher Daniel Marques.
More From WFHN-FM/FUN 107