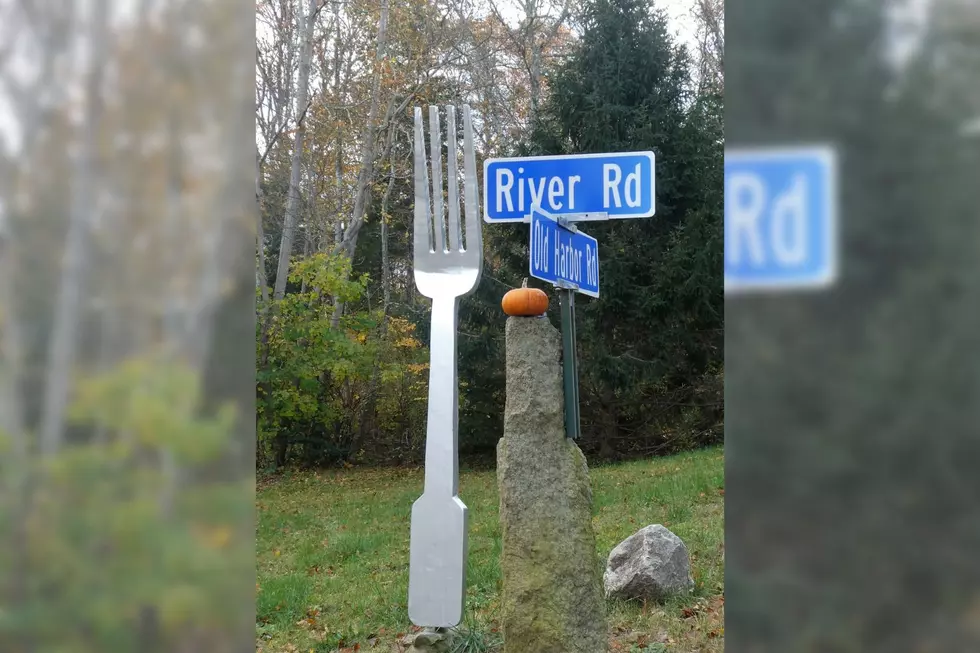 Westport's Landmark 'Fork in the Road' Has Been Cut From Its Steel Mount and Stolen
Photo Credit: Matt Davis
A beloved Westport landmark has been stolen and the police department is looking for a suspect to "fork" it over and face the consequences.
Too soon?
At the literal fork of River and Old Harbor roads stands nothing more than the steel mount on which a giant fork was once proudly displayed. The owner and creator of the 12-foot silver-painted wooden fork, Tom Schmitt, reported the theft Tuesday morning.
"I spoke with Mr. Schmitt, and he seems to think it was taken sometime between July 15 late at night or July 16 early in the morning," Officer Douglas Wenson said. "He started getting calls from friends and family Saturday morning and, sure enough, he confirmed that it was gone."
The large artwork was mounted on an old 4-inch steel steam pipe that was set in the ground and concreted deep down. Wenson noticed that the pipe was cut with some type of cordless power tool, based on the cut marks and simply how it was removed from the mount.
"I knocked on the doors of the neighboring houses for any information on the whereabouts of the fork and no one has any idea or heard anything suspicious," Wenson said. "There are still a few areas ... I'm going to check out to see if there are any cameras that might have caught a pick-up truck or box van around the time it went missing."
This isn't the first time the fork has been taken without permission. The last time it was stolen, allegedly as a prank, it ended up on the shore of Elephant Rock beach.
That's when it was decided to root the utensil in concrete. Whoever went to the lengths to remove the fork had a plan in place and the right tools for the job.
Anyone with information should contact Wenson at 508-636-1122 or email him at ptlwensond@westport-ma.gov and help bring justice to this oversized fork.
13 Backroads of Westport, Massachusetts You Must Drive on a Sunny Day
Take a drive down these gorgeous backroads of Westport, Massachusetts that overlook pastures, farms and the ocean to better enhance the scenic ride.
Westport's Version of "Never Have I Ever..."
Westport and SouthCoast people, it's time to play the game where you start with 10 fingers, then continue to put them down one by one for each item you have done as you read through these 25 "Never Have I Evers." There's no way you'll make it through them all without running out of fingers. Hands up!
The Ultimate Westport Fair Survival Guide
If you're a first-timer or out-of-towner, here's how to make the most of your visit to the legendary Westport Fair.
More From WFHN-FM/FUN 107