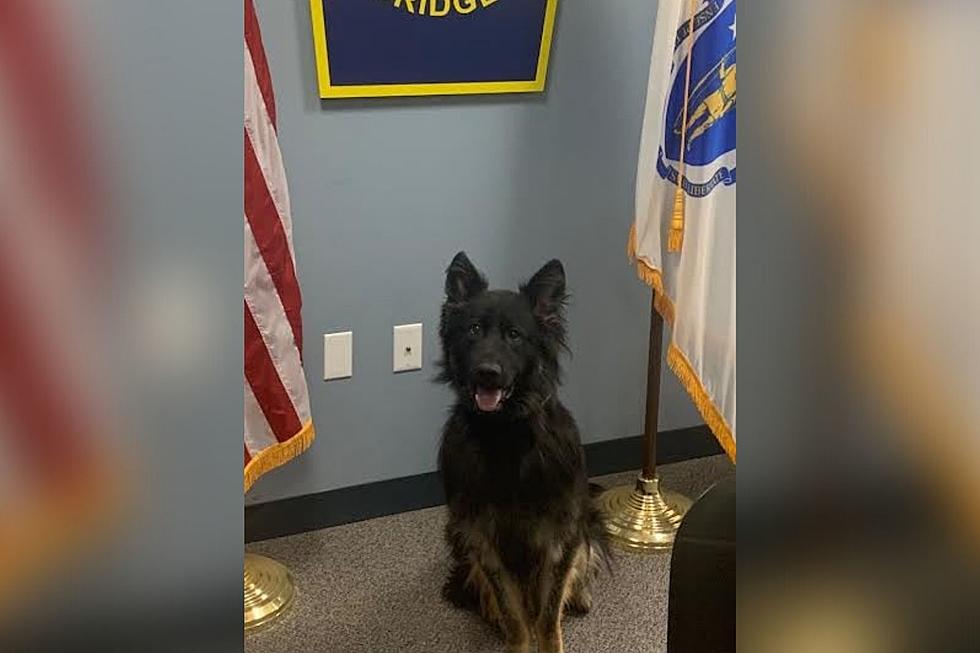 West Bridgewater Officers, K9 Assaulted With Taser
Courtesy West Bridgewater Police/Facebook
WEST BRIDGEWATER — A Providence man was arrested Wednesday in West Bridgewater after allegedly injuring two police officers and Tasing a K9 during a long chase.
Police said officers caught 30-year-old Jesse Marinaro after he allegedly crashed a stolen vehicle and led police on an involved foot chase in which he broke into a home and managed to grab and use an officer's Taser.
According to police, officers were responding to complaints that a male driver seemed to be losing consciousness behind the wheel at around 12:30 p.m. Wednesday.
Police said responding units saw the car, a gray Toyota, weaving in and out of travel lanes near the intersection of Manley and West Streets — but when they tried to pull it over, they said it sped into oncoming traffic.
After the Toyota allegedly hit another vehicle, then crashed into the woods, police said the driver fled on foot towards a neighboring apartment complex.
He then broke into an occupied home, but was chased off by the homeowner.
At this point police said officers caught up with the suspect — later identified as Marinaro — and brought him to the ground, where a short struggle ended with Marinaro pulling the officer's Taser from his holster and striking them both with it.
He then took the Taser and fled into a wooded area between West and Crescent Streets, according to police.
Officers set up a perimeter and sent in K9 Officer Richard Flaherty and his partner Fedor to search the area.
Police said Marinaro was found in a back yard on Crescent Street and resisted arrest, still armed with the Taser.
Fedor was deployed to help apprehend Marinaro.
According to police, the suspect repeatedly stunned the dog with the Taser before he was subdued and taken into custody.
Two officers were treated for injuries at area hospitals and are expected to make a full recovery.
Police said K9 Fedor "fought off his injuries" and is now doing well.
A recent Boston Police K9 Academy graduate, the dog joined the West Bridgewater police department in early September.
Marinaro was taken to an area hospital and remains in police custody.
He is charged with a slew of offenses including, but not limited to, two counts of being a fugitive from justice; two counts of assault and battery on a police dog; two counts of assault and battery on a police officer; assault and battery with a dangerous weapon; breaking and entering; and resisting arrest.
He is also charged with leaving the scene of an accident, failing to stop for police, unlicensed driving, and receiving a stolen vehicle.
RANKED: Here Are the 63 Smartest Dog Breeds
Does your loyal pup's breed make the list? Read on to see if you'll be bragging to the neighbors about your dog's intellectual prowess the next time you take your fur baby out for a walk. Don't worry: Even if your dog's breed doesn't land on the list, that doesn't mean he's not a good boy--some traits simply can't be measured.
LOOK: What major laws were passed the year you were born?
Data for this list was acquired from trusted online sources and news outlets. Read on to discover what major law was passed the year you were born and learn its name, the vote count (where relevant), and its impact and significance.
More From WFHN-FM/FUN 107