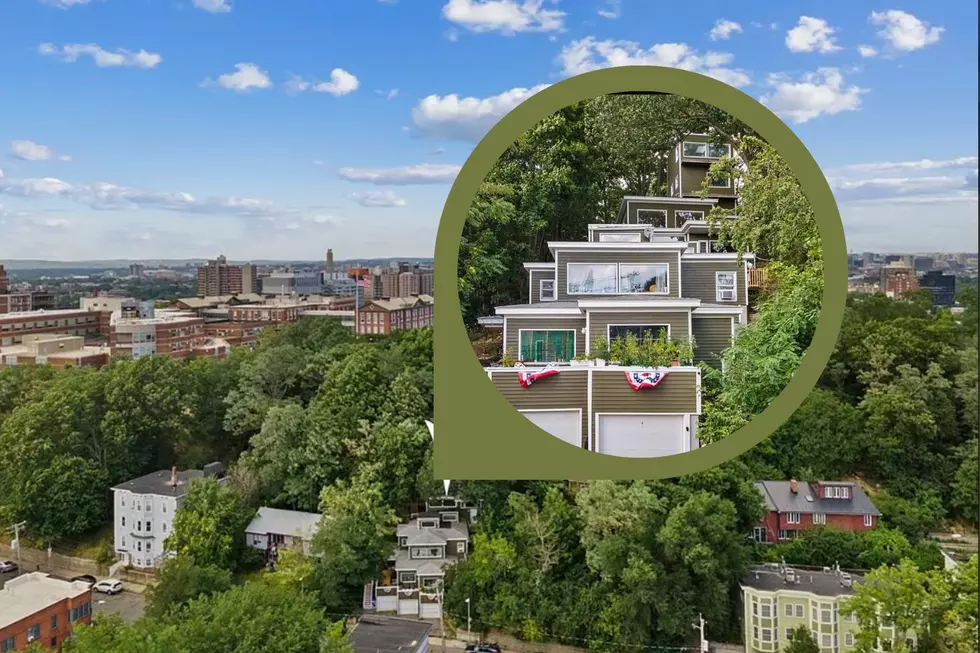 You Will Always Get Your Steps In Living at This Unique Boston Condo
Paul A. Morrison/Keller Williams Realty
A housing unit in Boston is catching a lot of buzz online and not for the reasons you may think.
Zillow Gone Wild recently shared the listing, and while the interior appears pretty simple and practical, the geometric, cascading exterior has a lot of people talking.
Zillow Gone Wild is a social media page dedicated to the most extravagant and bizarre homes listed on the real estate marketplace Zillow. From mid-century castles to modern flats, it's incredible what you will find on this page.
And it's no surprise that 141 Fisher Ave in Roxbury Crossing, Massachusetts made the list. It's not an extravagant mansion, but the layout is certainly mesmerizing.
Instead of excavating a flat space to form this condominium, the builder decided to follow the path of the hill it resides on by ascending each condo higher and higher up the hill as they all connect with common walls, creating a design that looks similar to a Jenga game, home edition.
Twitter users
"I am too lazy to live in this home unless it contains an internal funicular," said one user.
"Imagine the size of your calfs if you lived here," said another.
But my personal favorite was when another person commented, "It's like a house conga line."
However, the future owner will not have to dance from one level to another because only one unit is available for $494,000.
With three beds and two bathrooms, it's not a bad spot in a beautiful section of Boston. Just be prepared for a nice workout every time you bring home the groceries.
See Dizzying Staircases and Stained Glass Ceilings Inside This Springfield Victorian Gothic Home
It's a house with some serious history and its back on the market in Springfield, MA. Built back in 1874, this house has had more restorations than renovations and looks as amazing today and it did 150 years ago.
Captivating Cataumet Mansion On Private Peninsula Offers All the Amenities
You can certainly live your best life in this gorgeous 10,000 square-foot home on a private peninsula in Bourne. The $16 million mansion at
178-180 Scraggy Neck Road
sits on 17.5 acres of nearly all waterfront property and it certainly has the views to prove it.
More From WFHN-FM/FUN 107