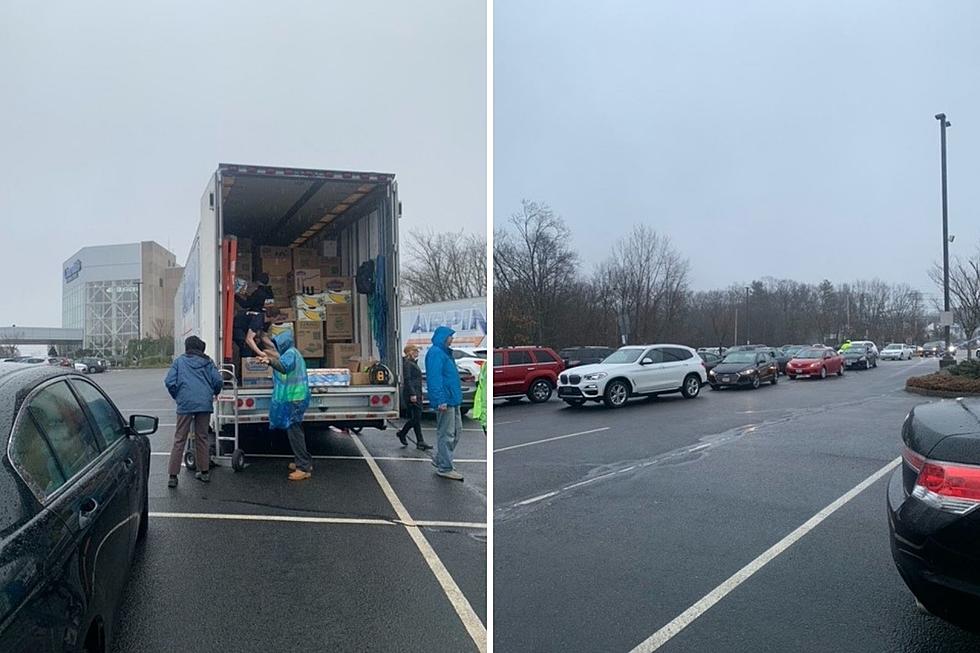 Ukrainian Relief Drive Shuts Down Roads Around Cardi's Furniture
Courtesy of Cardi's Furniture
There is clearly a desire to give supplies and other basic needs to the people of Ukraine.
This was evidenced Saturday at Cardi's Furniture in West Warwick, Swansea and South Attleboro, where so many people showed up to give supplies that roads had to be closed down to accommodate them. 
"All three locations," said Peter Cardi. "All the roads around them were closed down. It was unbelievable."
The Giving Was Overwhelming
Cardi told us that the demand to give was so high that his stores could not accept any more from the public. They were forced to go car to car to explain that they had reached absolute capacity. The initial plan was to fill three or four trailers with supplies such as clothing, boots and other personal items. Before the day was over, there were more than 18 trailers full of goods.
"It was crazy," said Cardi. "The SouthCoast, your listeners, everyone's listeners, our whole area is very generous. Everyone came out in huge numbers to support the effort to get goods to Ukraine. Even in the rain, it wasn't pretty, but the relief drive was so busy we had to close it down early."
Does Cardi's Have Plans for Another Supply Drive?
Not right now. The logistics for this type of drive are extraordinary. Collecting the goods is just the beginning. Now Cardi's, along with their partners, transportation company Arpin, need to get all of the items shipped into the middle of a warzone. That's not an easy task, but one that Arpin is aiming to accomplish over the course of the next three to four weeks.
"Arpin had already been delivering goods to Ukraine before the war, so they already have a clear path," Cardi said.
Is it Too Late to Donate?
Absolutely not. Cardi said: "Any and all that are able and wish to can still help the people of Ukraine by going to arpin-strong.org to donate."
Stay the Night in a Renovated 19th Century Newport Firehouse
After going through a year of extensive renovations and restorations, this 19th century firehouse is now available to rent, and it's safe to say we're obsessed. Check out the Firehouse Inn's six-bed, six-bath space that boasts a neat and modern kitchen and plenty of charm only a historic firehouse could bring.
Tour the SouthCoast's Best Attractions, Food and More From A to Z
From decadent donuts to fields of u-pick flowers, there is so much to delight in here on the SouthCoast. Take a tour of some of the area's top spots, and don't forget to sample some signature foods along the way!
More From WFHN-FM/FUN 107