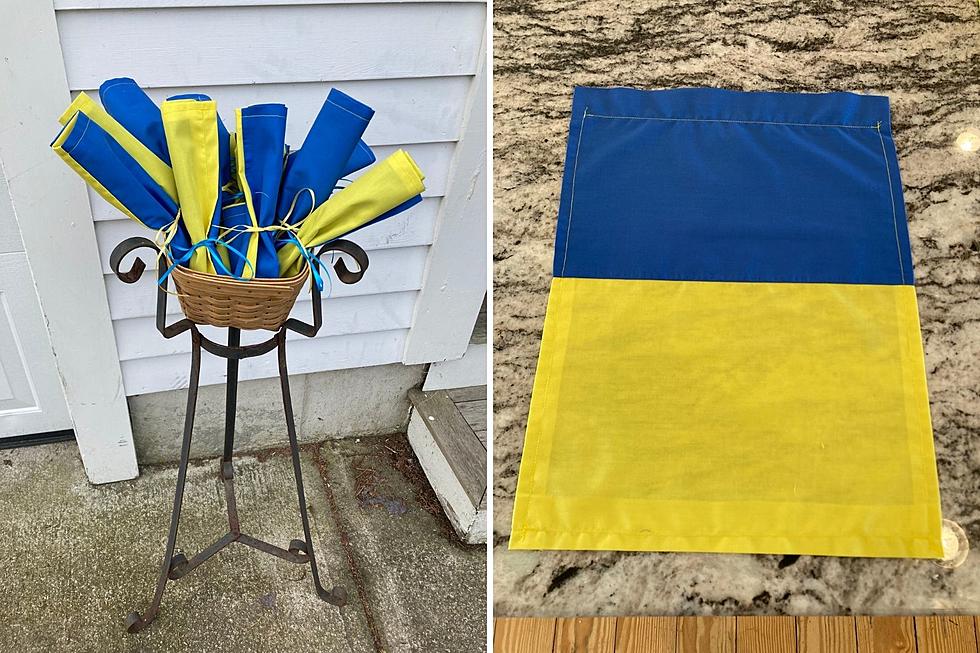 This Fairhaven Woman Can't Stop Making Ukrainian Flags
Photos courtesy of Jane Hubert
It started early on in the pandemic.
Jane Hubert used her unexpected free time to start sewing masks.
"I remember it clearly. It was Easter weekend," she said. "I just wanted to help our little community to do something positive."
Hubert said she never took sewing lessons or home economics class, but she wanted a sewing machine so she could work on her kids' Halloween costumes.
Then, this week, she decided to make her dog a bandana with the Ukrainian flag's colors. She likes to walk her dog down to Fort Phoenix and she wanted to show her support for the struggling, war-torn nation and its citizens.
"I made a mistake and cut the bandana wrong, so I had extra fabric," she said. "I ended up making a garden flag for my yard, then my neighbor wanted one, then my father was promising people flags on Facebook," she laughed.
Hubert took a trip to Walmart and bought more of the fabric and sewed as many flags as she could, then started giving them away to the walkers in front of her home in Fairhaven Village. The demand was so overwhelming she had to make another trip back to Walmart Thursday night.
"I do it because it makes me feel good. It's good for my mental health," she said. "I sit at the counter while I'm making dinner. The kids sit with me and we just chat and it makes me feel better."
Hubert said she'll be inside while it's raining this weekend making more of the Ukrainian flags to give away.
Impressive SouthCoast Women to Cheer For on International Women's Day
International Women's Day is a perfect time to give praise to the women in our lives and acknowledge their journey and achievements. In my two years of working on the SouthCoast, I am lucky to have come across some impressive women, and these ladies embody everything I aim to be as a successful, caring, and motivated woman.
Festivals That Should Make an Appearance on the SouthCoast This Summer
A Pirate Festival is coming to Yarmouth this summer, so that got Michael and Maddie thinking. What other unique festivals would we love to see happen?
More From WFHN-FM/FUN 107