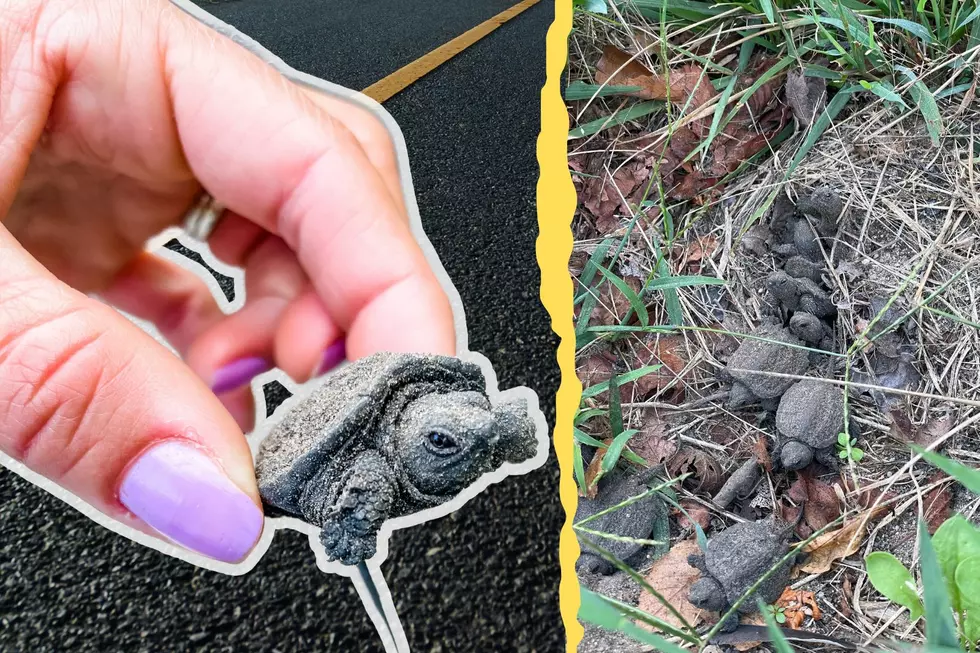 Dartmouth Women Save 30 Baby Turtles From Getting Hit by Traffic
Courtesy Hannah Grenier
Two Dartmouth women were in the right place at the right time as dozens of baby turtles emerged from their shells and began walking into traffic.
Early Tuesday morning, Hannah Grenier and Bethany Bennett were going for their post-workout walk by the outskirts of UMass Dartmouth on Old Westport Road. As soon as they reached the turn onto Cross Road, they came across a nest where roughly 30 turtles had just hatched.
Naturally, the babies' instincts were to make their way toward the water, but they were a long way from home.
It was 7:30 a.m., and traffic was picking up.
"We saw one on them scurrying across the sidewalk and then noticed they were heading straight into the busy road so we carefully picked them up and turned them towards the opposite way," Grenier said.
One-by-one, the baby turtles popped out of the ground but kept crawling in the wrong direction.
"I called my husband for help and he drove up from the house with a box," Grenier said. "We quickly boxed them up and brought them down the embankment into the wetland area that eventually runs into the pond that sits on UMass property."
Unfortunately, four of the babies weren't so lucky and were hit by oncoming vehicles that might have been unaware of the tiny creatures as they drove up and over the hill by the nesting site.
However, the quick thinking and actions taken by Grenier and Bennett saved dozens of baby turtles. It's the little things that strengthen faith in humanity and these women are fine examples that make the world a better place to live.
Endangered Sea Turtles Released Back into Atlantic Ocean
The Mystic Aquarium Animal Rescue Team saw another set of rehabilitated animals returned to their ocean home recently with the release of five endangered sea turtles down in North Carolina.
One loggerhead sea turtle and four Kemp's ridley sea turtles were the aquarium's part of a 26-sea-turtle release from four different animal rescues across the Northeast. See these endangered animals as they returned to their ocean home after months of treatment for their cold-stunning damage suffered in Cape Cod Bay.
More From WFHN-FM/FUN 107