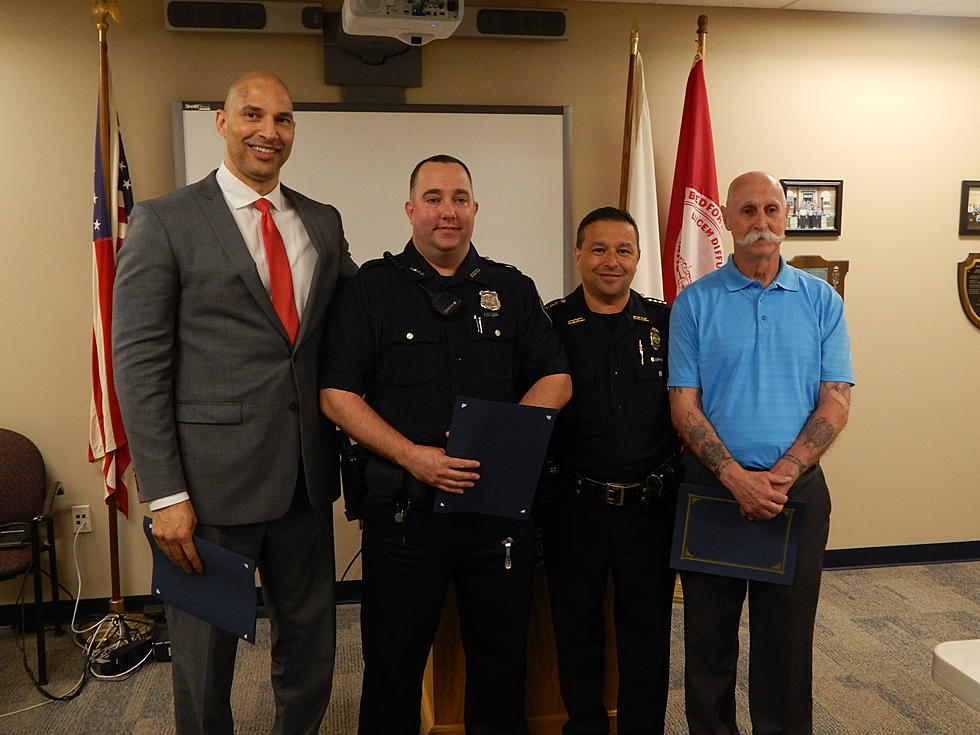 Three Honored for Heroic Actions in Saving Woman in New Bedford
Antonio Lima, Officer James Marinelli, Chief Joseph Cordeiro, Alan Belong. Taylor Cormier/Townsquare Media
NEW BEDFORD — Two civilians and a police officer were honored Wednesday at New Bedford Police headquarters for restraining a suicidal woman armed with a knife, and saving her from harming herself or others.
"True heroes," Police Chief Joseph Cordeiro said of the three men. "Absolutely wonderful examples for young kids, and for the rest of our city, of what we stand for--a city of one, people coming together to help one another."
On February 24, Antonio Lima was the first to find the woman laying in the parking lot of the CVS at 136 Ashley Boulevard in the city's North End.
"Actually, I was going to my tailor to go fix a suit, and I must admit, I was going to park illegally in the CVS parking lot," Lima said. "As I was pulling into the parking space, I saw this person, she was wearing red from head to toe and had a hoodie that was actually covering her head and her face, and she was unresponsive."
Lima, a senior probation officer at New Bedford District Court, parked his car on Sawyer Street, ran to the woman and immediately called 911.
"I would like to take this opportunity to apologize to the 911 dispatcher, because I was a little frustrated with the questions they were asking me," Lima said. "I was under duress."
As Lima was talking to the dispatcher, retired corrections officer Alan Belong also happened to be heading to the tailor at the same time.
He said he pulled in and saw Lima on the phone, and the woman on the ground. He heard Lima talking with the 911 dispatcher, and could see that the woman was in distress.
"I bent down to see how she was doing, and she was just sobbing and wouldn't answer me," Belong said. "During the conversation, she pulled out a knife and cut her arm, so I that point I just grabbed her by the wrist to stop her from doing it again."
Belong said he had luckily kept his distance from the woman.
"And that's a good thing, because that knife came out of nowhere," he said. "She had one hand under her, that was the hand holding it, and all of a sudden it was there. Once she did it, my reaction was just to grab it."
"It was like a nightmare," Lima said. "He grabbed her wrist to provent further injury. I dropped my phone to assist him, but she had a strong grip. Thankfully the police officer got there right away, and he was able, with his training, to wrestle the knife away."
Officer Marinelli, who Chief Cordeiro said has been on the force as an officer for less than a year, was heading from one detail to another in his personal vehicle, when he heard the call for a suicidal female with a knife. He immediately rushed to the scene.
"I saw Mr. Belong and Mr. Pina struggling to place her on the ground," he said. "So I jumped out of my car on Sawyer Street, and as I made my way over, they were telling me where the knife was. She still had the knife, she was squirming around, but I was able to grab her arm, block it out to get her to drop the knife, and put restraints on her."
From there, the woman was placed into an ambulance and taken to St. Luke's Hospital. None of the men honored knew what became of her. Belong said there was drug paraphenalia on the ground beside her.
Chief Cordeiro presented Belong and Lima with Civil Commendations, and Officer Marinelli said they're the true heroes.
"That's the biggest thing. It's nothing that I did," he said. "I don't think anything that I did was spectacular. I just look at those two guys, they're the first ones that decided to interact, and luckily their training was able to kick in, and they could do the right thing to get her the help that she needed."
More From WFHN-FM/FUN 107