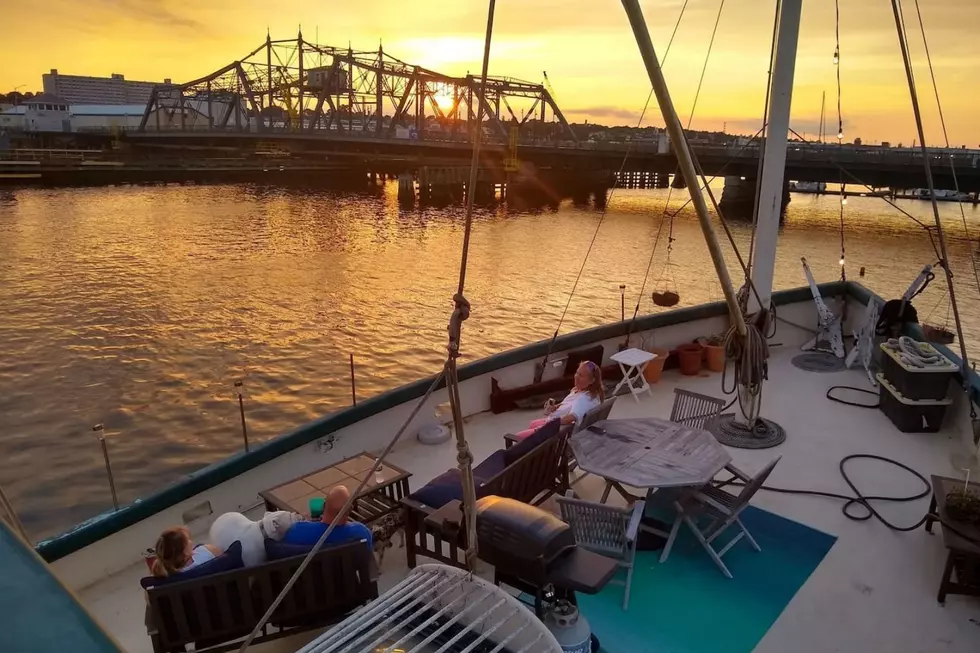 This New Bedford Airbnb Yacht Is Boujee and Affordable [PHOTOS]
Garrett and Michael via Airbnb
Enter your number to get our free mobile app
Nestled beside the New Bedford-Fairhaven Bridge is a secret little Airbnb that spends its days on the water.
Of course, I'm talking about a yacht that could be all yours for a very affordable price, if you ask me. This 63-foot classic yacht is called The De-Sea-Ving and is super-hosted by Garrett and Michael, the owners of the yacht who are renting out their boat for only $195 per night.
This of course means that you and your friends and family could have a yacht all to yourselves to sit back and enjoy the harbor front and the boat's divine interior.
Discover a luxurious cabin space complete with three bedrooms, two bathrooms, a full kitchen and a giant living room area. This pet-friendly yacht is perfect for anyone who travels with their fur-friend and for dog owners, you're within view of a dog park.
Complete with WiFi, heat, air-conditioning and even a fireplace, you'll be living in style right here in your backyard if you're from the SouthCoast. The kitchen is fully equipped with a refrigerator, freezer, stove, oven, coffee maker, microwave and everything you need to prepare some delicious meals while aboard.
Feel free to bring along your friends or family, since the yacht holds up to five guests comfortably. According to Airbnb, there's a main stateroom that not only has a king-sized bed, but also a full bathroom that overlooks the harbor. For your guests, there's also a smaller room with a queen-sized bed and a third room with a twin bed.
Spend some relaxation time in the living room quarters where the yacht is equipped with multiple big-screen TVs; it's as homey as it gets and with a gorgeous view of the sunset over Fairhaven and New Bedford. It doesn't get any better than that.
If you're into grilling, there's a grill on the outer deck patio for the ultimate way to have a fancy cookout, but the inside is what caught my attention the most.
The only restriction aboard the yacht is that you cannot have any children under the age of 12, due to insurance guidelines. Otherwise, the yacht is all yours as long as you promise to stay clear of the top wheelhouse and say out loud at least once, "I'm the captain now."
Now enjoy this virtual tour of both the interior and exterior of the yacht so you can window-shop before booking:
This New Bedford Airbnb Yacht Is Boujee and Affordable
More From WFHN-FM/FUN 107