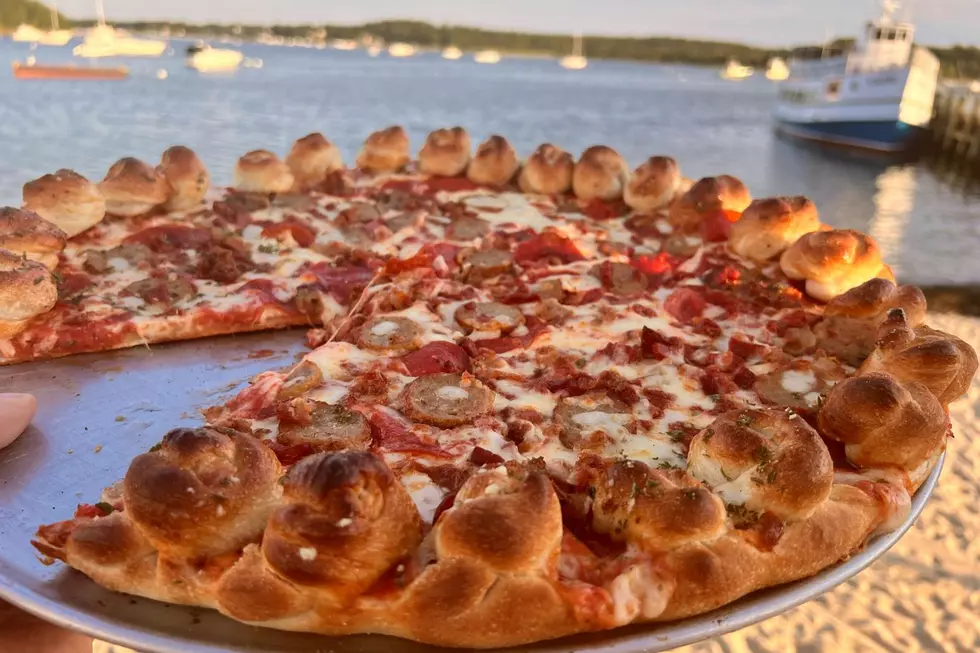 There's a Waterfront Restaurant in Onset Dishes Out Giant Pizza Pies That Have Garlic Knots for a Crust
Gazelle/Townsquare Media
Ladies and Gentlemen, I've finally found the Holy Grail of pizza and it's right here on the SouthCoast.
Over in Onset (East Wareham) is a quaint little village made up of beachfront, restaurants, and a bandstand. The people who reside there are amongst the friendliest I've ever met and parking never seems to be an issue. Even when the town is booming with business.
Right on the waterfront is a restaurant called the Onset Beach Patio & Grill. I had just finished up a broadcast when the Manager- Frank Evangelista surprised me with one of his chef's signature pies: an Italian Meat Lovers Pizza with garlic knots for the crust. You see- Evangelista was born in Brooklyn, raised in Staten Island, and owned multiple pizzerias, delis, & bagel stores in New York. So, it's safe to say that he knows the ropes when it comes to good food, especially since he learned everything from his mother. Old school Sicilian Italian, no recipes. Everything from scratch. 
However, the credit for this glorious creation goes to Evangelista's pizzaiolo- David Santiago who credits his ideas to God and can spin two pizza doughs at the same time. Santiago also reigns from New York and was moved here to the SouthCoast to join Evangelista's side.
Not only was it a decent-sized pie, but the aroma from the meats and the garlic hijacked my senses and I couldn't wait to dive in. Talk about a beautiful marriage of genoa salami, prosciutto, spiced ham cappy, pepperoni, sausage, mozzarella, parmesan, aged provolone, and a homemade sauce, this pizza was a Godsend.
The crust had a crispy bite to it and the cheesy was gooey, just the way I like it. As for the crust- it was buttery, flaky, and complimented the pizza supremely.
Throw in a gorgeous sunset, a relaxing bay breeze, and an ice-cold cider from the tap, and you've got yourself the perfect Friday to kick off the weekend. The next move is yours, you know you want to try it and I'm here to give you the official "Gazelle sign of approval".
14 SouthCoast Destinations to Catch Summer Fireworks
Looking for fireworks? Here are the displays happening around the SouthCoast and beyond in 2022. Check back here for updated information as we get closer to the holiday.
More From WFHN-FM/FUN 107