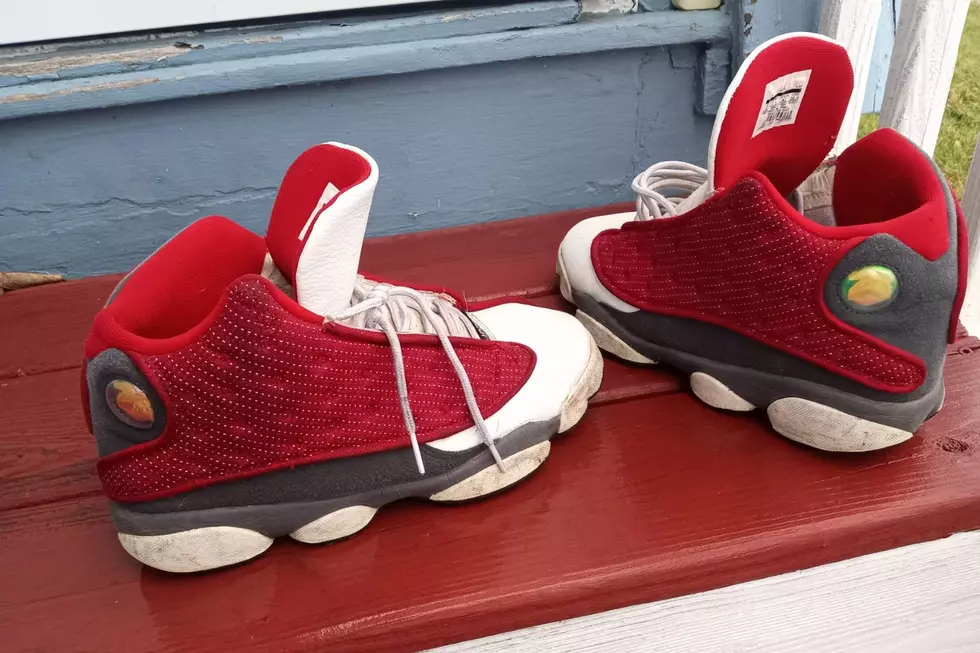 Fall River Car Break-in Suspect Takes Candy, Leaves Sneakers
Courtesy Jessica Denmead
On today's episode of "How Dumb Can You Be," we turn to a story out of Fall River where it appears someone broke into a car -- but it's what the alleged thief left behind that has a couple scratching their heads.
Jessica and Charles Denmead woke up Thursday morning to some upsetting news. They discovered someone had broken into their vehicle in the South End.
This is where it gets weird.
A pair of red sneakers were left behind, inside the car, presumably by the alleged thief.
Jessica immediately took to social media to see if anyone recognized the Jordans:
"It happened between 1 a.m. and 5 a.m.," Jessica said. "We have a new puppy so we are up often, but unfortunately we don't have any security cameras and our neighbor's camera doesn't see that side of the street."
The Denmeads realized after their remote car starter wasn't working that something was off with the vehicle.
"I looked outside and the trunk and driver-side back door was wide-open in the rain," Jessica said. "Thankfully, since we went away last week, I cleaned everything out so we didn't have much taken. It's more the point of being violated in the middle of the night."
The alleged thief got away with a phone charger, a dog crate the Denmeads were borrowing from a friend, an emergency glass breaker, a box of Legos and a half-eaten bag of M&M's.
"It's so disheartening to wake up to," Denmead said. "We worked so hard to get a new, reliable, family car. We know we aren't the only ones. There are horrible people out there that feel entitled to steal things that belong to hard-working people. It's just very sad."
There was no physical damage done to the vehicle beside the interior getting wet from rain.
The Denmeads said they filed a report on the matter with the Fall River Police Department.
"We want (police) to be aware so that maybe they can swing by the neighborhood a little more frequently," Denmead said. "The stuff can be replaced. I just don't want these people to go from cars to houses. I truly care for my neighborhood. I grew up in the city in a project and apartments and my husband was raised in the Flint (neighborhood). We're super-proud of our home, business and our neighbors, especially those who were here before us."
Anyone with information can call Fall River Police at (508) 676-8511.
The SouthCoast's Biggest Driving Pet Peeves
What annoys SouthCoast drivers the most? We asked SouthCoast residents to tell us their biggest driving pet peeves, and we could not agree more. Take notes, Massachusetts drivers!
25 True Crime Locations: What Do They Look Like Today?
Below, find out where 25 of the most infamous crimes in history took place — and what the locations are used for today. (If they've been left standing.)
More From WFHN-FM/FUN 107