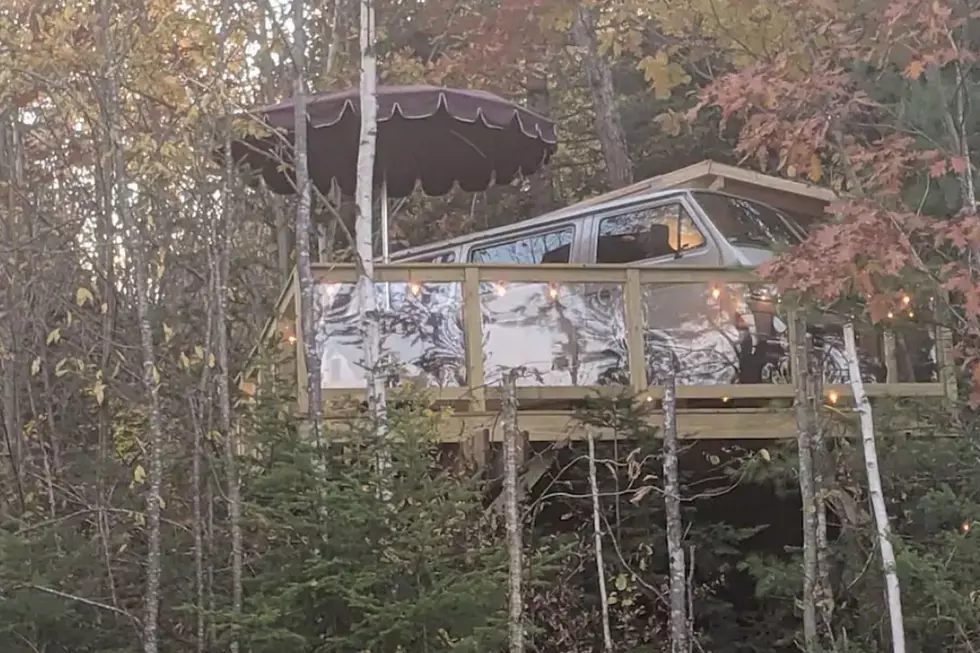 Stay in a Van That's Literally in the Trees of New Hampshire
Daniel via Airbnb
This unique house in the woods of New Hampshire makes sleeping in the backseat of a van seem like a pretty cool adventure. Just make sure you are not afraid of heights.
Summertime is coming to a close, but social distancing is still alive and well, and this "Airbus" in Bethlehem, New Hampshire is the perfect getaway.
Daniel, the owner, posted his one-of-a-kind cabin to Airbnb to allow travelers to spice up their stay in the granite state. The "Airbus" is a vintage 1987 Volkswagen Syncro Vanagon. Daniel explains how the van is set up on a platform in the trees, with a beautiful view of Mount Washington. Climb the private staircase to find the airborne van, equipped with heating, bedding, and bath towels for your stay.
It's hard to imagine a van in the trees, but as you can see, the camper is secluded among the foliage with a deck surrounding it to make this destination a trip in itself. I can only imagine how stunning the views must be when the trees are filled with fall colors of red, orange, and yellow.
I'm scratching my head, trying to figure out how Daniel managed to get this Volkswagen on this platform, but instead of asking too many questions, I'll trust the incredible reviews Daniel has received from previous visitors. One person claims "the pictures don't even come close to doing it justice. I've done some 'glamping' and 'adventure camping' over the last few years, but this was by far my favorite."
I have vacation days coming my way in the near future, and the thought of escaping to the woods of New Hampshire in the comfort of a vintage van sounds like the perfect getaway.
Stay in a Van in the Trees in New Hampshire
Enter your number to get our free mobile app
More From WFHN-FM/FUN 107