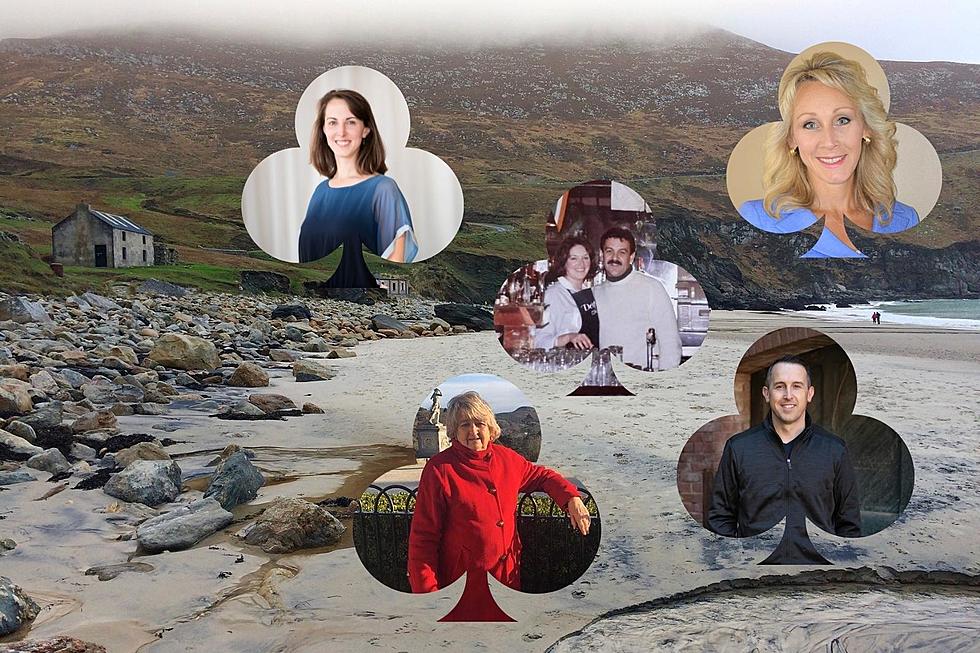 The SouthCoast's Irish Connections Past and Present
Townsquare Media; Contributed Photos
My friend and colleague Michael Rock recently posted an article that indicates a percentage of Massachusetts residents, including some here in the Greater SouthCoast region, claim Irish heritage.
In New Bedford, just over seven percent of the population claim to be at least part Irish, but in communities such as Marion, Mattapoisett, and Norton, it is more than 23 percent. While the Irish population is smaller in New Bedford than in some other SouthCoast communities, New Bedford's connection to Ireland is deep.
In 2017, Spinner Publications.com reprinted excerpts from an 1887 article by Etta F. Martin that appeared in the Evening Standard. In the piece, Martin reported that New Bedford was "one of the pioneer places in New England in the Catholic faith, as early as 1820 having established St. Mary's Church on Allen Street." Martin described the church as the "first Irish Catholic church" in New Bedford.
In 1845, Frederick Douglass, one of New Bedford's more prominent – albeit temporary – residents traveled to Ireland to promote his autobiography, Narrative of the Life of Frederick Douglass, An American Slave. Douglass also sought refuge in Ireland amid fears he could be recaptured in America and returned to bondage. He returned to America in 1846 following the death of his daughter. While in Ireland, Douglass witnessed the beginning of the Irish Potato Famine, also referred to as the Great Hunger.
In 1920, Irish President Eamon DeValera visited New Bedford to lay a wreath on the grave of Captain George Anthony. The New Bedford Whaling Museum says Anthony was a "New Bedford Quaker by birth with no Irish Ancestry" who, as captain of the great whaling ship Catalpa helped six Irish citizens bound for an Australian prison to escape.
New Bedford's Friendly Sons of St. Patrick club was formed in 1941. According to the club's website, the Friendly Sons "grew out of the Robert Emmett Club," named for the Irish patriot hanged for treason in 1803. Its mission is to "sponsor and preserve cultural, charitable, and social service programs." A monument in the form of a Celtic cross on New Bedford's waterfront celebrates the "lives and contributions of the Irish to the City of New Bedford."
Over the years, New Bedford's Irish celebrated their heritage at several popular Irish pubs.
Below find the profiles of several prominent folks from the Greater SouthCoast area with ties to Ireland and very intriguing stories.
WBSM News' Kate Robinson Lived and Worked in Ireland
WBSM's Kate Robinson is from the Boston area. She holds a degree in archaeology from the University of Edinburgh and has worked as a journalist in Vietnam. Kate has also achieved a master's degree in journalism from the National University of Ireland in Galway, where she worked for several news organizations.
"The weather was almost always wet, even when sunny," Robinson said. "And it never really got what we Americans would call warm even in summer (those winds can be fierce.)"
Robinson said she ate and drank more in Ireland than in America, "but walked absolutely everywhere, so I spent more time outdoors and was actually healthier."
"Live music is absolutely everywhere in Galway," she said, and it was "extremely easy to make friends."
While the Irish celebrate St. Patrick's Day, Robinson said, "it is actually not as big a deal as Samhain (pronounced "sow-an") at Halloween."
Robinson added that "the best fish I have ever had has to be in Galway." Guinness and Irish whiskey are top choices of most Irish Pub drinkers, and Robinson warned, "DO NOT miss your turn to buy everyone a drink."
"Being a miser is one of the worse possible things to be known for in Ireland," she said.
Taunton Mayor Shaunna O'Connell's Irish Roots
Before becoming Mayor of Taunton, Shaunna O'Connell served several terms in the Massachusetts Legislature.
"I was lucky to marry a proud Irishman, but my maiden name is Freeman, so I am Irish," O'Connell said, noting she is also Polish and Portuguese.
"It wouldn't be St. Patrick's day in the O'Connell household without the traditional meal of corned beef and cabbage alongside a Guinness topped off with a shamrock," she said.
"When my kids were young, we would make green juice drinks for them and they would wear green beads and shamrock glasses," O'Connell said. "But they weren't impressed with Irish cuisine, so it was chicken nuggets for their dinner."
"We tried our hand at Irish soda bread, but let's just say that didn't work out so well," she said.
Cid Roberts of New Bedford's Bunraddy's Irish Pub
Cid and Ray Roberts owned New Bedford's Bunraddy's Irish Pub from 1981-1991. The Robertses have been to Ireland three times, and they know a bit about throwing a St. Patrick's Day party here in the States.
"First, Irish don't drink green beer," Cid Roberts said. In addition to troughs of Guinness, the Robertses also served something called the Bunraddy Special, half Irish Mist and half Jameson's Irish Whiskey.
St. Patrick's Day would bring in droves of customers looking for corned beef and cabbage dinners.
"To do mass quantities, the vendors accommodate you with huge bags of carrots, potatoes, and onions," Roberts said. "Many sore hands from the peeling and cutting of the cabbage. The corned beef is boiled with spices until warmed through, cooled, and sliced. Each portion is then put in the steam table and plated per order."
Bridget Daly of Norton
Bridget Daly, the proprietor of Bridget's – An Irish Tradition at 88 West Main Street in Norton, Massachusetts, has been an importer and retailer of "exquisite Irish imports" for more than four decades. Bridget is a "powerhouse in the industry," according to her daughter Lorraine, who helped found the pair's current business venture in 1987.
Bridget Daly was born in the market town of Tullamore in County Offaly, Ireland. Lorraine said Bridget emigrated to the United States when she was 19 years old, went back, and then returned "married, with a little one – me!"
Lorraine said Bridget "began her career as a recreational knitter." She says it was a "natural progression" for Bridget to begin supplying the "traditional Aran sweaters she was creating" for family and friends "to an ever-growing following of customers by importing directly from the knitters in Ireland and selling in a retail setting."
Bridget Daly visits Ireland at least twice a year for trade shows, buying trips, and fashion shows, as well as family weddings, christenings, and anniversary parties.
Bridget also wanted us to share her Guinness Beef Stew recipe.
Our Own Michael Rock's Irish Heritage
Michael Rock is the Director of Content for WBSM and Fun 107 radio stations. A graduate of Syracuse University, Rock has worked for radio stations in Syracuse, Boston, Connecticut, and New Hampshire. He began his career with Fun 107 in 1995.
Rock said his family usually gathers at his parent's house for St. Patrick's Day where his mom serves corned beef and cabbage. He recently received his Ancestry DNA results indicating he is 61 percent Irish and 21 percent Scottish.
Rock, his daughter, and his mother visited Ireland in 2021, where they made contact with family members they'd never before met.
"Best memory of Ireland was my eyes looking over the very same plots of land that my ancestors struggled to farm," he said. "I tried to imagine what life was like for them. I can assure you, it was harder than playing Justin Bieber songs on the radio."
Rock said he brought home a souvenir from Ireland that he never expected to receive.
"The current owners of the Rock land gave me one of the very old horseshoes which is still occasionally found on the land," he said. "That horseshoe now hangs above my door. I gave one to my dad, who also hung it above his door."
"The Irish people there selflessly helped me experience my Irish heritage. It was a beautiful gift I'll never be able to properly reciprocate," he said.
Are you of Irish ancestry? Does your family celebrate St. Patrick's Day? Tell us how. Share some family memories with us.
U2 Albums Ranked
U2 don't inspire weak reactions in people. There are passionate U2 fans, and passionate U2 haters, and very little in between.
More From WFHN-FM/FUN 107